Millennials, the young adults that make up Generation Y, are some of the most connected consumers in America today. They're also steady radio listeners. These teens and twenty-somethings have more ways to consume content than any previous generation, and the options continue to advance. Yet despite rapidly evolving technology, radio continues to engage an extraordinarily high percentage of Millennials across the country each week.
According to Nielsen's Audio Today report, more than 65 million Millennials (age 18-34) tune in to radio every week. And whether they're listening to Taylor Swift or Eminem, they spend more than 11 hours with radio during that seven-day period. So what do Millennials listen to most? In looking at the top radio formats, Country comes out on top, followed by Pop Contemporary and Rhythmic Contemporary Hit Radio.
As these young adults move into the workforce, 74 percent of Milennials are working either full- or part-time. And as work becomes an integral part of their lives, they find themselves tuning in when they're more frequently away from home, which is where most listening occurs. In fact, the PM Drive (weekdays 3 p.m.-7 p.m.) is the most popular time of day for Millennial radio listening.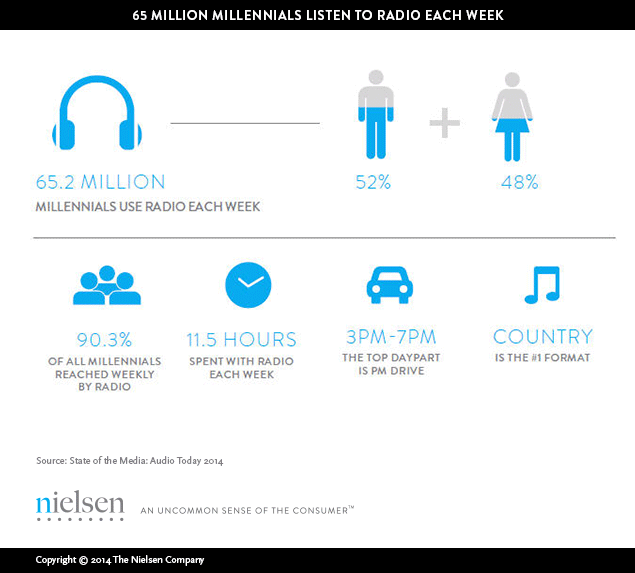 Source: Nielsen Audio National Regional Database Spring 2013. Mon-Sun 6 a.m.-midnight.