Television viewing used to be an experience strictly between viewer and show, with water cooler talk coming the day after. The rise of social TV has changed that relationship, and according a study by Nielsen, more and more Americans are quickly warming up to this new behavior. With tablets, smartphones and laptops at their side, TV viewers can follow their favorite shows, share content and connect with fellow fans before, during and after a program. As a result, the social TV phenomenon is not only affecting the consumer TV experience and program development but also proving to be a valuable opportunity for advertisers to tap into and leverage the momentum of social conversations.
According to the study, a quarter of TV viewers reported that they were more aware of TV programs due to their social media interactions in a year-over-year comparison from 2012 to 2013. In fact, in 2013, 15 percent of viewers said they enjoyed watching television more when social media was involved. And when it comes to viewing content, 11 percent of viewers said they watched more live TV, and 12 percent said they recorded more programs in 2013 alone. In addition, data from Nielsen's first-quarter 2014 Cross Platform Report shows that the average adult aged 18 and over now watches 5 hours and 10 minutes of live TV and 34 minutes of time-shifted TV per day.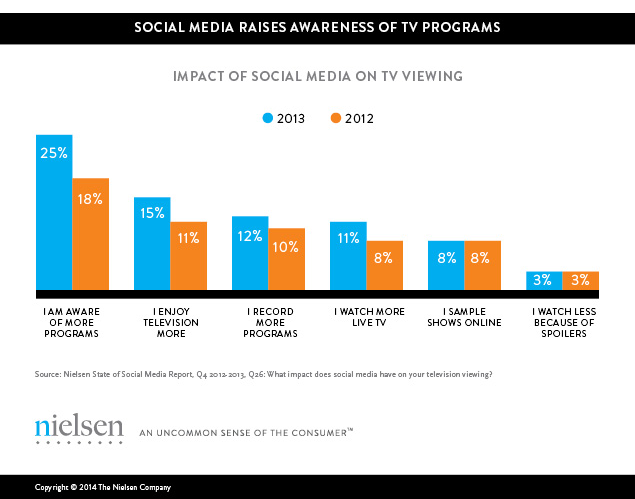 When looking at the effect of social media on ethnic TV viewers, compared to national averages, a greater percent of African-Americans, Asians, and Hispanics report watching more live TV, being aware of more programs, recording programs, and enjoying television more as a result of social media. In fact, social media has the greatest effect on Hispanic TV viewers who show the highest program awareness (32%), television enjoyment (26%) and live TV watching (18%) of all ethnic groups. African-Americans are the ethnic group most likely to sample new shows online at 14 percent, and Asian Americans, who are also the fastest adopters of new technology, record more programs than any other ethnic group.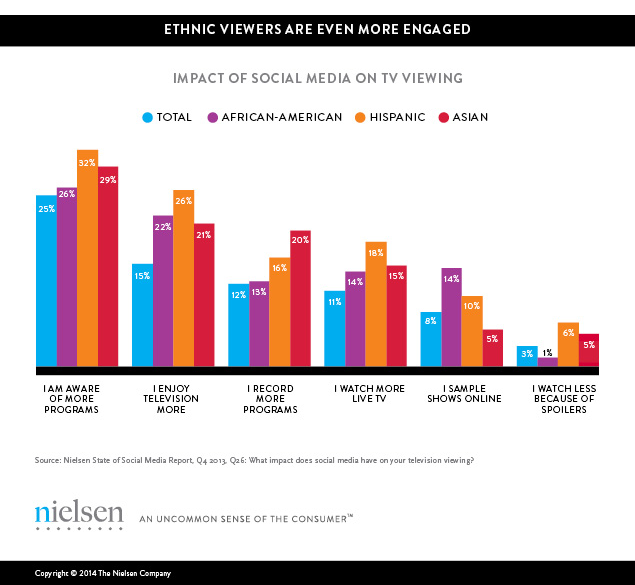 In addition to social media, consumers are also using the second screen to engage in other digital activities while watching television content. Among Americans aged 13 years old and older who own a smartphone or tablet, over two-thirds of tablet users and about half of smartphone users said surfing the web was the number one activity they choose to do while watching their favorite programs. In addition, over 40 percent of tablet owners said shopping or looking up actors, plots, athletes were the top activities they did while watching TV. In terms of smartphone owners, 29 percent said they emailed or texted friends about a program, and 27 percent said they checked sports scores.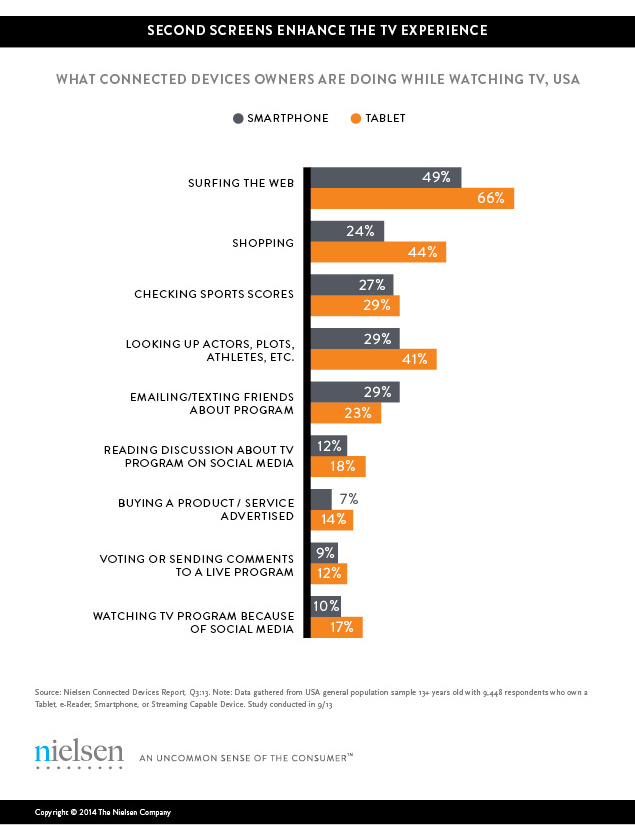 Audiences aren't just surfing through channels when the TV is on anymore; they are riding the waves of second screens, continually learning how to incorporate new interests into their style. And as social media's effect continues to resonate with viewers, advertisers should find opportunities to join the conversations and activities that viewers are engaging with while watching TV.
Related Content