As America braces for the onslaught of political ads during the lead-up to the presidential election, new voter data is showing that it isn't just talk radio that delivers voters to the local polls.
While political campaigns on the left and right are looking for opportunities to showcase the merits of the current contenders, new research shows that radio delivers much more than just chatter about the candidates: It can deliver the voters to the polls. In fact, combining voter data with listening habits can be a key way for candidates to connect with specific voting segments. Nielsen used its voter segmentation data to look at how radio reaches voters with specific political views, whether they're listening to the News, Classic Rock or Country.
The first-ever study of its kind revealed that radio's local approach to programming means that local stations attract different voter types in each market, and that these voters migrate to different stations depending on the time of day. Using voter registration and other data sources for the study, the research divides Republicans and Democrats into several distinct buckets. On the Republican side, there are three categories: Mild, Uninvolved and Ultra Conservative. There are also three categories of Democrats: Conservative, Left Out and Super Democrats.
In Los Angeles and Philadelphia, Nielsen matched radio listeners with voter data to examine the correlations. In Los Angeles, Nielsen found that a single radio station reaches more than one-third of each voter segment from both parties. In Philadelphia, a single radio station reaches as many as 54% of each voter segment. The local voting data paints an important picture of the best way to reach each segment. The best choice of format is as unique to the local market as the districts and the propositions that will be voted on.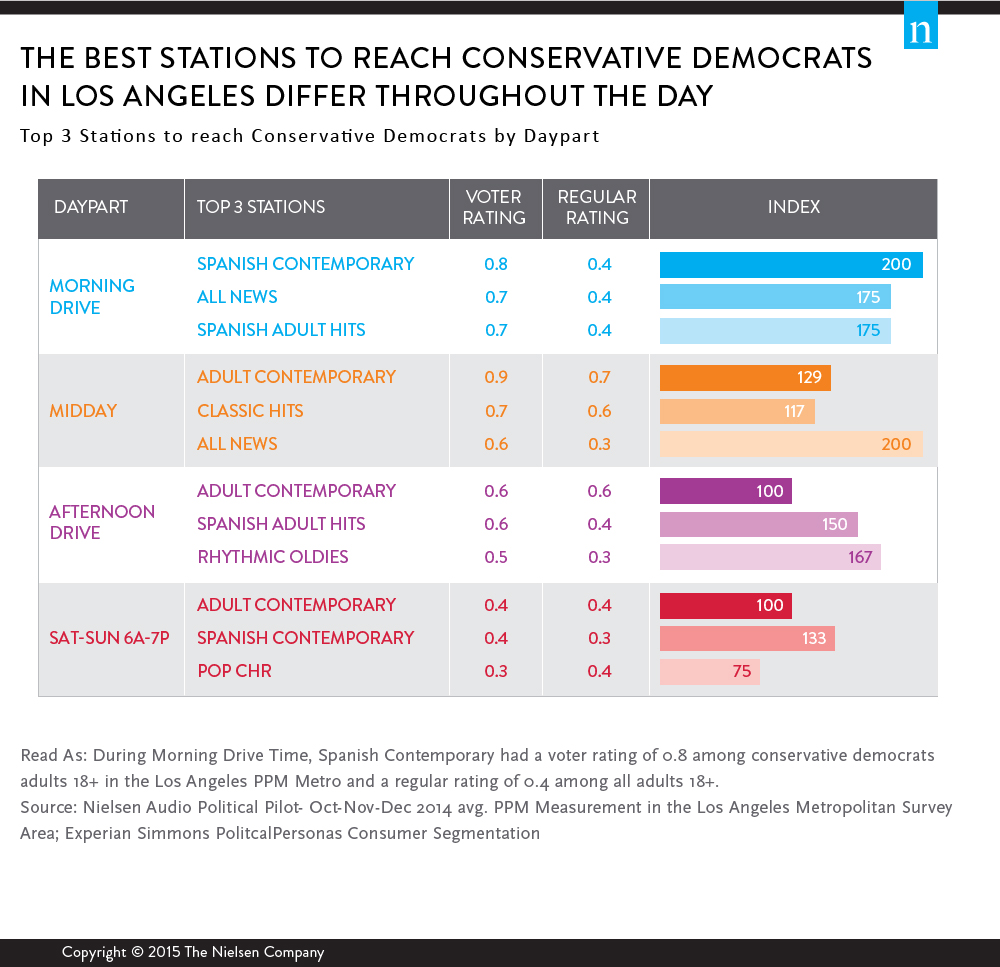 In early morning Los Angeles traffic, when LA Mild Republicans are driving to work, the News Talk Information formats rank highest. During their drive home in the evenings, Mild Republicans listen to News Talk Information, Adult Contemporary and Adult Hits to equal degrees. Conservative Democrats in Los Angeles, on the other hand, prefer Spanish Contemporary on their morning drives, followed by All News and Spanish Adult Hits. During the afternoon drive and on weekends, they evenly prefer Adult Contemporary and Spanish Adult Hits.
Looking through the study data, Mild Republicans (28% of registered Republicans) skew male, are 47 years old and are on the fence on many issues such as health care, the environment and religion. Uninvolved Republicans (20% of registered Republicans) are younger, (average age 44), are largely white, but also skew Asian, are fiscally conservative and are not generally engaged on key political topics. Ultra Conservative Republicans (52% of registered Republicans) are older (53 years old on average), skew female and are well-informed with strong opinions and traditional conservative views on all major issues.
On the other side of the political fence, Conservative Democrats (38% of registered democrats) skew female, (average age 54) are well informed and have liberal views toward immigration and the environment.
Left Out Democrats (22% of registered Democrats) are split evenly between male and female, have above-average concentrations of white, black and Hispanic voters and have an average age of 44. While this group has an above-average of Hispanics, these voters prefer communication in English. Super Democrats (41% of registered Democrats) are split evenly between male and female with an average age of 46, and have far left leaning on a variety of topics and hold very liberal positions on social issues.
These insights gives political agencies the right information at the right time to deliver their messages to reach the appropriate audience. While politicians will always take advantage of speaking with radio talk show hosts, learning how to place ads effectively on the radio could be a difference-maker for the winning candidate in 2016.
Methodology
Nielsen's audio political pilot used Experian Simmons Political Personas Consumer Segmentation, which is available in 48 PPM (portable people meter) markets. PPM measurement of voter segments in the Los Angeles and Philadelphia markets was among adults 18+. Dayparts measured included Morning Drive, 6 a.m.-10 a.m., Midday, M-F 10 a.m.-3 p.m., Afternoon Drive, Mon-Fri 3 p.m.-7 p.m., and Weekend, Saturday-Sunday 6 a.m.-7 p.m.
Nielsen panels provide a representative view of PPM markets across demos and listening sources. Experian Personas are matched to Nielsen panelists which provides the ability to evaluate the voter behavior of radio listeners by age, gender and race and ethnicity based on Nielsen's representative view of the market, including U.S. Hispanic, African-American and Asian-American segments.  Experian creates their Political Personas segments using a proprietary model which utilizes a variety of data inputs including: 38.6 million voter records in 14 states, demographics and consumer behavior on 299 million consumers and 116 million households from Experian's ConsumerView File, and consumer behavior from the Experian Simmons survey.