First it was 8-track tapes, then cassettes, then compact discs and now, it's digital. And for a long time, it looked like digital auditory advancements would ultimately kill off vinyl–perhaps the most potent, transcendent and game-changing form of music content discovery to date.
But because of continued demand from music aficionados who relish the long-form album, as well as a groundswell surrounding Record Store Day, vinyl remains a viable way for music fans to listen to both new and classic albums.
In fact, sales of vinyl are actually increasing at a rapid clip. According to Nielsen, vinyl album sales in the U.S. have grown a whopping 260% since 2009.
And the steady increase in unit growth is showing no signs of, well, skipping.
Last year, vinyl unit sales totaled 9.2 million, up from 6.1 million in 2013. And album sales between January and March of this year were 53% higher than during the comparable period last year, driven by a 66% increase in catalog album sales (released at least 18 months prior) during the same period.
But it's not just the classic rock gods who are seeing vinyl sales lifts. Sales of current releases on vinyl are up 37% in the first three months of this year as well.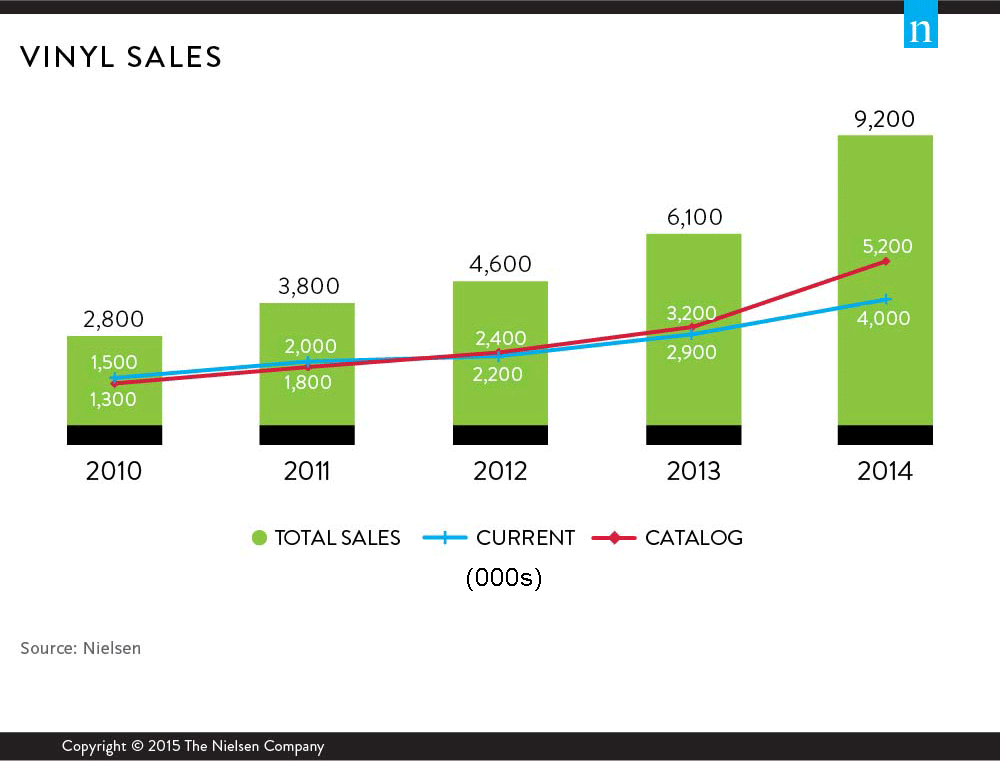 So what's the hot seller on vinyl?
In looking at LP sales since 2010, we see a diverse mix of both catalog and new vinyl offerings, but one thing stands out among the top-selling artists: there's something in the mix for everyone.