Food is one of the most important cultural connectors for African-American shoppers of all ages. And with the holidays approaching, it's the most wonderful time of the year, especially for grocers and retailers looking to appeal to these savvy shoppers.
As detailed in Nielsen's Young, Connected and Black report, cultural traditions involving food are passed from generation to generation within the African-American community. Recipes may vary, but there are primary staples that are still reflected in the grocery-buying habits of African Americans today. For example, African-American shoppers buy fresh meats like pork, chicken and turkey, and vegetables like fresh greens and cabbage at higher rates than non-African-American shoppers. Black Millennials have similar items in their shopping carts, but their penchant for fresh green beans and fresh chicken are notable standouts compared with their non-African-American counterparts.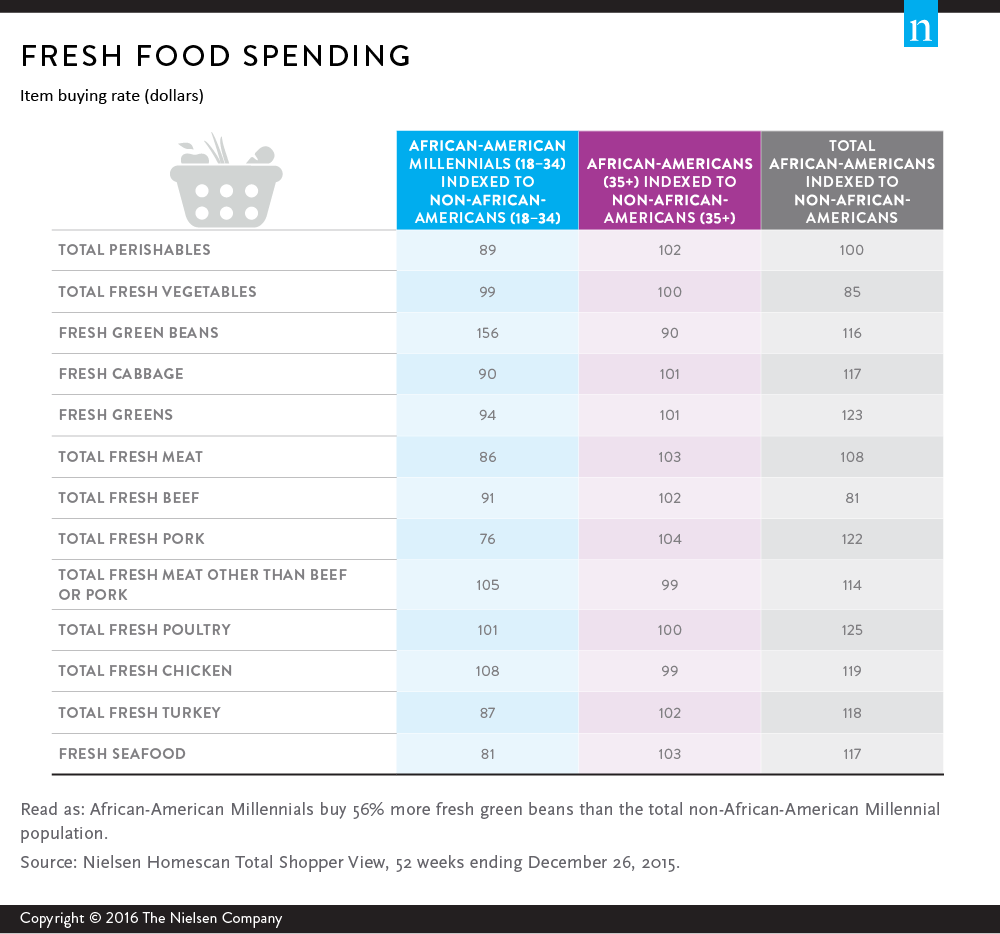 Additionally, African-American Millennials and older black generations buy more "from-scratch" cooking items than non-African Americans. Popular items include shortening and oil; spices, seasonings, and extracts; sugar and sugar substitutes; syrups and molasses; baking mixes and unprepared frozen meat and dried vegetables and grains. These are all items that are most commonly found in the meals prepared for dinner tables during the holidays in African-American households. This season, grocers and retailers should consider strategies that bridge traditions with in-store shopping experiences, such as offering live, in-store demos of prepared meals and cross-promoting meal-ready ingredients throughout the store.
COOKING FROM SCRATCH IS VALUED, BUT SPEED AND EFFICIENCY ARE KEY
When it comes to cooking and dining, African-American Millennials and older black generations have very similar sentiments–and not just during the holidays. Almost three-quarters of both age groups say that during any given week, they frequently cook meals. Both age groups also plan their dinners ahead of time and like to cook with fresh ingredients.
When African-Americans aren't cooking holiday or special occasion meals, their day-to-day lifestyles influence their cooking habits. Busy African-Americans are on-the-go and they need convenient meal solutions. More than half of African-American Millennials agree that frozen dinners are a convenient alternative for quick meals. And when you consider that 58% of African-American Millennials say they often eat meals on the run, it's no surprise that 92% of them say they have visited a quick-service restaurant in the past 30 days—a rate that mirrors non-African-American Millennials (91%). This need for expedience and convenience explains why African-Americans buy unprepared frozen meats, seafood and vegetables at a higher rate than non-African-Americans. Combining African-Americans' desire for fresh foods and a need for speed, provides brands and grocers an opportunity for innovation and new product development in the convenient healthy eating space.
HIGH-FREQUENCY SHOPPING CHANNELS
When it comes to shopping channel frequency, African-American Millennials and older generations have different preferences. Black Millennials spend 14% more when they shop than older black generations, while older black consumers make more trips, shopping 23% more frequently than their younger counterparts.
Convenience and price often dominate African-Americans' purchasing decisions overall, but black Millennials shop more frequently at drug stores and dollar stores than the total U.S. population. Collectively, African-Americans make frequent trips to convenience stores, gas and service stations and dollar stores. One thing to keep in mind, is that this may not always be about preference as in many African-American neighborhoods, these are the closest and sometimes the only store options available. And this is partly why the shelves in these convenient stores often resemble aisles at traditional grocers and other retailers.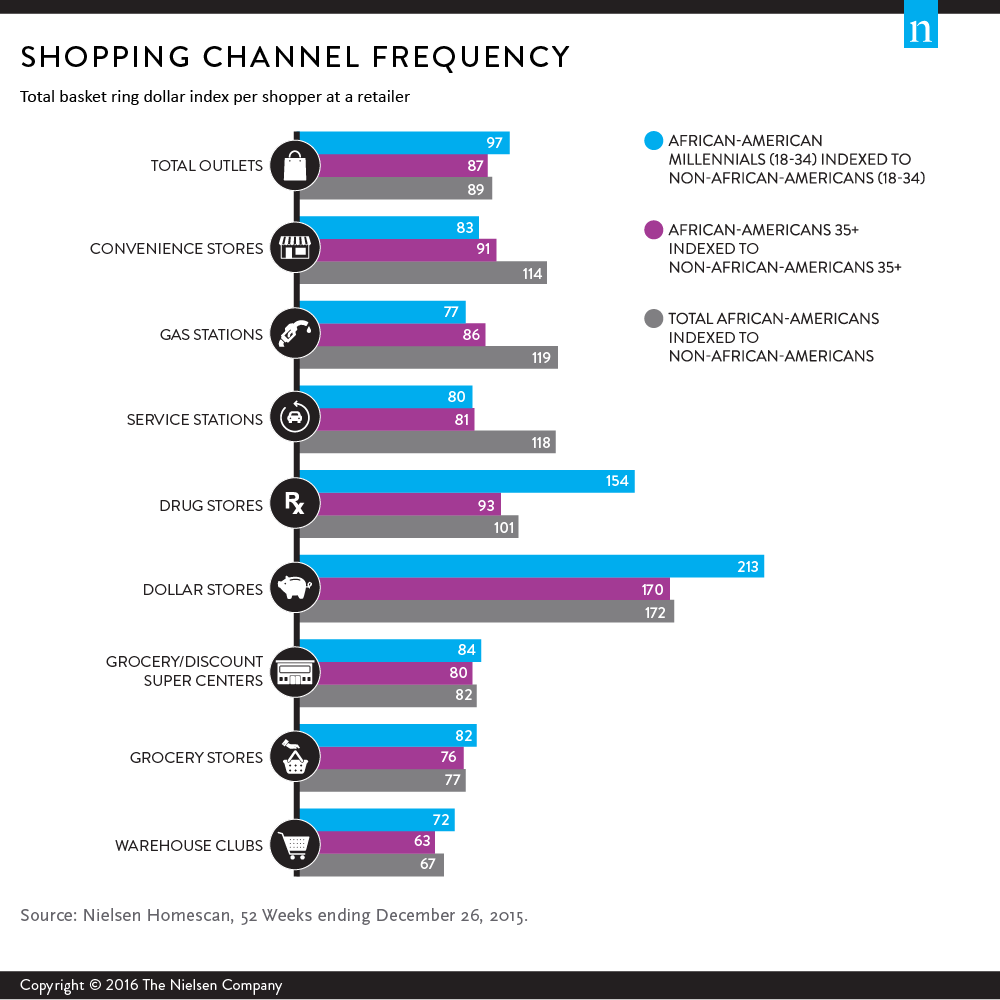 BOUNTIFUL BARGAINS – A CROSS-PLATFORM APPROACH
Everyone loves a good bargain, and African Americans are no exception. So when it comes to reaching African-American consumers, a cross-platform approach is important. African-Americans of all ages agree that media advertising using multiple sources provides them with meaningful or useful information. But even with a cross-platform approach, advertising on TV is still the most popular source of information about bargains among African-American Millennials and older black generations. A greater percentage of older black consumers say advertising in print media such as magazines and newspapers are useful sources for sales information, while advertising on mobile phones, radio and the internet stand out for African-American Millennials.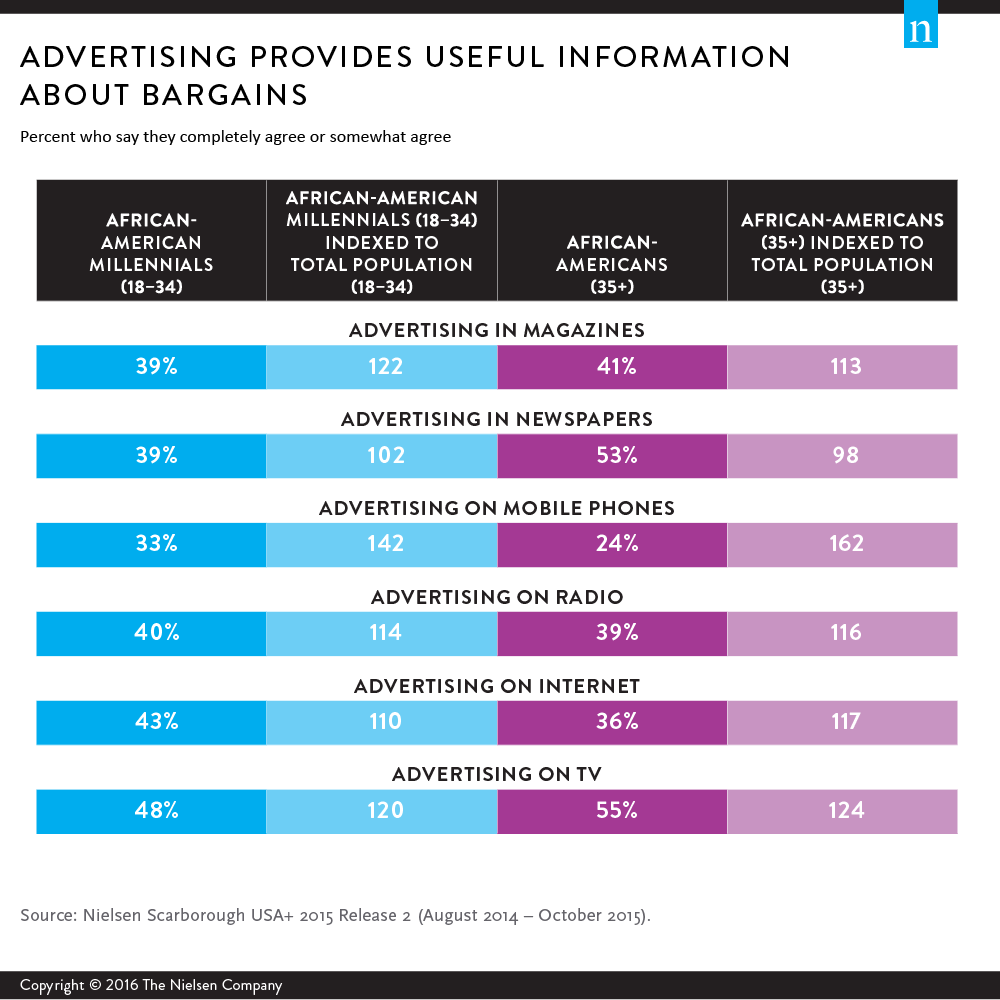 Price is an important factor in many African-Americans' purchasing decisions. Fifty-three percent say they will gladly switch brands to use a coupon, and 62% say they will purchase store brands or private labels over their usual name-brand items in they're on sale. Seventy-percent agree that generic or store brand items are as effective as brand name products, which is an attitudinal shift from what Nielsen's previous surveys have found regarding African-Americans and their brand-loyalty attitudes. Brands should take note of this new reality whereby African-American shoppers are balancing both loyalty and price in their shopping considerations.
While important, price isn't the only factor African-American shoppers consider when making purchases. Both African-American Millennials and older black generations agree at a higher rates than their total population counterparts that a variety of other factors are just as important in their shopping decision criteria, such as celebrity endorsements, the latest trends, friends and family influence, and brand image. Black Millennials can also be strong brand advocates and influencers, as 45% agree that they like to share their opinions about products and services by posting reviews and ratings online—a rate that is 24% higher than total U.S. Millennials.
For additional insight, download Nielsen's Young, Connected and Black report.