Now and again, every one of us looks up from our desks, stares at the ceiling and asks, "Am I doing this right?"
This is never an easy question to answer, and it's one that everyone from the most junior staff member to the CEO ponders from time to time. In short, we're all in search of validation that transcends our own personal knowledge.
The good news, however, is that if you're an advertiser in the consumer product realm, your search just got a lot easier. That's because new research from Nielsen Catalina Solutions (NCS) has established benchmarks that detail the expected return on spend based on media type. In addition, the research findings illustrate the different sales increases that CPG brands can expect as a result of their ad spend across media types. Across media types, magazines and online display ads were found to deliver the highest returns.
To establish its benchmarks, NCS analyzed more than 1,400 ad campaigns from 450 CPG brands over a decade. These analyses linked advertising exposure data with in-store purchase data to determine the influence of advertising on actual retail sales. The incremental sales are determined by comparing the sales of households exposed to the various media campaigns to nearly identical households that were not exposed to the ads. The research went a step further to compile all of the studies across media to understand the correlations and insights that could gained.
Across the households that the campaigns reached, linear TV generated the most incremental sales, at $0.33 per household, with magazines and cross-media campaigns close behind, at $0.26 and $0.25 per household, respectively. The story is much different, however, for sales per impression, as mobile delivered the most incremental sales across media types at $26.52 per 1,000 impressions. Comparatively, linear TV delivers incremental sales of $20.56 per 1,000 impressions.
When diving deeper into the benchmarks around CPG product categories, we see some interesting tendencies. Across categories, campaigns for baby products generated the biggest return on spend, at $3.71. Pets came in at distant No. 2 with a return on spend of $3.06. These categories typically drive a higher return because their price points tend to be higher and are purchased more often. Advertisers should compare their sales metrics to brands within their product category to get a better picture on how they stack up to the competition.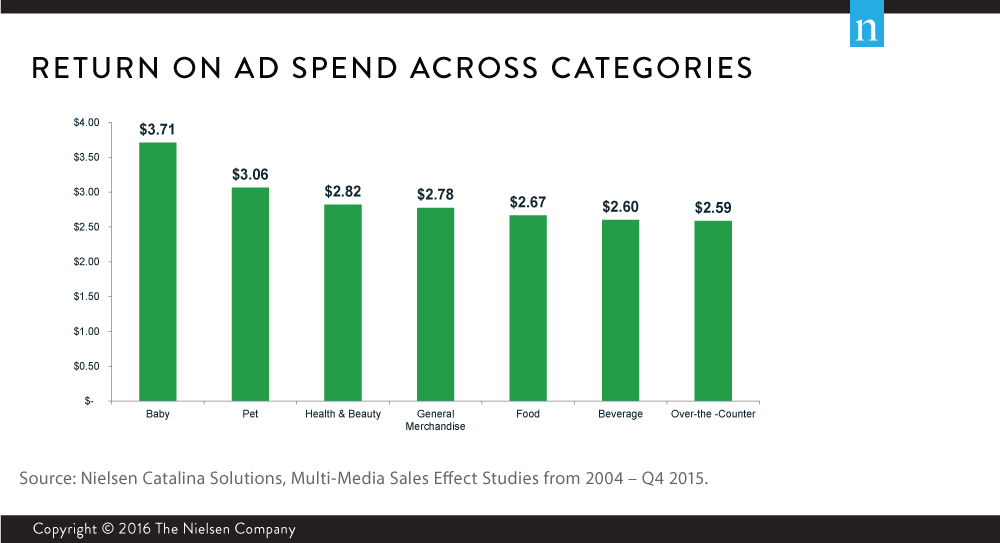 One of the most interesting and clear-cut findings came from grouping the brands based by size, penetration and purchase cycle. For the study, brands were clustered into three groups:
Marquee brands are large and have high penetration and brand share
Infrequent use brands have long purchase cycles and are purchased very consistently
Mid-size brands fall between marquee and infrequent-use brands
The research identified that the marquee brands outperformed the other two categories, with the mid-sized brands coming in second place and the infrequent-use brands coming in third in virtually all of the studied metrics, including return by media platform. This highlights the benefits that size and scale provide. The analysis also indicates that size and scale can be stronger predictors of sales performance than even the category.
For additional insights, download the full presentation, which was recently presented at the ARF's Audience Measurement Conference.