Regardless of whether you call it football or soccer, it's a sport with massive global appeal and fan interest. In fact, more than 40% of people 16 or older in major population centers around the world consider themselves interested or very interested in following football, more so than any other sport.
As nations compete for the 2018 FIFA World Cup, Nielsen Sports research shows the popularity of football is growing in the U.S., India and China.
While interest in the sport of football (soccer) is lower in the U.S. than most countries, it stands at 32%, up from 28% from four years prior. Youth participation, an increase in the Hispanic population, the growth of Major League Soccer and the popularity of the FIFA video game have all contributed to the "soccer surge" in recent years in the U.S.
Where is the sport most popular? Across countries with football fans, the United Arab Emirates tops the list as 80% of the country's population are fans, followed by Thailand, Chile and Cristiano Ronaldo's home country of Portugal.
Of course, football has a tremendous following in Europe, with 131 million fans in the big five European markets (Spain, Italy, Germany, U.K. and France.) And more than half (52%) of people in Russia, the 2018 FIFA World Cup host country, are interested in the sport.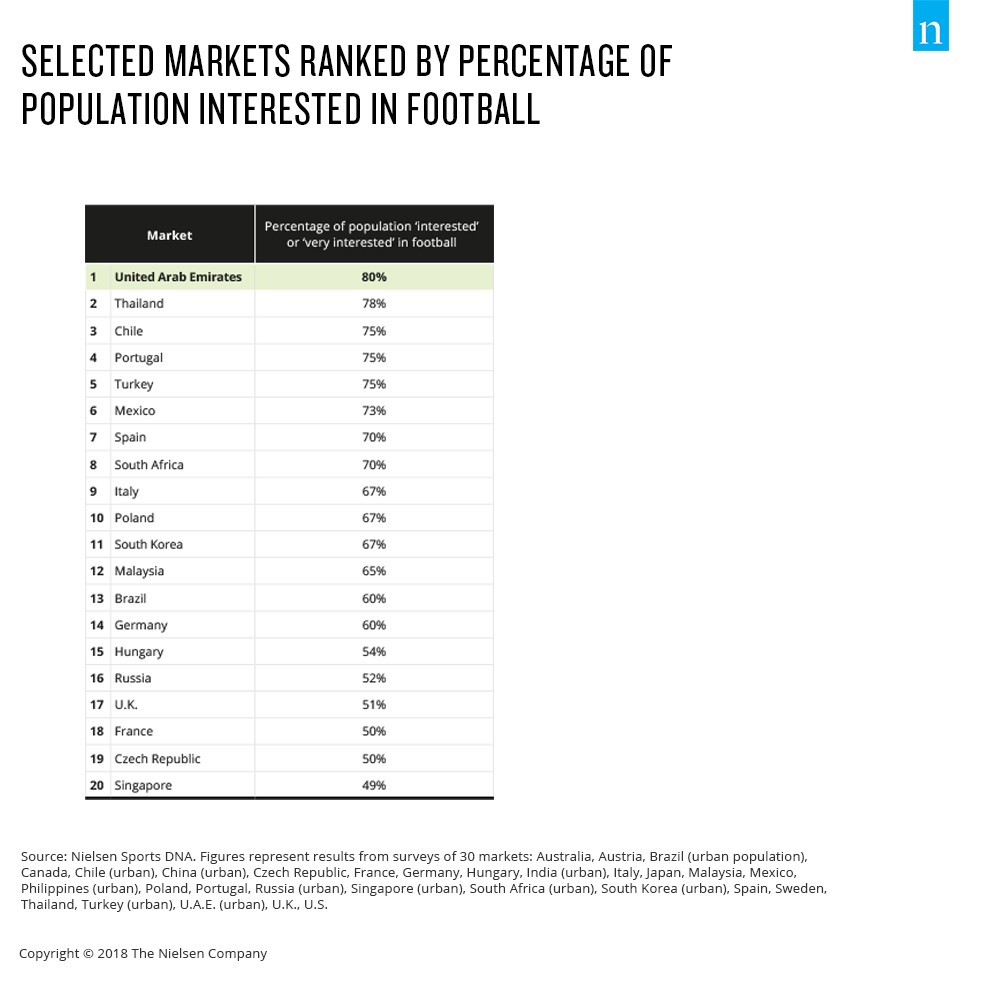 Around the world, football is a sport that transcends gender. Nielsen SportsDNA global research shows football is the most popular sport among women globally and a recent study shows 70% of women find the men's FIFA World Cup "very appealing" and 58% of women find the women's FIFA World Cup "very appealing."
For additional insights, download our World Football report.