With more ways to connect to media than ever before, sports still capture our heart strings—and our attention. In fact, the amount of sports content on TV is at a 15-year high, with sports events and shoulder programming (including sports anthologies, commentaries and news) making up 134,000 broadcast hours in 2017.
Not surprisingly, brands are eager to tap into sports' attentive audiences, and many are dedicating big budgets to do so. Sports sponsorship across the NFL, NBA, MLB, NHL, PGA Tour, NASCAR and INDYCAR accounted for more than $7.35 billion in QI Media Value across U.S. television in 2017. This was a $54 million increase over 2016, according Nielsen's Sport24 media evaluation database. QI Media Value is Nielsen Sports' global industry standard for sponsorship measurement that takes into account the quality and weight of exposure, audience size and cost per thousand.
With all the opportunities sports present for brands, it's not that surprising that sponsorship is growing in non-traditional categories. Banking, financial services (e.g. wealth management, credit cards) and health care collectively averaged 8% growth per year over the last three years.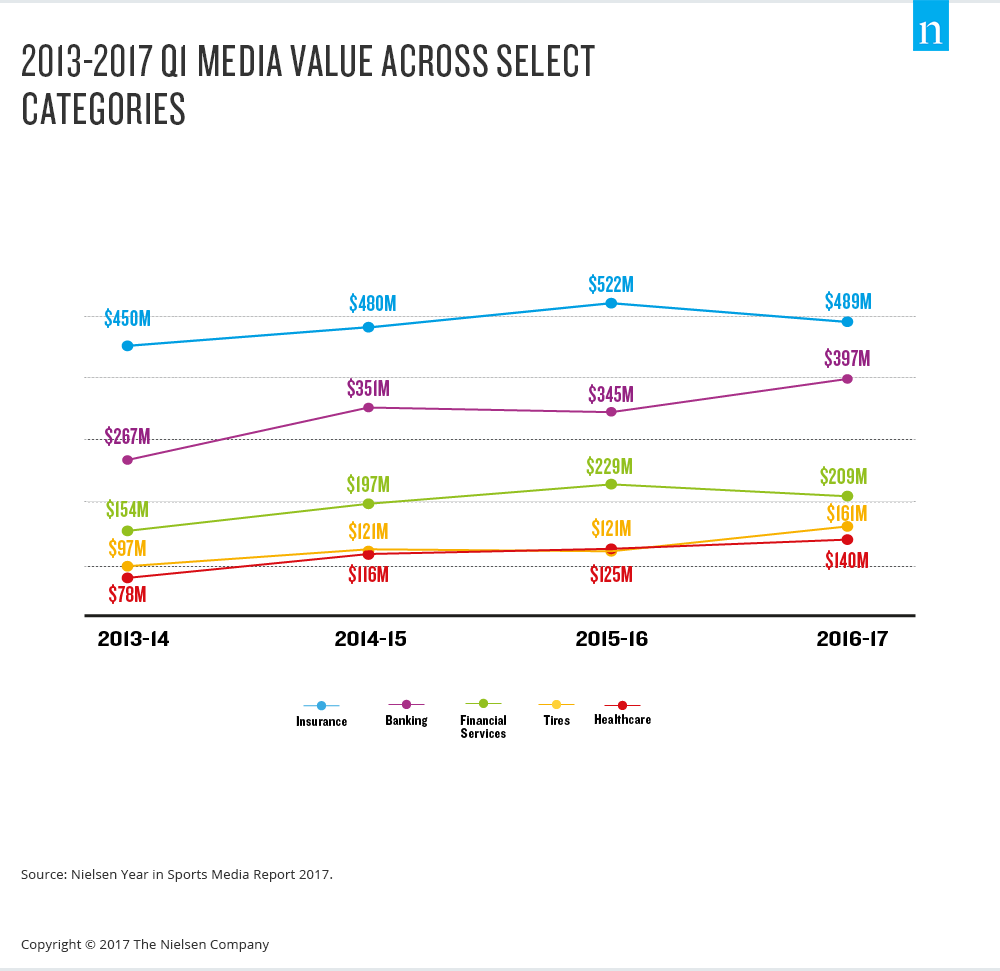 While these newer entrants to sports sponsorship are gaining traction, its technology brands that have gained the most television QI Media Value year-over-year, followed by the video gaming and consumer electronics. The video gaming category, in particular, was led by Sony PlayStation's growing presence in the NBA. Meanwhile, the growth in QI Media Value for technology and consumer electronics brands come from increases in both NFL stadium and NBA arena presence. With esports continuing to gain popularity and driving sports into the digital age, technologically oriented brands are expected to continue to derive value from exposure across fan bases.
With sports fans' media consumption habits continuing to evolve, sports leagues, teams and sponsors are taking a more holistic approach to activation, and new measures are helping them understand their effect. Download Nielsen's Year in Sports Media Report U.S. 2017 to learn more about how the major U.S. sports are adapting, including how they're optimizing brand exposure via social media channels.