There is no shortage of news and research about the effect that streaming is having on TV viewing behaviors. Most recently, U.S. streaming usage hit a new high in April, capturing more than 30% of audiences' total TV time. For advertisers, this time of massive viewership fragmentation has considerable implications, yet many have remained focused on traditional TV, steadily increasing their ad spend since their COVID-driven pullbacks in the middle of 2020.
Streaming boom aside, the upside of traditional TV remains very high. In fact, audiences still spend twice the time with live TV than they do with content they access via their connected devices. From that perspective, TV remains a key channel for brand awareness, marketers' top objective for the year ahead. And in the U.S., TV ad spending is very reflective of this goal, as brands allocated nearly 50% of their ad budgets to linear television last year.
There's no discounting the importance of reaching the largest audience possible, but doing so requires more planning and strategy than it did when our media choices were far more finite. And while traditional TV remains a media mainstay, Nielsen Scarborough data shows that 47% of U.S. adults are either light or zero TV (weekly broadcast, cable) viewers. And those light viewers spend less than two hours each day watching traditional TV. This fragmentation of audience time can present challenges, but when advertisers have a clear understanding of channel usage, they're better positioned to balance their spending for optimal returns.
It goes without saying that people who watch more TV see more ads than those who watch less. But when just under 30% of adults in the U.S. watch less than two hours of TV per day, reach and frequency strategies that lean heavily on TV can become challenging and expensive. For context, a typical national TV campaign running for three months will struggle to resonate with light TV viewers, who will see few ads. In a recent campaign, Nielsen Media Impact found that light viewers didn't even see two ads. Comparatively, heavy TV viewers were over exposed, as they saw as many as 25 ads. Additionally, it can be difficult to regulate the number of ads audiences see if a campaign is too reliant on a single form of media.
It's possible that a brand could achieve its reach and targeting goals with a narrow media mix. But as media behavior splinters and audiences spend more time streaming, the importance of a well-rounded media mix rises. And many marketers are actively pivoting to engage audiences where they're spending more time, paying increasing attention to emerging digital channels like social media and connected TV.
According to the Nielsen 2022 Annual Marketing Report, marketers in North America dedicated more than half of their 2021 ad budgets on digital channels, with plans to increase digital spend again in the coming year. In fact, North America marketers planned to increase their social media spend by 61%, noting they believe it to be more effective than traditional channels like TV and radio (57% extremely/very effective vs. 49% and 41%, respectively).
As with any strategy and decision, data needs to be a marketer's best guide. Said differently, perceived beliefs may not always pan out to be true. To better understand the ways in which different channels perform, we recently used Nielsen Media Impact to gauge the effectiveness of a single, one-month $5 million auto campaign simply by adjusting a typical media plan to include traditional radio—without adjusting the budget. Notably, according to Nielsen Ad Intel, automotive manufacturers spend an average of 67% of their monthly media spend on TV, followed by 27% on digital.
In the optimized campaign, the auto brand increased its reach by 26% because 19 million more people in the target audience were exposed to the campaign.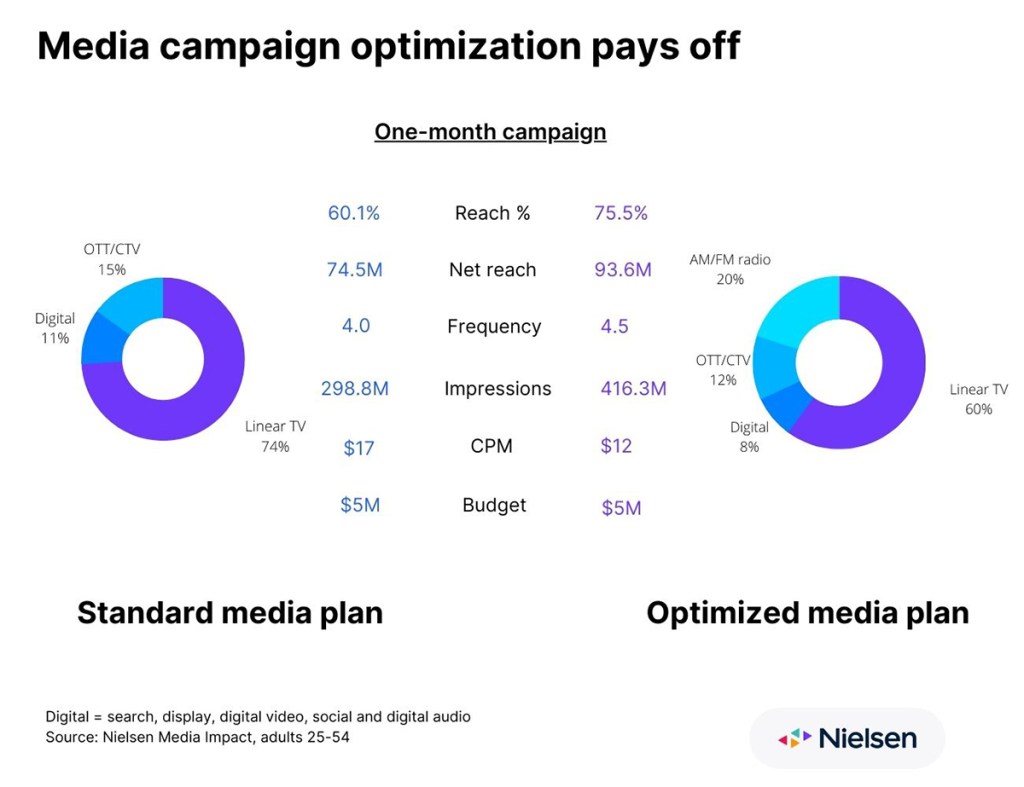 Media plan optimization has always been important for marketers seeking to ensure efficient and effective spending across channels. As media channels and devices fragment, it becomes even more important. Marketers will always be tasked with delivering tangible returns for their investment. That's the nature of marketing. But as consumers' time spreads across new platforms and devices, effective marketing plans will consider them through the lens of target audience, time spent and messaging frequency.