With an ever-expanding media landscape, audience preferences are pivotal. Creators and distributors want to engage audiences, and brands seek relevant content opportunities where their messages can truly resonate. Any meaningful engagement with audiences requires a deep understanding of people, but building meaningful relationships with Hispanic audiences can be more complex.
That complexity stems from the inherent nuances within the community—nuances that are critical considerations for any creator, distributor or brand thinking about engaging with Hispanic audiences. For those that invest in building trust with Hispanic audiences, the upside is significant.
"Building strong ties with Hispanic audiences goes beyond producing inclusive content and effective ads," says Stacie de Armas, SVP of Diverse Insights and Intelligence at Nielsen. "Latinos value quality media and trustworthy content—the factors that lend authenticity and affirm credibility. Smart brands work within these ecosystems, boosting their standing and building loyalty among the community."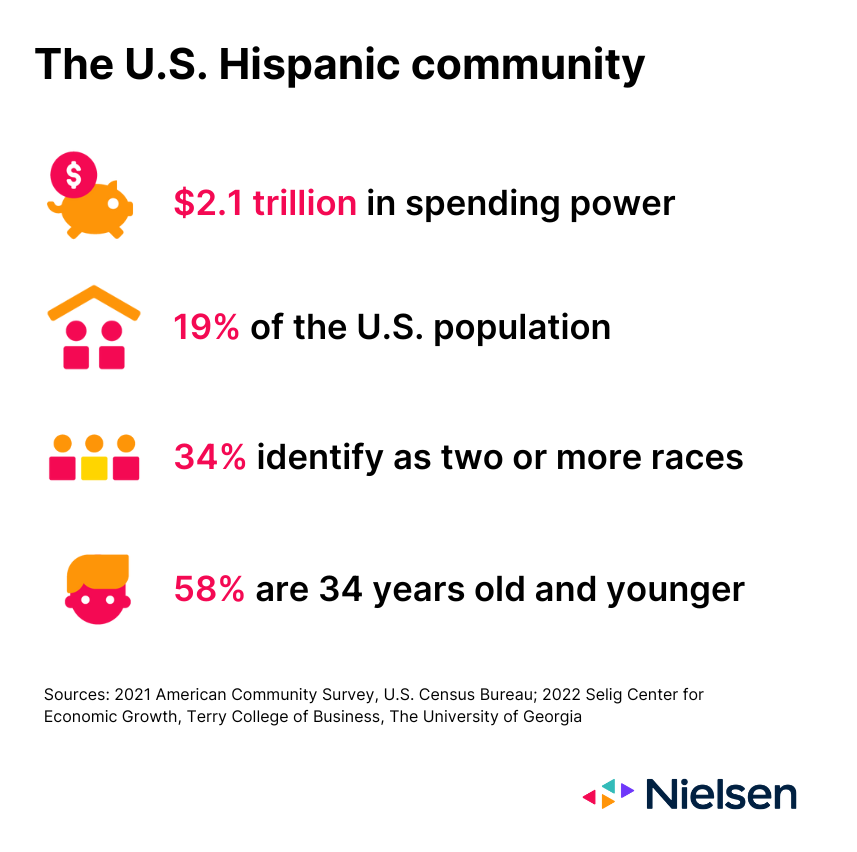 According to our 2023 We Are All Human and Hispanic Sentiment Study, powered by Toluna, 84% of Latinos say they favor brands that play a positive role in their community, and 63% say they're more likely to buy from brands that feature people like them in their advertising.
To activate on these insights, brands and media companies can nurture relationships with the community by:
Ensuring cultural relatability
Advocating for authentic representation
Maintaining consistent brand positioning
Demonstrating responsibility
Actively engaging with the community
Build trust through community
Representation, inclusion and cultural relevance are important well before consumers make purchase decisions. People are constantly exposed to brand messaging, and consumers recall brand messages even when they're not considering a purchase. That's why building strong brand sentiment, via authentically engaging with the community, is a critical step, regardless of where a person is within a purchase cycle. And when brands build positive sentiment with consumers, the consumers are more likely to become a customer when they ultimately seek to make a purchase.
Balancing language and relevance in media
Watching TV shows and consuming other forms of media hold different layers of significance for different audiences. For Hispanics, the focus isn't solely on language proficiency or the language in which the content is delivered. Instead, it's about striking a balance between language preference and the relevance of the content.
Our data highlights this complex relationship. Forty percent of Hispanics state that it's important for shows to be in their preferred language, while an additional 32% find it somewhat important. Interestingly, this contrasts with 70% of non-Hispanic whites who find language an important factor in their media choices.
These numbers show that Hispanics are highly adaptable when it comes to language; they're open to consuming content in Spanish or English, provided the content is culturally meaningful and resonant, demonstrating that shared experiences can be more pivotal than language itself. The finding for media and advertisers is clear: Focus not just on the language of delivery, but also on creating content that fits seamlessly into the cultural tapestry of Hispanics' lives.
In the evolving media landscape, one truth stands out with absolute clarity: the burgeoning opportunity within the Hispanic market. The key to effectively engaging the Hispanic community depends on understanding the critical nuances within this rich tapestry of cultures. A potent mix of cultural relatability, authenticity and inclusion will be the touchstones of successful interactions. Trust building is not an abstract concept; it demands a deep understanding of the individuals that make up the community, and those who invest in understanding stand to benefit the most.
For additional insights, download our 2023 Hispanic Diverse Intelligences Series report.