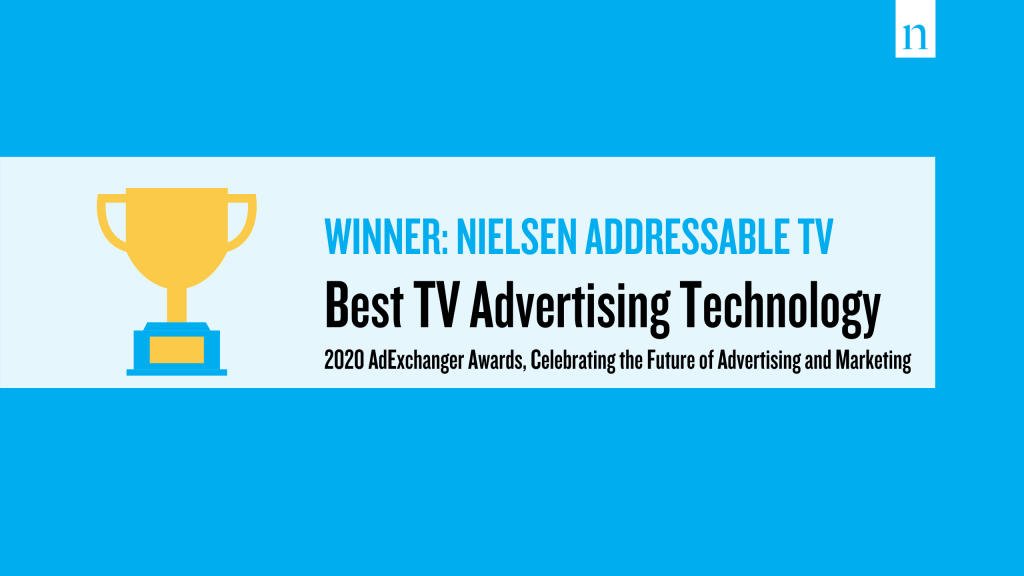 Nielsen's Addressable TV Advertising Solution was recently selected as the winner of the Best TV Advertising Technology category at the 2020 AdExchanger Awards. The solution was also a finalist in the Best Publisher-Side Video Technology category.
Addressable TV has long been hailed as the future of television advertising, bringing digital's targeting, data and control to television's unrivaled reach and impact. We are entering an exciting time where addressable TV can scale, and we are proud to have won in this very important category. Nielsen's addressable TV advertising solution is taking addressable TV to new heights by creating a new market for national networks, bringing benefits to TV programmers, buyers and consumers alike.
"Over the past 24 months, we have been relentless in listening to the marketplace, collaborating with clients and building an addressable TV product that would revolutionize the TV industry by offering the technology, flexibility and innovation necessary to execute addressable TV campaigns at scale," said Kelly Abcarian, General Manager, Advanced Video Advertising, Nielsen. "We are humbled and honored that the collective work of our amazing team and the strong belief from our beta clients was recognized by the industry at large at this year's AdExchanger Awards."
The future of linear TV is addressable, and Nielsen is taking a bigger, bolder role in shaping this future by bringing the scale of television impressions to the market via its open and modular addressable TV advertising solution, with opportunities for the entire ecosystem across agencies, advertisers and media companies. We're helping the TV programmer ecosystem and the demand-side leverage the power of smart TVs to help deliver targeted advertising capabilities previously reserved for digital media. Through real-time ad insertion, underlying linear TV advertisements can be replaced with a dynamically targeted advertisement, based on the household's targeting profile. Powered by automatic content recognition (ACR) technology, it also provides quick response time capabilities, allowing marketers to quickly pivot campaign activities based on consumer sentiments. This is especially beneficial now, when viewer habits are rapidly evolving.
Eight major U.S. TV networks including A+E, AMC, CBS, Discovery, FOX, NBCUniversal, Univision and WarnerMedia have been participating in our addressable TV beta program in recent months. These innovative publishers are gaining invaluable insights that will inform their future sales strategies. We're grateful for the collaboration and resilience all the beta clients have shown working in these unprecedented times. Without their continued support and belief in the opportunity for Nielsen's addressable TV advertising solution to unlock the full value of linear addressable at scale, bringing this innovation to the media ecosystem would not have been possible.
The AdExchanger Awards are designed to recognize and celebrate the advertising and marketing community's top achievers and those who have made the most meaningful impact on the industry this past year. Winners were named across 30 categories during a live virtual celebration on Thursday, May 21, 2020, attended by over 600 leading marketers, publishers, and technologists from across the globe.