Data still points to Norway again bringing home most medals overall, Russia Olympic Committee beating Russia and Soviet Union records
UPDATE: Due to the impact of the global COVID-19 pandemic, there is potential for the Beijing Winter Games to be more unpredictable than normal. As usual, the Nielsen Gracenote Virtual Medal Table has used the data available since the last Winter Games in 2018 to identify the athletes who are likely to be successful at the 2022 Games. There is a high probability that some competitors currently ranked in our top threes will not be able to compete due to failing a COVID test. At the time of writing, Austrian ski jumper Sara Marita Kramer (originally forecast gold) is out of the Olympics because of a positive COVID test and has been removed from the forecast. Hungarian short track skater Shaoang Liu (forecast silver) is doubtful for the same reason.
Emeryville, Calif. – February 2, 2022 – With two days remaining before the 2022 Winter Olympics opening ceremony in Beijing, Nielsen's Gracenote has released its final Virtual Medal Table (VMT) forecast. Considering all results from key competitions since the 2018 Winter Games, Gracenote projects gold, silver and bronze medal counts for participating countries at the XXIV Olympic Winter Games.
Since the re-release of the Beijing 2022 VMT on October 27, 2021, China and Japan have improved the most, adding seven and six medals to their respective totals. Results during this winter's World Cup seasons have impacted Russia Olympic Committee (ROC). ROC's projected medal total is down eight compared to October 27.
Here are VMT projection highlights for the upcoming Games, which begin on February 4, 2022:
Gracenote expects Norway to top the Olympics medal table for the second straight Winter Games. The 44 medals currently projected to be won by the Norwegians would break their previous Olympic record of 39 set at the Pyeongchang Winter Olympics in 2018.
The United States and Canada are projected to be in a close battle for fourth place in Beijing 2022. Team USA won fewer medals than their northern neighbors at Pyeongchang 2018. Canada has never topped Team USA on the medal table at two consecutive Winter Olympics.
Canada has improved by one medal since the Virtual Medal Table was relaunched 100 days ahead of Beijing 2022. The Canadian team's medal forecast is now level with the United States.
With Russian athletes allowed to compete under the Russia Olympic Committee (ROC) banner, the team is expected to improve significantly over the performance of the Olympic Athletes from Russia team, its previous name in 2018. The Russia Olympic Committee is forecasted to win more medals than any team representing Russia or the Soviet Union at a Winter Olympics when not hosting.
Germany is forecasted to suffer a small decline on its 31 Winter Olympics medals won in 2018 with 30 medals projected for 2022.
The global COVID-19 pandemic forced many Asian competitors to forego major events between the Pyeongchang 2018 and Beijing 2022 Winter Games, resulting in less data than usual. The performances of these countries, particularly China, could be underestimated based on current results data. However, Asian participation in World Cup events this season has sharpened the forecasts for these countries.
The Top Ten Medal Winning Countries

(2022 projection: 44 medals, 2018: 39 medals)
Norway is expected to surpass its record-breaking total of 39 medals won at Pyeongchang 2018. Cross country skiing and biathlon will be key for the Norwegians if they are to achieve this target. Currently, 28 medals are forecast for Norway in those two sports, eight more than they have ever won at a Winter Olympics.
Watch out for:
Aleksander Aamodt Kilde (Alpine Skiing)
Johannes Thingnes Bø, Sturla Holm Lægreid, Marte Olsbu Røiseland, Tiril Eckhoff (Biathlon)
Johannes Høsflot Klæbo, Therese Johaug (Cross Country Skiing)
Jarl Magnus Riiber (Nordic Combined)
Marius Lindvik (Ski Jumping)
Marcus Kleveland (Snowboard)
(2022: 30 medals, 2018: 31 medals)
Germany is set for a slight decline on its 31 medals at Pyeongchang 2018. That was the country's best Winter Games since Salt Lake City 2002 when the Germans set a then-record of 36 medals. That record has since been beaten by the United States (37, 2010) and Norway (39, 2018).
Watch out for:
Francesco Friedrich, Laura Nolte (Bobsleigh)
Johannes Ludwig, Julia Taubitz, Toni Eggert, Sascha Benecken (Luge)
Vinzenz Geiger, Eric Frenzel (Nordic Combined)
Karl Geiger (Ski Jumping)
(2022: 30 medals, 2018: 17 medals)
Russian athletes are allowed to compete at the Beijing Winter Games under the Olympic flag as Russia Olympic Committee. The team is forecasted to win 30 medals, more than any Russian or Soviet team has managed at a Winter Games when not hosting. Cross country skiing and figure skating are currently projected to be the most successful sports for ROC, delivering seven medals each.
Watch out for:
Alexander Bolshunov, Natalia Nepryaeva (Biathlon)
Kamila Valieva (Figure Skating)
Maxim Burov (Freestyle Skiing)

(2022: 22 medals, 2018: 23 medals)
Only twice (1998, 2018) have the United States won fewer Winter Olympics medals than Canada. Current Gracenote projections suggest this may repeat in 2022 as the two countries are close. U.S. medals are likely to be spread across eight sports with freestyle skiing delivering the most medals.
Watch out for:
Mikaela Shiffrin (Alpine Skiing)
Kaillie Humphries, Elana Meyers Taylor (Bobsleigh)
Jessica Diggins (Cross Country Skiing)
Anthony Hall (Freestyle Skiing)
Brittany Bowe (Speed Skating)

(2022: 22 medals, 2018: 29 medals)
Canada is coming off of its best-ever total medal count from the Winter Olympics in 2018. The current forecast of 22 medals for Beijing 2022 would be Canada's fewest medals since Salt Lake City 2002. While speed skating looks to be Canada's strongest sport with eight medals projected, Canadian competitors are contenders in a broad range of sports as usual.
Watch out for:
Kim Boutin (Short Track)
Mark McMorris (Snowboard)
Isabelle Weidemann, Ivanie Blondin (Speed Skating)

(2022: 21 medals, 2018: 15 medals)
Switzerland's 15 medals at the 2018 Winter Games matched the country's best Winter Olympic performance since 1988. Current Gracenote forecasts suggest an even better performance in Beijing with 21 medals projected for the Swiss. Alpine skiing and freestyle skiing are the key sports if Switzerland is to achieve a new Olympic record number of medals.
Watch out for:
Beat Feuz, Marco Odermatt, Lara Gut-Behrami, Corinne Suter (Alpine Skiing)
(2022: 20 medals, 2018: 20 medals)
The Netherlands is projected to repeat its performance at the 2018 Winter Games by winning 20 medals. If the Netherlands achieves this, it will be the third successive Winter Games with 20+ Dutch medals. Prior to 2011, the Netherlands had never won more than 11 medals at a Winter Olympics. Dutch performance is, as usual, heavily reliant on events on the skating track.
Watch out for:
Suzanne Schulting (Short Track)
Kimberley Bos (Skeleton)
Thomas Krol, Jorrit Bergsma, Irene Schouten, Ireen Wüst (Speed Skating)

(2022: 19 medals, 2018: 14 medals)
If Sweden can win 16 medals in Beijing, it would be the country's best Winter Games performance, and the current projection has them well ahead of that. Sweden's female athletes are particularly strong this year. Twelve medals are projected to go to Swedish women with another two forecast in the mixed alpine skiing event and mixed doubles curling.
Watch out for:
Hanna Öberg, Elvira Öberg, Sebastian Samuelsson (Biathlon)
The Curling teams
Ebba Andersson, Frida Karlsson (Cross Country Skiing)
Nils van der Poel (Speed Skating)
(2022: 19 medals, 2018: 15 medals)
France's two best Winter Olympic performances were in 2014 and 2018 when they took home 15 medals. France is expected to improve upon this and win 19 medals. Strong performances in alpine skiing, biathlon and freestyle skiing will be critical to France taking home a new record number of medals from Beijing.
Watch out for:
Alexis Pinturault (Alpine Skiing)
Quentin Fillon Maillet, Emilien Jacquelin (Biathlon)
Tess Ledeux (Freestyle Skiing)

(2022: 19 medals, 2018: 13 medals)
Japan has improved its medal total at each of the last three Winter Games, winning a record 13 Winter Olympic medals last time. Japan is expected to break that record in Beijing and win 19 medals.
Watch out for:
Yuzuru Hanyu (Figure Skating)
Akito Watabe (Nordic Combined)
Ryoyu Kobayashi, Sara Takanashi (Ski Jumping)
Ayumu Hirano, Yuto Totsuka, Kokomo Murase (Snowboard)
Miho Takagi, Nao Kodaira (Speed Skating)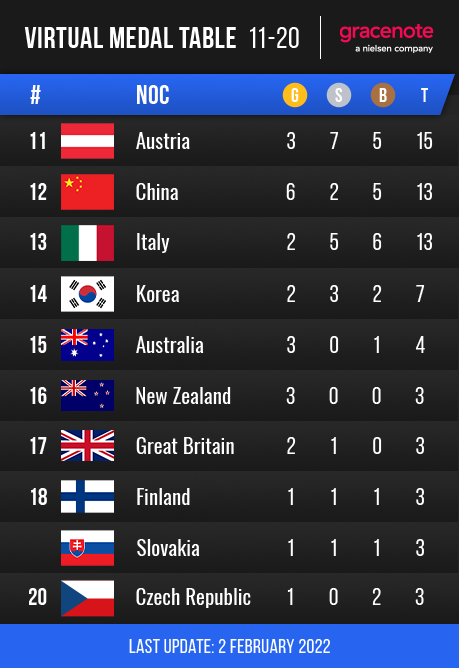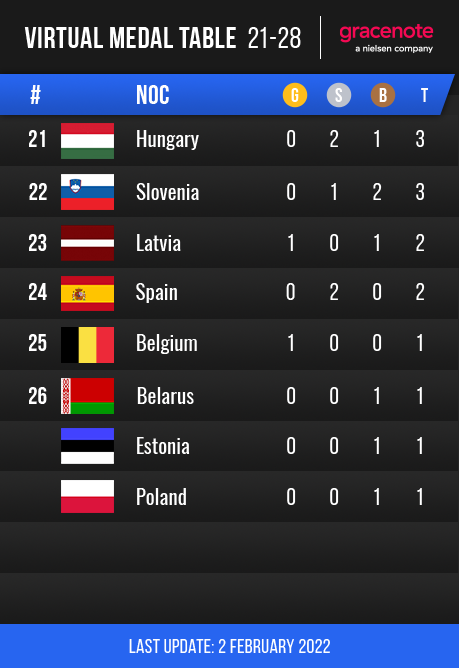 Other major winter Sports Nations

(2022: 15 medals, 2018: 14 medals)
Austria is forecasted to win one more medal at Beijing 2022 than it did in Pyeongchang. This is, in part, due to Austria having medal chances in more Winter Olympic sports than usual. Forecasts for Austria have them winning medals in seven different sports in Beijing which would equal the country's record set in 2010.
Watch out for:
Vincent Kriechmayr, Katharina Liensberger (Alpine Skiing)
Lisa Theresa Hauser (Biathlon)
Wolfgang Kindle, Madeleine Egle, Lorenz Koller, Thomas Steu (Luge)
Johannes Lamparter (Nordic Combined)
Anna Gasser (Snowboard)

(2022: 13 medals, 2018: 9 medals)
China is expected to have its best ever Winter Olympics, winning 13 medals including six gold. China's medals are projected to be won in sports they have previously won medals in like figure skating, freestyle skiing, short track, snowboard and speed skating.
Watch out for:
Xu Mengtao, Sun Jiaxu, Eileen Gu (Freestyle Skiing)
Ren Ziwei, Wu Dajing, Fang Kexin (Short Track)
Cai Xuetong (Snowboard)
Ning Zhongyan (Speed Skating)

(2022: 13 medals, 2018: 10 medals)
Italy has improved its medal total at each of the last two Winter Games and is projected to do so again by the Gracenote Virtual Medal Table. Thirteen medals will be Italy's best since Salt Lake City 2002. Any more than that will be the best since a record 20 Italian medals at Lillehammer 1994.
Watch out for:
Federica Brignone, Sofia Goggia (Alpine Skiing)
Dorothea Wierer (Biathlon)
Federico Pellegrino (Cross Country Skiing)
Arianna Fontana (Short Track), Michela Moioli (Snowboard)
Francesca Lollobrigida (Speed Skating)
(2022: 7 medals, 2018: 17 medals)
The Virtual Medal Table forecast suggests that Korea will drop off a lot from the record medal winning total when hosting the Winter Games four years ago. Given the historical medal numbers for Korea, there is a good chance that the projection is underestimating the actual medals Korea will win in Beijing.
Watch out for:
Hwang Dae Heon, Choi Min Jeong, Park Ji Won, Kim Ji Yoo (Short Track)
Lee Sang-Ho (Snowboard)
Related VMT content
Tracing the Evolution of the Nielsen Gracenote Virtual Medal Table
Nielsen Gracenote first introduced its Virtual Medal Table (VMT) methodology to forecast the most likely Olympic gold, silver and bronze medal winning countries more than a decade ago. As subsequent Games have taken place, the algorithm has been improved based on lessons learned. The greatest challenge yet to data-driven forecasting of Olympics performance has been the global COVID-19 pandemic.
It is inherently difficult to accurately forecast how athletes and nations will perform in an event that occurs every four years. COVID-19 added yet more unpredictability with championship events, trials and competitions postponed, cancelled, or missing athletes from many countries.
While Gracenote Sports continually adjusts its methods and uses each Olympic Games as an opportunity to sharpen our methodologies, COVID-19 has brought that process into even sharper focus.
Still, our methodologies, and the ongoing updates we make to them, were further validated following the recent Summer Olympics which ended just a few months ago. Here are some highlights:
Our VMT model correctly projected the top-10 countries on total medals.
Among the top-20 nations, Japan, Netherlands, Italy, Brazil, Turkey and India were all correctly forecasted to win their most-ever medals. Canada was correctly predicted to have its best Olympics since 1984.
Four of the top-six on the VMT forecast finished within one gold medal of their projected totals.
Even without spectators, our home advantage factor worked again, with host nation Japan finishing within one gold and two overall medals of the medal tally predicted by the VMT.
We correctly predicted the medal total for the Russian Olympic Committee, and were within two medals of Germany's final results.
Our prediction for a record-breaking performance by Italy was spot on as we forecasted within one medal and two golds of their final medal count.
We correctly forecasted South Korea to be outside the top-10 gold medal winners for the first time in over 20 years; also had total medal count correct for South Korea, and gold medals missed by just one.
And, yet, there is room for improvement. Our predictions for host China and other Asian countries – 13 medals for China, 19 for Japan and seven for Korea – may be affected by athletes' lack of participation in events leading to the Games because of COVID. While post-Olympic validation has shown that the VMT is performing well, we are constantly fine tuning our methods to ensure the best performance possible.
With that in mind, here are some ways we have adjusted the VMT over the years:
Home advantage
Prior to 2012, it was assumed that any home advantage was due to additional investment and would be reflected in results. Great Britain's total of 65 medals was accurately forecasted by the VMT but the prediction fell short on gold medals. A home advantage factor was introduced to make the gold medal forecast more accurate. Tokyo 2020 again showed how well this works when the pre-Tokyo forecast of 60 medals (26 gold) for Japan proved to be incredibly close to the eventual 58 medals (27 gold).
Best results
In some sports, competitors record vastly different numbers of results between Olympic Games. Instead of including all of these results between Olympic Games, the VMT uses the best recorded by each competitor, along with other factors, to create the ranking. This means that competitors who participate significantly more than others are not rewarded for doing so.
Personal season bests
Forecasts for sports like athletics and swimming are improved by including a virtual race each year using personal season best times.
These changes, along with others, to the VMT algorithm have improved our forecasts for the Olympic Games over the years. The global COVID-19 pandemic has introduced other issues though.
Lack of competitions
Winter sports events around the world have been cancelled due to the global pandemic, particularly in 2020. Some sports have even had world championships cancelled, including the world championships for both curling and ice hockey.
Fortunately, most winter sports have many events each year. Therefore competition cancelations or postponements have not had as big an effect on forecasting the Winter Olympics just yet as the lack of summer sports events when projecting the medal table for Tokyo. However, the amount of data we are accustomed to using is relatively small. This can lead to less accurate assessments of those sports than usual.
Missing athletes
The winter sports events have not been as well attended by athletes since the global COVID-19 pandemic hit in early 2020. This was particularly extreme at the 2021 world short track championships and world single distance speed skating championships when there was no presence from any Asian athletes. This is important since Korea and China won 16 of the 30 medals at the previous world short track championships in 2019 and Japan, Korea and China won seven of the 48 medals at the 2020 speed skating world championships.
To adjust for this situation, our analysts have reduced the weighting of these two World Championships in our algorithm. Both short track and speed skating have a number of World Cup events scheduled before Beijing 2022, so these events will help sharpen the Virtual Medal Table forecast given their proximity to the Winter Games.
China
During the 2020/2021 winter sport season, the only Chinese competitors were figure skaters and freestyle skier Eileen Gu, who is based in the United States. No other country has as little data for that season than the host nation.
The lack of participation by China's athletes is currently the biggest issue for our Virtual Medal Table calculations. China doesn't have a strong pedigree in winter sports, with a best return of 11 medals at previous Winter Olympics, but they have invested heavily ahead of these Games. Normally, we would see that investment in improved results but the lack of competition has not made that possible. Our final projection of 13 medals makes sense given the results China has recorded but it may turn out to be on the low side.
In addition to the 13 medals currently projected for China, the following are the most likely surprises:
Bobsleigh – women's monobob: Ying Qing
Monobob provides opportunities for China as it has never previously been an Olympic sport and the Chinese team will know the track better than anyone. Ying Qing looks the best of China's three potential entrants as she won a very high quality competition in Königsee in December 2019.
Bobsleigh – 2 women: Ying Qing and Du Jiani
During the 2019/2020 bobsleigh season, Chinese competitors were finishing in and around the top-10 in this event. With two years of further development and the home advantage which comes with knowing the track in Beijing inside out, China could well challenge the discipline's best competitors. Ying Qing and Du Jiani are the best of the Chinese pairs.
Similarly, China's young 2-man and 4-man bobsleigh teams could also be in line for medals. The 4-man team finished seventh in St. Moritz in February 2020 and the 2-man team had a best ever World Cup finish of 10th at the same event.
Snowboard – halfpipe: Cai Xuetong
Immediately prior to March 2020, snowboarder Cai Xuetong was posting impressive results in halfpipe. Cai Xuetong won her last three major events before the pandemic. Her absence from both of 2021's most important competitions, the X Games and the World Championships, mean she dropped out of the Virtual Medal Table top-3.
Freestyle skiing – aerials
A number of different Chinese competitors led by Xu Mengtao were producing good performances on the 2019/2020 World Cup circuit but did not compete in the 2020/2021 season. China will have a strong chance in the team aerials competition with opportunities in the individual events.
Adjustments are always ongoing to ensure the most accurate VMT results, but adjusting for the effects of the global pandemic has been the toughest challenge yet for our methodology. However, the changes our team made for Tokyo 2020 were effective, and other lessons learned along the way give us confidence in our Beijing 2022 forecast.
Can host nation China increase its medal count at the 2022 Winter Olympics?
China, the host nation of the 2022 Winter Olympics, is forecast to win four more medals in Beijing as in the 2018 Games in Pyeongchang by the Nielsen Gracenote Virtual Medal Table (VMT). However, the lack of data for Chinese competitors between February 2020 and this winter sports season, due to no Chinese athlete participation at world events because of COVID-19, may mask even more medal improvement.
Nations which host the Olympic Games – summer or winter – historically perform better than in previous Olympics. Host nations typically increase investment in sports. An improvement to financial resources has a direct link to medal success at the Olympic Games. Better coaches are employed, facilities are improved and there is more focus on talent development. This investment and improvement tends to reveal itself in results between Olympic Games but, due to the COVID-19 pandemic, Chinese competitors have nearly two years of missing results. The usual home advantage adjustment employed in the VMT has been expanded to help account for this missing data but after doing that, China still has only a few more medals projected than the country won in 2018.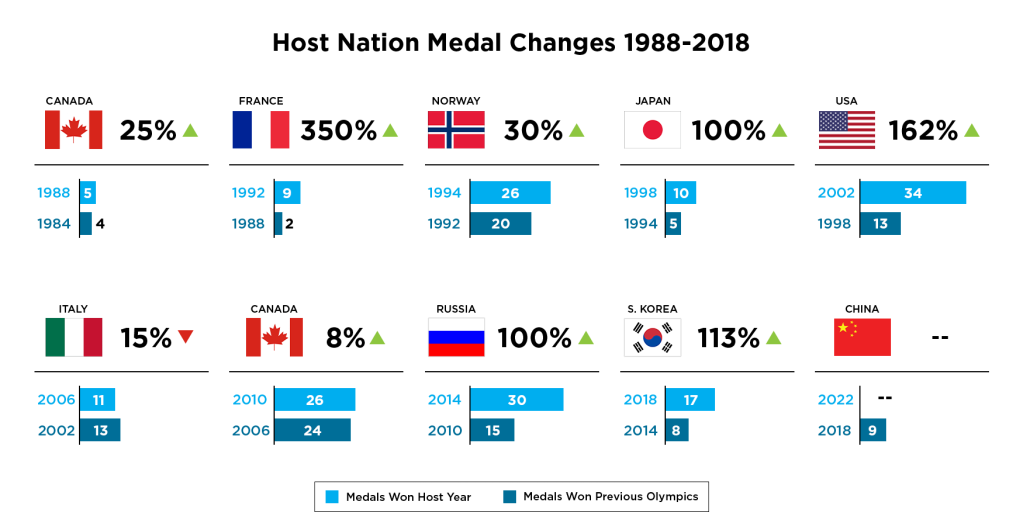 Generally, host nations have been able to improve their medal counts over preceding games, often significantly. In fact, five of the last nine host nations have won at least twice as many medals than they managed at the previous Winter Games. But current data does not show Chinese athletes delivering such an improvement at the Beijing Games, even with an adjustment to the usual home advantage factor in our Virtual Medal Table algorithms.
China won nine total medals at the 2018 Winter Olympics in Pyeongchang. Nearly four years later, the Chinese team is projected to win 13 at Beijing 2022.
China has never won a Winter Olympic medal in alpine skiing, biathlon, bobsleigh, cross country skiing, ice hockey, luge, nordic combined, skeleton or ski jumping.
This trend appears set to continue as current Gracenote projections have no Chinese participants ranked in the top-eight of these sports for the Beijing 2022 Games.
China's medal chances in Beijing are likely restricted to curling, figure skating, freestyle skiing, short track, snowboard and speed skating. To double the number of medals that China won in 2018, from nine to 18, around 70% of the Chinese participants and teams ranked in Gracenote's top-eight in these sports would need to finish in the top-three.
China's best medal prospects at Beijing 2022 are figure skaters Sui Wenjing and Han Cong, freestyle skier Eileen Gu, the three Chinese short track relay teams and Wu Dajing and Fen Kexin in the same sport.
Freestyle skier Xu Mengtao and the aerials team she is a part of look like medal prospects for China but they missed events in 2020 and 2021. Snowboarder Cai Xuetong had a similar record, performing well before the global pandemic but missing competitive results in 2020 and 2021.
It is reasonable to expect a home advantage boost for China in terms of its medal performance in comparison to previous Winter Games. However, missing data between February 2020 and the winter of 2021 made this tougher to assess. The Virtual Medal Table estimate of 13 medals may still prove to be on the low side because of this.
'New' sports help Korea and China become Winter Olympic medal contenders
Like its summer sibling, the Winter Olympics has gradually grown in size over time. The event's humble beginnings go back nearly 100 years when it debuted with just 16 competitions in eight sports. As recently as 30 years ago, the Winter Games had just over half of the 109 medal events that Beijing 2022 will host.
Between 1992 and 2002, a trend of adding new sports to the Winter Olympic programme emerged. Curling and skeleton returned, having been Olympic sports before, while freestyle skiing, short track speed skating and snowboard became part of the Winter Games for the first time. This process was completed when skeleton returned to the programme at Salt Lake City 2002. The 15 sports showcased in Salt Lake City have remained the same since but there are 31 more medals to win now than there were 20 years ago.
The (re-)introduction of freestyle skiing, short track, curling, snowboard and skeleton between 1992 and 2002 has provided medal-winning opportunities to a greater number of competing countries. Korea, for example, had never won a Winter Olympic medal prior to 1992 despite participating in the event since 1952. With the debut of short track at Albertville 1992, the Korean team became an important Winter Olympic nation. Korea ranks 12th on the Winter Games medal table since 1992 with 70 cumulative medals, including 31 gold.
Korea's first Winter Olympic medal was in the already existing event of men's 1000m speed skating (silver for Kim-Yoon Man in 1992) but its next 21 were all won in short track. In total, Korea has won 48 of its total Winter Games medals (69%) in short track.
Similarly, 2022 host nation China didn't win a medal at its first three Winter Games between 1980 and 1988. Since 1992 however, China has picked up 62 medals. Forty-six of those medals (74%) have been won in sports which weren't on the Winter Olympic programme during China's first three participations.
Traditional Winter Olympic nations have also benefited from the addition of these new sports to the Winter Games programme. Canada (84 medals) and the USA (83) have been the most successful in the five sports which were added between 1992 and 2002, Korea and China are next, followed by Switzerland, France, Russia and Norway.
Like China and Korea, Australia has also won its first Winter Games medals in the period since 1992 with 14 of the country's 15 medals being won in sports reintroduced to the programme since then. Alpine skier Zali Steggall, who grew up in the French Alps, is the only person to have won a Winter Olympic medal for Australia in a sport other than the five new sports.
While no new sports have been introduced since 2002, the number of medal events continue to increase – from 78 at Salt Lake City 2002 to 109 at Beijing 2022. More than half of the new events added since 2002 have been in freestyle skiing (7) and snowboard (9). The number of speed skating events has increased by four since 2002 with two team pursuits and two mass starts joining the Winter Olympic schedule. Other medal disciplines have generally been added to improve gender equality at the Winter Games by introducing new women's or mixed events onto the programme.
The addition of the seven new events to the Beijing 2022 programme seem to be fairly democratic in terms of which countries are likely to win medals. Thirteen different nations are forecast to finish in the top-three in these events. No team is projected to win gold in more than one.
All but one of the top-13 medal-winning countries according to the Nielsen Gracenote Virtual Medal Table (VMT) are forecast to win a medal in one of the new events. Japan is the only exception but the Japanese are ranked in the top-8 of both the mixed team ski jumping and mixed short track relay.
The medals in the sports added since 1992 will be won by 22 different countries in Beijing according to the VMT. Host nation China (11) and Canada (11 medals) are expected to be most successful in these new sports, followed by Russia Olympic Committee (10), Switzerland (10) and USA (8).
Winter Olympics Will Have Lowest-ever Gender Gap at Beijing 2022
Analysis by Nielsen Gracenote reveals that the proportion of events in which women can compete will increase for the 11th successive Winter Olympics at Beijing 2022. The gender gap relating to events at the upcoming Games will therefore be the smallest it has ever been with 52.75% of events for men and 47.25% for women. Gracenote's Virtual Medal Table (VMT) forecasts women from Italy, Sweden, USA, China and the Netherlands to win a higher proportion of their country's medals at Beijing 2022 than their male teammates.
Since 1992 when the gender gap really began to close, China, Sweden, Germany and Canada have had the biggest medal contributions from women. In each case, more than 50% of the medals have been won by those countries' women. According to the latest Gracenote VMT for the 2022 Games, women are expected to contribute over 50% of the following countries' medals in Beijing; Italy (77%), Sweden (68%), USA (64%), China (58%) and the Netherlands (58%).
At the first Winter Olympics, in Chamonix, France in 1924, there were only two events in which women could participate: the figure skating mixed pairs competition and the ladies' singles. There were 14 competitions for men only so, counting the mixed pairs as half an event for men and half for women, the gender gap was 81.3%. In Beijing, this gap has declined to just 5.5% in what will be the most gender-equal Winter Olympics ever.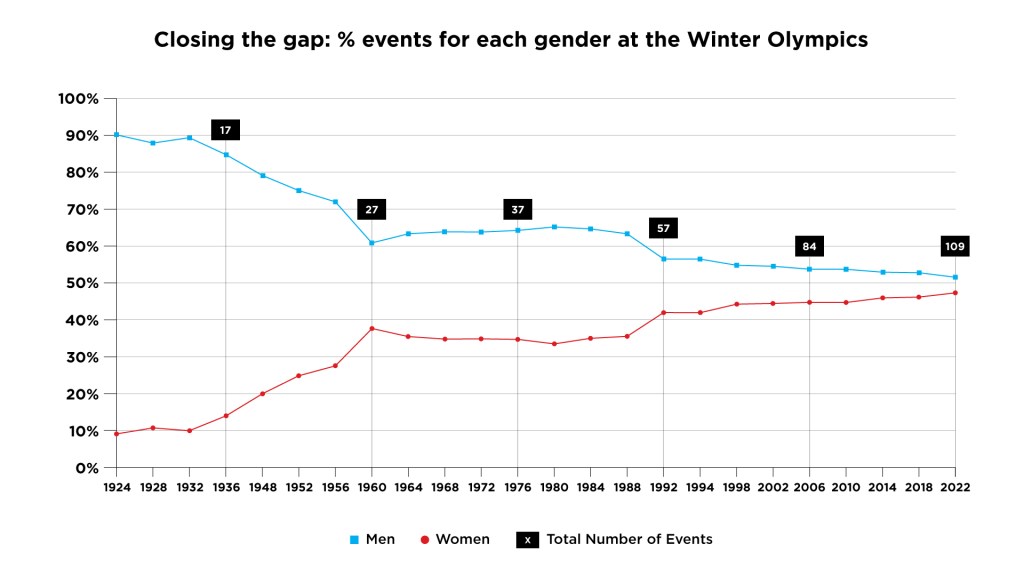 Since the start of the Winter Olympics, gender equality has progressed over four main periods during which events were added to the program:
1924 – 1936: The first four Winter Games were dominated by men's events. However, figure skating was gender equal from the first Winter Olympics and alpine skiing became the second sport with equal contests for men and women when it was introduced in 1936. With 17 medal disciplines on the program in 1936, the gender gap had declined about 11% to 70.6% at the final Winter Games before World War II.
1948 – 1960: The number of events for women increased from two in 1936 to 10 during this period. By the Squaw Valley Olympics in 1960, speed skating had added four competitions for women to the four already available for men, becoming the third gender-equal sport. Cross country skiing also featured events for women but only half as many as there were for men. At the 1960 Games, there were 27 medal disciplines including 10 for women and one mixed, resulting in the gender gap decreasing to just 22.2%, the lowest it would be until the 1992 Games.
1964 – 1980: Bobsleigh and luge were added to the Olympic program, increasing the number of sports featured to 10. Half of those sports still had no female participation though and speed skating now featured more medals for men than women after adding a fifth male-only event in 1976. The 1980 Winter Games had 38 events but only 12 were for women and the gender gap was back up to 31.6%.
1984 – 2022: In 2022, the gender gap will have narrowed for 11 Winter Olympics in succession. This has been achieved in three ways. Firstly, inclusion of equal numbers of events for men and women in the five new sports introduced since 1992. Secondly, leveling up competitions for men and women in most of the other 10 sports on the Olympic program. And thirdly, the recent addition of mixed team events. In 2022, women have nearly four times as many events to participate in as they did in 1980 and the gender gap is down to just 5.5%.
From 1984 onwards, the trend has changed as efforts have been made to create better gender equality at the Olympics. The number of events for men has more than doubled from 23 at the 1980 Winter Games to 50 at Beijing 2022. However, the number of events for women has almost quadrupled from 12 to 46 over the same period. In addition, the number of mixed events has increased five-fold from two to 11. This has combined to reduce the gender gap of Winter Olympic events down to an all-time low of 5.5% at the forthcoming Winter Games.
With the addition of a second women's event to the bobsleigh competitions at the 2022 Olympics, 12 of the 15 sports are now gender-equal. Nordic combined is the only remaining sport with no female participation.
The International Olympic Committee's aim is to eventually reach complete gender equality. In order to achieve this, a womens' doubles luge competition, a large hill ski jumping competition and three nordic combined events would need to be added. At the most recent World Championships of these sports, three of these five events were present but the nordic combined World Championships only included one event for women. The gender gap will again narrow at the 2026 Winter Olympics with the addition of ski mountaineering to the program. However, it remains to be seen if events for men and women will be completely equal and the IOC is able to meet its goal.
Who are the potential stars of Beijing 2022?
With exactly one month to go before the opening ceremony kicks off the 2022 Winter Olympics in Beijing, Nielsen's Gracenote identifies potential multiple gold medal winners at the forthcoming Winter Games based on its Virtual Medal Table (VMT) data and forecast. Here are 10 athletes to watch in February:

Johannes Thingnes Bø (Norway, Biathlon)
Norway's leading male biathlete, Johannes Thingnes Bø has genuine medal opportunities in four individual events and two relay events in Beijing according to the Gracenote Virtual Medal Table. In an incredibly competitive sport, he will be challenged most in the individual events by compatriot Sturla Holm Lægreid, the French pair of Emilien Jacquelin and Quentin Fillon Maillet and Swedes Sebastian Samuelsson and Martin Ponsiluoma amongst others.

Alexander Bolshunov (Russia Olympic Committee, Cross Country Skiing)
The best Russian cross country skier, Alexander Bolshunov is ranked number one by the VMT in both the 15km classic style event and the 2x15km skiathlon. He won four World Cup events in the former in 2021 and is current world champion in the latter. He is ranked second by the VMT in the 50km event and his team is the number two in both the 4x10km relay and the team sprint. At the 2018 Olympics, 2019 and 2021 World Championships, Bolshunov won four medals each time. The VMT is currently forecasting five total medals for the Russian in Beijing.
Francesco Friedrich (Germany, Bobsleigh)
Men's bobsleigh has been dominated by Germany's Francesco Friedrich since 2017. Friedrich won all 10 World Championship and Olympic Games gold medals in men's two-man and four-man bobsleigh from 2017 to 2021. Friedrich has won 27 of the last 29 World Cup or World Championship events in two-man and four-man events. No athlete in any winter sport has been as successful as Friedrich since the beginning of 2020. Only twice in the last 47 World Cup and World Championship events has he finished outside of first or second, winning gold on 40 occasions.
Eileen Gu (China, Freestyle Skiing)
China's most promising medal hope, Eileen Gu, was the host country's only prominent athlete to compete in the 2020/2021 World Cup season in any winter sport. Gu will participate in three freestyle skiing events in Beijing – big air, halfpipe and slopestyle – and has secured World Cup victories in 2021 in all three disciplines. She won gold at the World Championships and X Games in both halfpipe and slopestyle. In big air, she finished on the podium at both events. The VMT projects Gu to win two golds in Beijing.

Kaillie Humphries (United States, Bobsleigh)
Although she formerly competed for Canada, Kaillie Humphries will represent the United States in Beijing after her U.S. citizenship was confirmed in December 2021. Humphries has been one of the world's leading female bobsleigh pilots for over a decade and Gracenote's VMT ranks her first in both women's events in Beijing. She is the current world champion in both disciplines and has recorded World Cup wins in both this season. Humphries' biggest rivals in the team event are the Germans Laura Nolte and Kim Kalicki while in the monobob, her compatriot Elana Meyers Taylor and Nolte are the biggest dangers.

Therese Johaug (Norway, Cross Country Skiing)
Norway's leading female cross country skier is ranked in the gold medal position in all three individual Olympic events she is likely to compete in this February. Johaug won gold in all three disciplines at each of the last two World Championships. However, Sweden's Frida Karlsson has beaten her over the shortest distance, the 10km, this season. Johaug will also be part of the Norwegian relay team at the 2022 Games, ranked first by the VMT. The Norwegians can expect to face stiff competition from Russia Olympic Committee and Sweden for gold in that event.

Jarl Magnus Riiber (Norway, Nordic Combined)
With 32 World Cup and World Championship victories since the beginning of 2020, Jarl Magnus Riiber is the second most dominant winter sports competitor over the last two years. Only German bobsleigh pilot Francesco Friedrich – also one of our potential stars – has won more often. Riiber has three opportunities in Beijing as he participates in the normal hill, large hill and team competitions in his sport of nordic combined. The latest VMT forecasts two gold medals and a silver for the Norwegian.

Suzanne Schulting (Netherlands, Short Track)
With five World Cup event wins so far this season, Suzanne Schulting is currently the best female short track speed skater in the world. In 2021/2022, she has emerged victorious at least once in each of the three individual distances of 500m, 1,000m and 1,500m. Her strongest events are the 1,500m and 1,000m. Schulting will also be part of the Dutch teams which are favorites in the women's 3,000m relay and strong medal contenders in the mixed relay according to the VMT.

Mikaela Shiffrin (United States, Alpine Skiing)
The most likely American to win multiple individual gold medals in Beijing is Mikaela Shiffrin who leads the VMT standings in both the alpine combined event and giant slalom. She is also ranked in the top-three in slalom and just outside the top-three in Super G. Shiffrin's biggest rivals are Slovakia's Petra Vlhová, Switzerland's Lara Gut-Behrami and Austria's Katharina Liensberger. Shiffrin won a minimum of three medals, including gold, at each of the last two World Championships and has also won gold at each of the last two Winter Olympic Games.

Nils van der Poel (Sweden, Speed Skating)
The longest men's speed skating distances of 5,000m and 10,000m have been dominated by the Dutch over the last six Winter Olympics. Nine of the 12 gold medals available in these events have been won by the Netherlands. In Beijing though, the most likely gold medallist in both of these events is Sweden's Nils van der Poel. He took home gold at both 5,000m and 10,000m at the World Championships in March and has won every World Cup event he has entered since over these distances. The Dutchmen Patrick Roest and Jorrit Bergsma and the Canadians Ted-Jan Bloemen and Graeme Fish are Van der Poel's most likely rivals for gold according to Gracenote's VMT.
These 10 athletes are a selection of those forecast by the VMT to win gold at Beijing 2022. While most of the leading countries have at least one competitor who has opportunities to win multiple medals at the Winter Olympics, this group is the most likely to do so.
Projections vs Results: Tracking Accuracy By Sport
Part of what makes sports so fun to watch is that anything can happen. This is especially so with the Olympic Games. While Nielsen's Gracenote has been successful in projecting final Olympic medal tables based on results data, it is more difficult to forecast medals for each of the individual events.
Since our in-house forecasting methodologies have projected the results at every World Championship and Olympic Games since 2009, we have been able to analyze each of the 15 sports at the Winter Olympics to assess how predictable, or unpredictable they are. Luge, speed skating and figure skating follow Gracenote's rankings the most closely. The toughest winter sports to accurately forecast are alpine skiing, ski jumping, curling and freestyle skiing.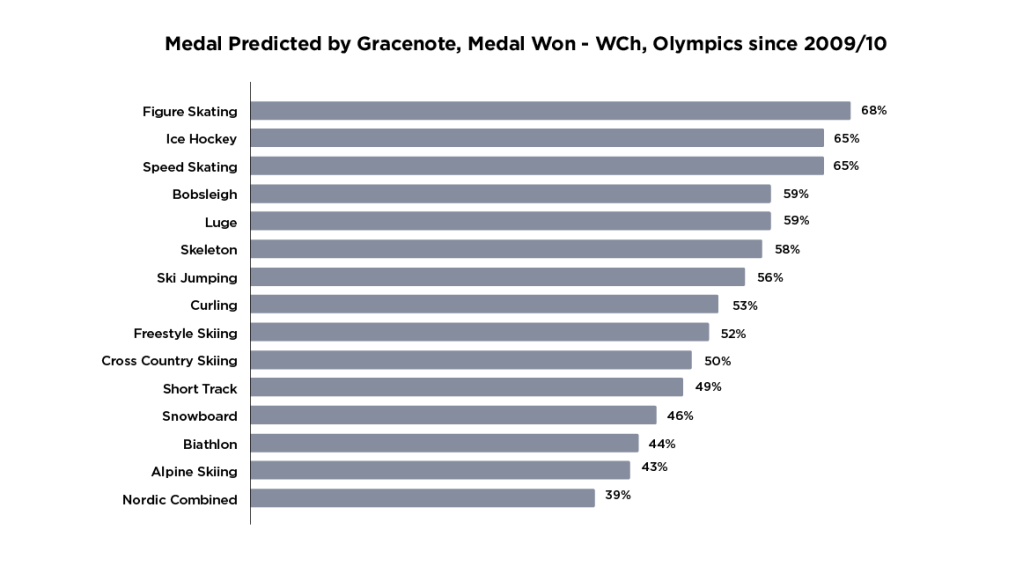 Luge
Ten of the 13 women's singles competitions at World Championships and Olympic Games since 2009 have been won by Gracenote's top ranked competitor. However, at the 2020 World Championships, favorite Tatyana Ivanova (RUS) finished fifth. And one year later at the 2021 event, top ranked Natalie Geisenberger (GER) missed gold and came in second. This year's Olympic favorite will be Germany's Julia Taubitz. Germans Tatjana Hüfner (2010) and Geisenberger (2014, 2018) won Olympic gold after being ranked first by Gracenote going into the Games.
Overall, 60% of gold medals across the luge's Olympic disciplines in World Championships and Olympics have been won by Gracenote's number one ranked athlete directly prior to the competition. 59% of medallists were forecast to finish in the top-three and 93% were ranked in the top-8 by Gracenote's projections.
The luge men's singles has become more difficult to forecast accurately. Gracenote's number one has not prevailed in any of the last five World Championship and Olympic events. Over the 13 major competitions held since 2009/2010, the top ranked athlete has won five times. Felix Loch (GER), who was surprisingly beaten by Russian Roman Repilov at last year's World Championships, will be ranked first when the Beijing Olympics start, probably ahead of compatriot Johannes Ludwig and Repilov.
Speed Skating
Ninety of the 170 speed skating gold medals in major championships (53%) have been won by Gracenote's number one ranked since the beginning of the 2009/2010 season. Skaters ranked in the top-three ahead of a World Championship event or the Olympics have won 331 of the 510 medals (65%).
The men's team pursuit has followed the data most closely with 11 of Gracenote's 13 top-ranked teams winning gold (85%). Both of the surprises were at the Olympic Games. In 2018, Norway shocked the third-ranked Dutch team. In 2010, the favored Norwegians were themselves upset by Canada. At the 2022 Games in Beijing starting in February, the Netherlands will be top ranked.
The women's 500m, 3,000m and 5,000m events follow previous results most closely with nine of the 13 winners (69%) in each ranked number one by Gracenote before the event. Angelina Golikova (RUS, 500m) and Irene Schouten (NED, 3,000m, 5,000m) are top ranked in those three disciplines. The number one in the men's 5,000m has won gold in eight out of 13 major championships since 2009/2010 (62%). Nils van der Poel (SWE) holds pole position this time around.
The most difficult speed skating discipline to forecast is the men's mass start. Only one of the seven winners has been ranked first by Gracenote since the event was introduced to major championships in 2015. This year's number one on the Gracenote ranking, Bart Swings (BEL) was also at the top of Gracenote's ranking before the last three World Championships. However, he finished 11th in 2019, 15th in 2020 and third in 2021. The only Olympic gold winner, Lee Seung-Hoon (KOR), was ranked first by Gracenote ahead of taking that gold though.
Figure Skating
In the 15 World Championships and Olympic Games analyzed by Gracenote, 141 of the 207 figure skating medals (68%) have been won by competitors ranked in Gracenote's top-three before the events. Thirty five of the 69 gold medallists (51%) were forecasted to win gold by Gracenote.
Two thirds of the 15 male figure skaters projected to win the men's singles have gone on to claim gold as have 60% of the pairs who were projected to prevail. Nathan Chen (USA) and Yuzuru Hanyu (JPN) have been at the top of figure skating's men's singles rankings for eight years. But when predicted to win, both have missed out on gold. While Hanyu was projected to be the victor at the 2015 and 2016 World Championships, he took silver both times. Chen was forecasted to prevail at the last Winter Olympics but finished off the podium in 5th; he is the projected gold medal winner in Beijing.
The pairs competition has also become less predictable in recent years. Gracenote's top ranked pair won six straight World Championships and Olympic Games from 2010 to 2014. Only two of the eight projected gold medal winning pairs have finished first since. In Beijing, it appears that top contenders will be world champions Anastasia Mishina and Aleksandr Galiamov (RUS) and the Chinese duo of Sui Wenjing and Cong Han.
The least predictable figure skating discipline is the mixed team event. It has been won by the top ranked team just once in nine competitions – USA at the 2009 World Team Trophy. Russia Olympic Committee (ROC) is currently ranked first by Gracenote.
Most unpredictable sports
At the other end of the scale, alpine skiing (26% of Gracenote's top ranked win gold), ski jumping (27%), curling (28%) and freestyle skiing (28%) are the most difficult winter sports to correctly forecast gold medal winners. The sport of nordic combined is the toughest to predict when it comes to medal winners – only 39% of medals at World Championships and Olympic Games have been won by competitors ranked in Gracenote's top-three.
Ice hockey (98%), figure skating (95%), bobsleigh (95%), speed skating (93%) and luge (93%) have the highest percentage of medallists at major competitions who are ranked in the top-8 by Gracenote. Biathlon (70%), snowboard (75%), nordic combined (77%) and alpine skiing (78%) have the least. Therefore, it is in these sports that the greatest chance of shock medallists coming from outside the top-8 ranked competitors exists.
Most Accurately Forecasted Events – WCh/Olympic Games since 2009/10
| | | |
| --- | --- | --- |
| Sport | Event | Predicted top-3, won medal |
| Ice Hockey | Women Team | 32 of 36 (89%) |
| Figure Skating | Mixed Team | 32 of 36 (89%) |
| Freestyle Skiing | Mixed Aerials Team | 32 of 36 (89%) |
| Figure Skating | Mixed Ice Dance | 32 of 36 (89%) |
| Speed Skating | Women's 3000m | 32 of 36 (89%) |
| Speed Skating | Women's 5000m | 32 of 36 (89%) |
| Speed Skating | Women's Team Pursuit | 32 of 36 (89%) |
| Snowboard | Women's Big Air | 32 of 36 (89%) |
| Cross Country Skiing | Women's Team Sprint Classic | 32 of 36 (89%) |
| Nordic Combined | Men's Team Large Hill | 32 of 36 (89%) |
Source: Nielsen Gracenote
Of the 109 events which will be held at next month's Beijing Olympics, women's ice hockey has historically been the most predictable. In 12 major competitions since 2009/2010, the only surprise medallists in women's ice hockey have been Switzerland (2012, ranked 5th), Russia (2013, 7th), Switzerland (2014 Olympics, ranked 7th) and Russia (2016, 5th). All four won bronze so all 24 finalists were ranked in the top-three by Gracenote ahead of the competition. Canada, USA and Finland are Gracenote's projected medallists in Beijing.
Toughest Events to Forecast Accurately – WCh/Olympic Games since 2009/10
| | | |
| --- | --- | --- |
| Sport | Event | Predicted top – 3, won medal |
| Freestyle Skiing | Women's Big Air | 0 of 6 (0%) |
| Cross Country Skiing | Men's 50km Freestyle | 3/15 (20%) |
| Freestyle Skiing | Men's Ski Cross | 7/30 (23%) |
| Speed Skating | Men's Mass Start | 5/21 (24%) |
| Nordic Combined | Gundersen Normal Hill/10km | 8/30 (27%) |
| Alpine Skiing | Super G | 9/31 (29%) |
| Alpine Skiing | Men's Alpine Combined | 9/30 (30%) |
| Alpine Skiing | Men's Downhill | 9/30 (30%) |
| Biathlon | Men's 20km Individual | 12/39 (31%) |
| Alpine Skiing | Men's Slalom | 10/30 (33%) |
Source: Nielsen Gracenote

Disregarding the freestyle skiing event of women's big air and men's 50km cross country skiing due to the small samples of major championships, the freestyle skiing event of men's ski cross is probably the best example of a discipline which is still difficult to predict despite ample results data from many World Championships and Olympic Games feeding into the model.
Ski cross is a spectacular race against the clock involving multiple skiers navigating a technical course which includes big jumps and high banked turns. Contact between competitors is allowed which can, and often does, lead to slow downs and crashes. Four skiers usually participate in a race and rounds are used to eliminate competitors before the final. There are numerous ways to miss the top-three despite an athlete's skill and fitness making ski cross a particularly chaotic and unpredictable event. At 10 major championships, just seven medallists have been ranked in Gracenote's top-three at the start of the event.
Over more than a decade, the Gracenote Virtual Medal Table has proven to be accurate in forecasting the overall medal table. But looking more closely at different sporting disciplines at an event, we see more variance. That variation is what makes sport compelling to watch. We can never be sure of what is going to happen.
A note on host nation China and other Asian countries
In many winter sports, Chinese competitors did not participate in the 2020-2021 season. This means that, despite adjustments to our model, the VMT may underestimate China's medal count. This issue also affects Korea in short track and Japan in speed skating. The situation has been mitigated to some extent as competitors from these countries participated in 2021-2022 winter sporting events prior to this year's Winter Games.
---
About Nielsen Gracenote Content Solutions
Gracenote is the content solutions pillar of Nielsen providing entertainment metadata, content IDs and related offerings to the world's leading creators, distributors and platforms. Gracenote technology enables advanced content navigation and discovery capabilities ensuring consumers can easily connect to the TV shows, movies, music and sports they love while delivering powerful content analytics making it simpler to make complex business decisions. Learn more at https://www.gracenote.com.
About Gracenote Virtual Medal Table
Gracenote Sports offers rich data on 4,500 of the world's most popular leagues and competitions as well as a deep trove of historical Olympics information going back to the very first modern games in 1896. The Gracenote Virtual Medal Table is a statistical model based on individual and team results in previous Olympics Games, World Championships and World Cups to forecast the most likely gold, silver and bronze medal winners by country. This information is presented in simple to understand predictions and seamless data feeds that enable broadcasters, media publishers and pay TV operators to deliver unique Olympic-focused stories across Web, mobile and broadcast properties. For a closer look at the full Virtual Medal Table, its features and methodology, please visit: https://www.gracenote.com/virtual-medal-table/
For more information on Gracenote's full portfolio of 2022 Winter Games offerings, visit Gracenote Global Sports Events Solutions
For more information on Gracenote Sports, visit: https://preprod.nielsen.com/solutions/content-metadata/global-sports-data/