At 70 million copies sold — and counting, since its release in 1988, "Madden NFL Football" is the most popular sports video game of all time.
What's driving the wild success of EA Sports' star product?
A marketing vision that combines a deep understanding of the game's core fan base with an innovative, "three-screen" strategy that leverages TV, online, and mobile phone outlets for the game, Matt Foran of Nielsen Sports, writes in the November issue of Nielsen's "Consumer Insight" online newsletter.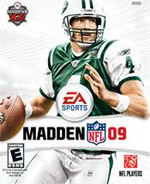 Thanks to websites like Xbox Live, "Madden" gamers can head online to play with friends and anonymous fans across the country — making the game a communal experience, Foran notes.
"Madden" is also one of the top ten mobile game downloads: 142,000 mobile users downloaded the game in July 2008, paying an average of $4.34 for the game, according to Nielsen's latest Mobile Games Report.
Not surprisingly, the mobile version of "Madden NFL 2008" skews heavily male. In Q2 2008, 78% of the game's downloaders were male. However, Foran notes, the game also skews more middle age than the overall mobile gaming population: 44% of "Madden NFL '08" downloaders were between the ages of 45 and 64. In comparison, just 21% of the overall mobile gaming audience falls within that age group.
And because video gamers are avid football fans (in 2008, NFL games have drawn 44% higher TV ratings among households with video game consoles than those without, according to Nielsen), EA Sports expanded the "Madden" franchise into TV.
The company partnered with ESPN to create "Madden Nation," a "Survivor"-esque reality show airing on ESPN2, Foran notes. The show, which draws an average of 300,000 viewers each week, has come up with innovative ways to integrate cross promotions of NFL teams and sports apparel.
"Madden" has also found success with other ESPN programs, such as "Sunday Countdown" and "Monday Night Countdown," Foran notes. The programs regularly feature "EA Sports Virtual Playbook" segments, in which ESPN analysts diagram the plays using the "Madden" video game with super imposed graphics.
The takeaway for marketers?
Follow the "Madden" marketing team's lead: a strong presence across multiple media platforms and a commitment to authenticity are essential for reaching increasingly empowered 21st Century consumers.
Read the full article.
View the latest issue of "Consumer Insight."