Can You Cut a 30-Second TV ad in Half and Still Increase Effectiveness?
A lot of time and effort goes into the creation of a 30-second ad. From creative, to design, to branding, to marketing, to media buying, that ad has many uses. But imagine if you could cut it in half and still prove the same or greater impact on the viewer all while multiplying its uses across digital platforms.
David Poltrack, Chief Research Officer for CBS Corp., wanted to see how far he could take it. Would the 30-second ad work in a different format? Could he optimize media planning and buying and retain effectiveness? Nielsen NeuroFocus founder and CEO Dr. A. K. Pradeep had the answer and, through a unique strategic relationship that began in 2001, CBS and Neurofocus found a way to conduct neurological assessments of ad audiences in order to gauge effectiveness.
The answer was Neuro-Compression. This proprietary technology enables the most effective scenes within a TV spot to be identified and edited into shorter and often more neurologically impactful versions.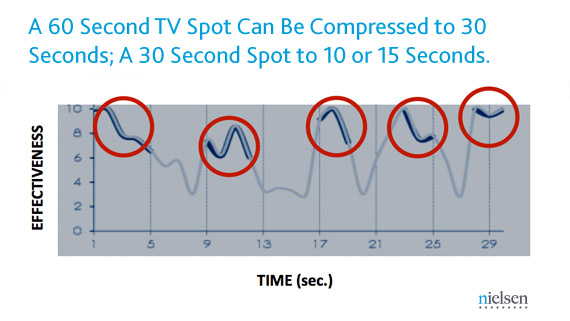 "Our brains are so smart, they retain the key pieces of logic, the key pieces of the flow," said Dr. Pradeep. "If you threw out all the fillers … and got to the core, it's a lot more effective. [Neuro-Compression] ends up producing a better product."
But other than reducing your media buy costs, why do it? By rendering a shorter but often more effective and persuasive ad, you can repurpose the ad through cross-platform opportunities such as online, mobile and in-store digital displays. "We believe that in the case of online and mobile, we're in a new frontier," said Poltrack.
This tool also drives consistency of marketing across mediums and channels by utilizing common messaging. And the finished product? An ad that engages viewers at a higher level and keeps them from jumping to the next thing.
CBS will be further utilizing Neuro-Compression for a number of promotional campaigns this fall. "We think this is a very exciting project, and we have four great shows to test it with," Poltrack added.