The essentials for daily living are taking on a new twist for the everyday Singaporean, especially with the proliferation of technology and the need for connectivity in their lives. 54% of Singapore consumers can't imagine life without mobile devices and 48% of the respondents also highlighted that they felt anxious without them.
For many consumers, mobile devices are a constant companion. 73% of locals enjoyed the freedom of being connected anywhere, anytime, while 66% strongly or somewhat agreed that their mobile device had bettered their lives.
"Mobile devices have added a whole new dimension to the way we look at the retail landscape," said Joan Koh, Managing Director, Nielsen Singapore and Malaysia. "They are shaping and defining the consumer's approach to retail and banking, empowering them to demand a more custom tailored experience according to their taste and preferences. The need for connectivity and value of convenience has never been greater among Singaporeans."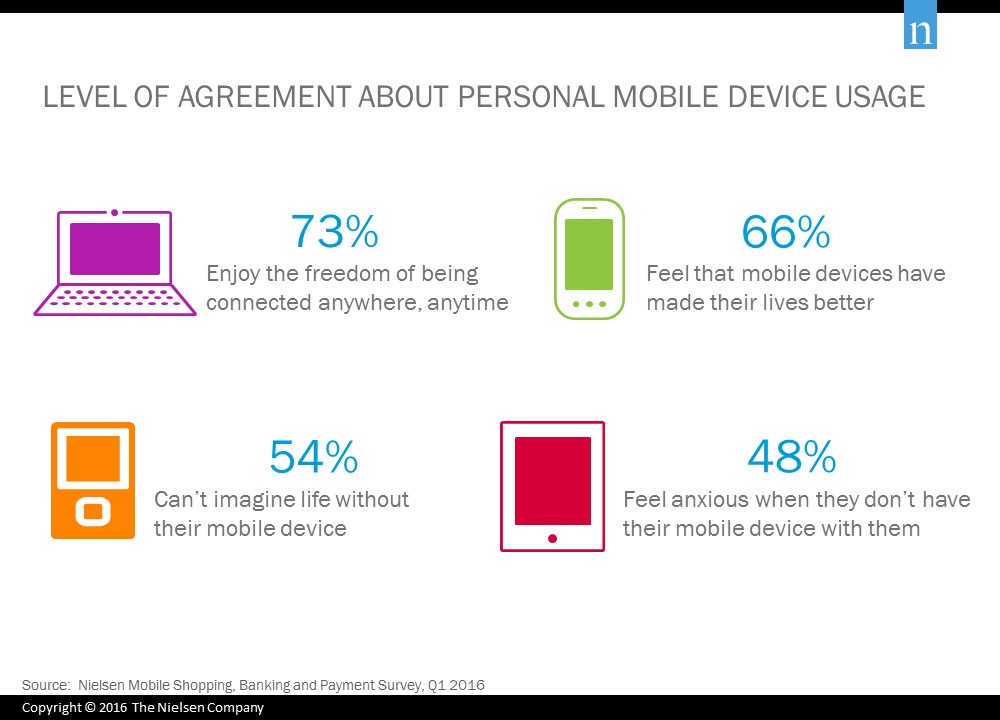 SHOPPING WITH YOUR FINGERTIPS
For consumers, mobile devices have become indispensable shopping buddies. Based on the survey findings, more than six in 10 (62%) Singaporeans used their mobile devices to look up product information when shopping or compare prices (54%). Respondents also used their mobile device to look for coupons or deals (45%), make better shopping decisions (42%) or make their shopping trips quicker of more efficient (38%).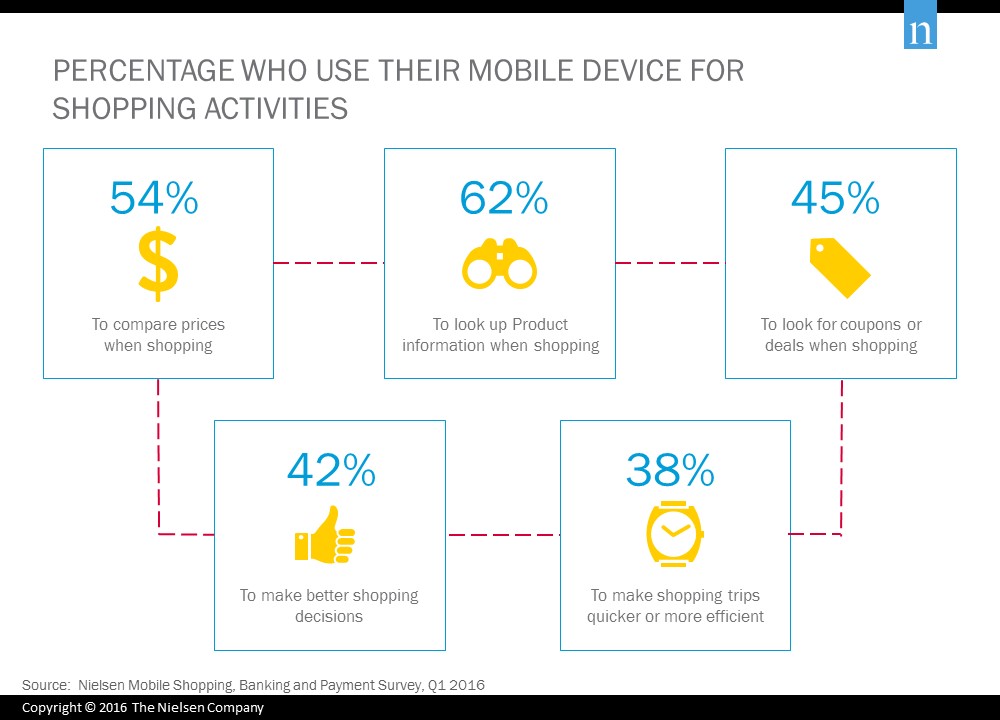 BANKING AND PAYMENT ACTIVITIES ONLINE
Consumers are also adopting digital tools to monitor their spending and manage their finances. 41% of locals said that they had checked a bank account balance or a recent transaction in the past six months, while 37% have paid a bill using their mobile device. Adoption of these activities is set to become commonplace in the near future. 77% of Singaporeans have mentioned that they were highly or somewhat likely to check their bank account balance or recent transaction, and 67% would highly or somewhat likely pay their bills on their mobile device in the next six months.
Moving and depositing money are also mobile-banking activities carried out by Singapore consumers. 36% of respondents have transferred money between bank accounts, and 26% have transferred money using their mobile device directly to another person. This figure is set to be on the rise as 69% of locals were highly likely or somewhat likely to transfer money between bank accounts, and 65% expected to transfer money using their mobile device directly to another person.
"We are seeing an uptrend in the adoption of mobile-banking activities," observed Anil Antony, Executive Director of Consumer Insights, Nielsen Singapore. "This is further girded by the fact that retail banks are increasingly going digital with their processes and driving automation. However, financial service providers must not ignore the element of adding in a human touch to create a more wholesome customer experience, connecting with the savvy consumers."
Download the report now to see the how consumers from around the world are embracing mobile and purchase the Singapore report at the Nielsen Store.