If there's one thing we've learned about radio, it's that its mass appeal has been consistent over time as America's top reach medium. The original electronic media, radio continues to reach more Americans than any other platform measured by Nielsen. Among adults 18+, radio reaches 92% of U.S. adults every week.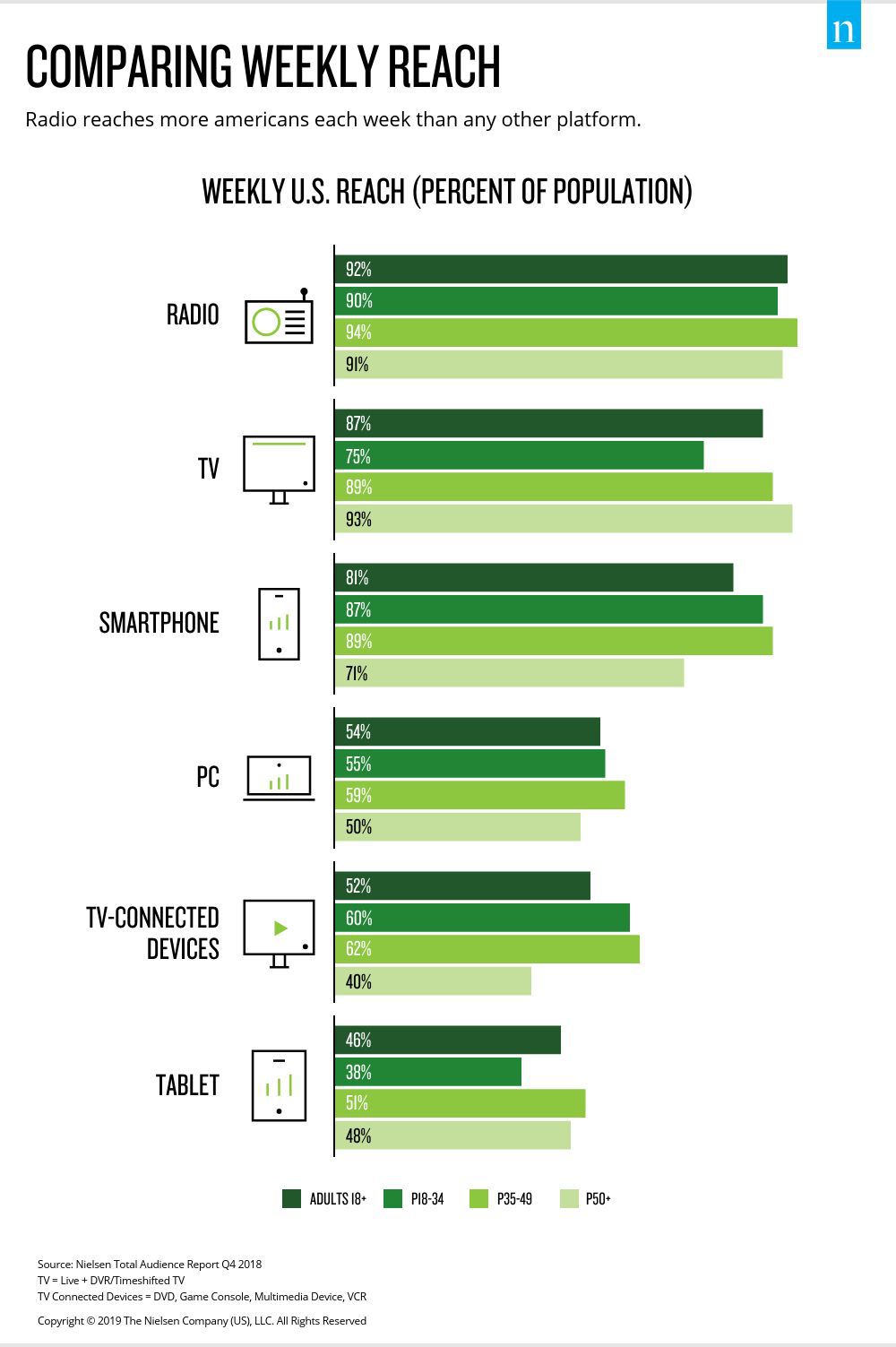 Radio is in high demand and has a diverse listenership when considering how many people tune in across age, gender and ethnicity. Not surprisingly, adults 18-49 are the demographic that tunes in the most. The monthly reach for these listeners is 132.4 million (98% of the population), and Country is the format they prefer most. Adults 25-54 are the second most reached demographic for radio, with 123.6 million (99%) of the population listening each month.
When we look at these demographics by gender, listenership remains strong. Both women and men 18-49 use radio in large numbers, with their listenership nearly equal at 65.9 million (97%) and 65.4 million (98%), respectively. And again, Country is the top format for both genders.
Radio's popularity also extends to teens, reaching 93% of the U.S. population monthly. That translates to 23.3 million 12-17 year-olds who tune in to radio each month. With this young demographic, Pop Contemporary Hit Radio (CHR) is the top format of choice while Country ranks number two. Black and Hispanic adults are also easily reached by radio—98% of each group listens on a monthly basis, which translates to 35.1 million Black listeners and 45.6 million Hispanic listeners.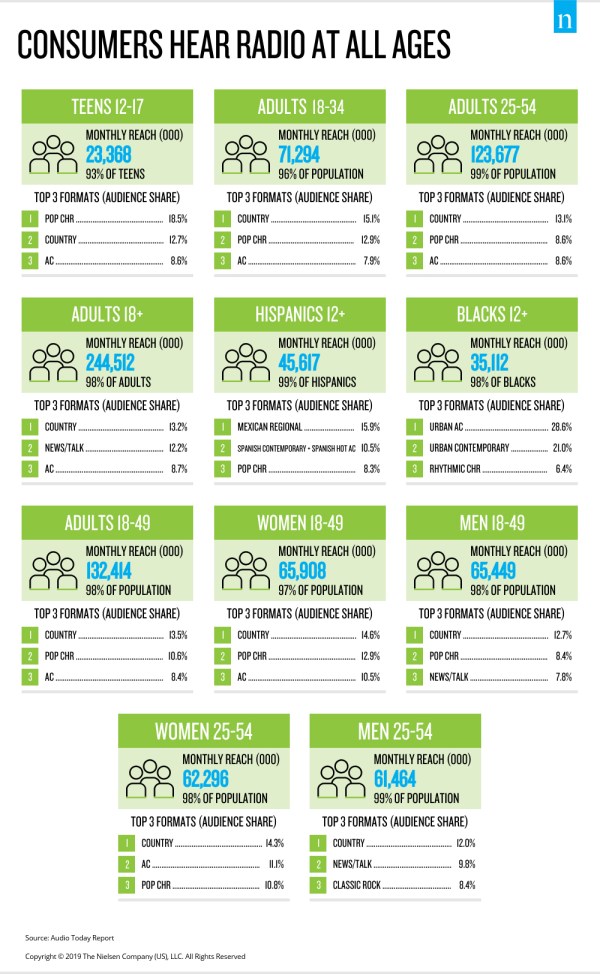 Radio connects with the right audience at the right moment, particularly when consumers are out and about and ready to shop and buy. Consumers use radio primarily when they're away from home. Out-of-home listening during the full week is more than twice as high (69%) as in-home listening (31%).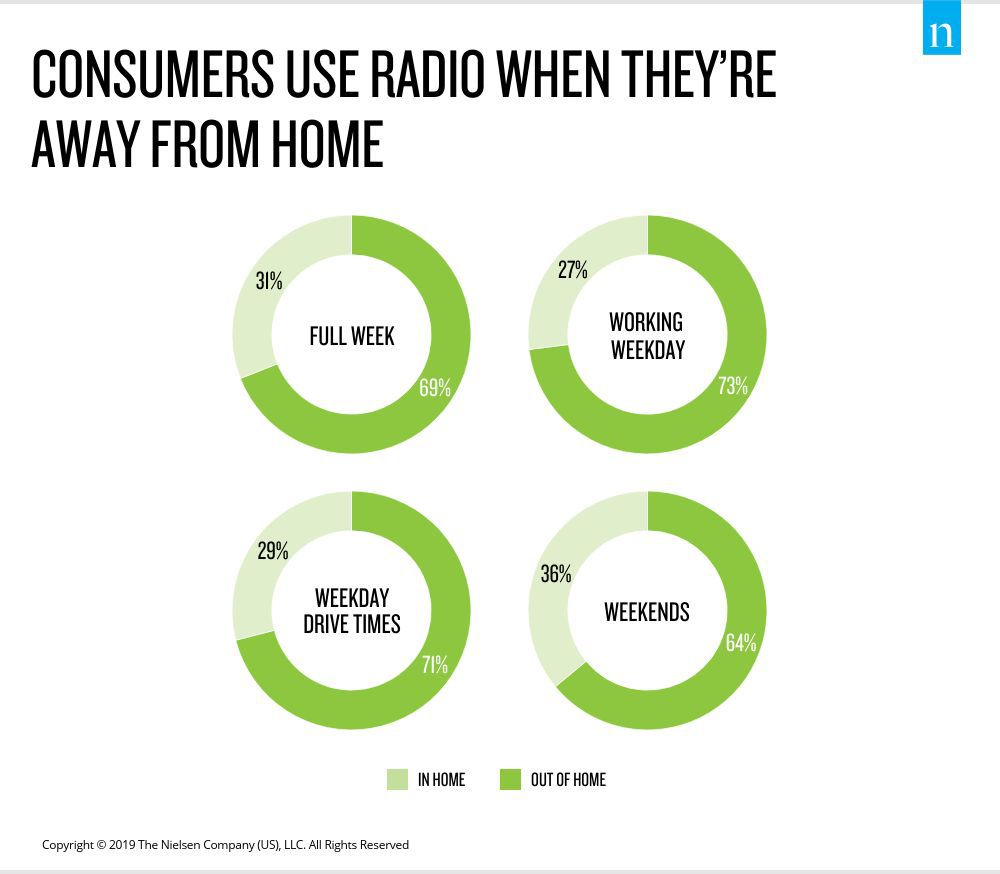 Since most radio is consumed away from home (particularly when driving to and from work or running errands) it offers a significant opportunity for marketers and advertisers to deliver their message just before a potential point of purchase. Radio's continued success and resiliency is due in large part to the enviable space it occupies in the automotive console. It's free, ubiquitous and at the fingertips of virtually every consumer on the road today. Most of radio's away-from-home listening happens in the car: 66% occurs during the total week, 71% during normal commute times Monday-Friday, and 79% on weekends.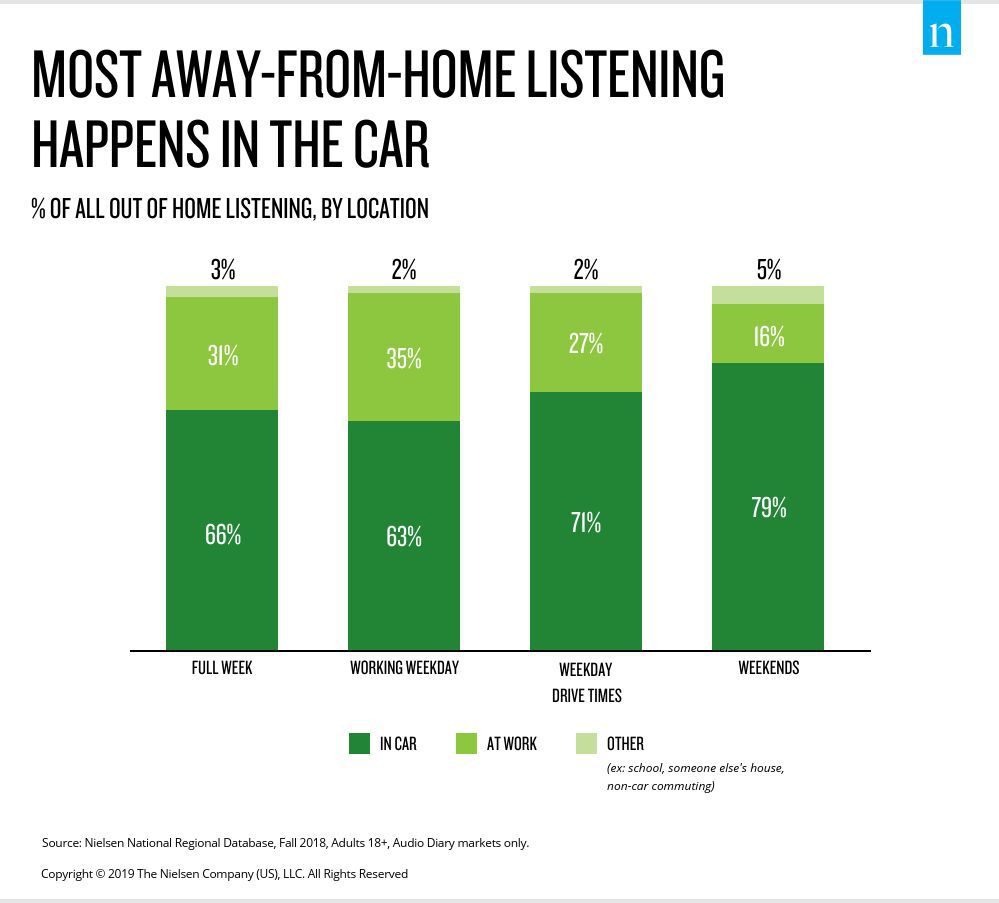 Looking ahead, new technologies and distribution platforms including podcasts and smart speakers are expanding the audio landscape, providing consumers with more specialized content and ways to listen. When gauging podcast use by market, Washington D.C and Seattle-Tacoma (46%) had the highest penetration among all households in Nielsen's Portable People Meter (PPM) radio markets. New York was tops in smart speaker ownership by market (46%), followed by Minneapolis St. Paul and Philadelphia (36.9%).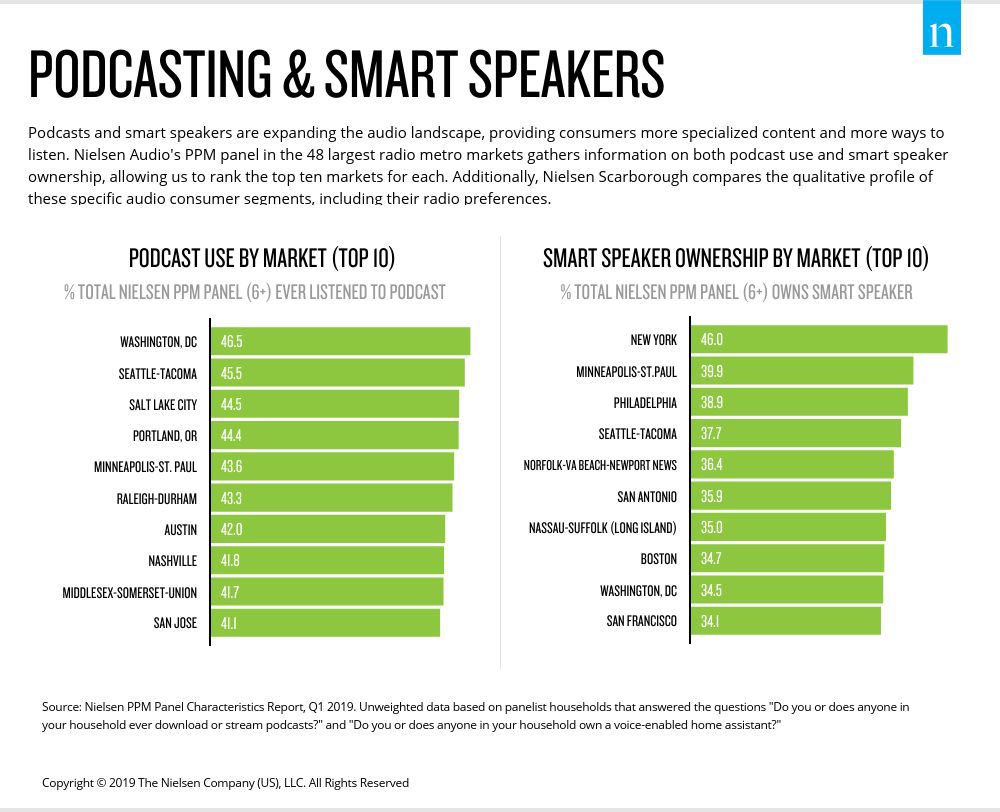 Radio continues to be a dynamic medium for consumers to engage with, as it evolves and augments through emerging platforms and technologies.
For additional audio insights, download our recent June 2019 Audio Today Report: How America Listens.