Beneath the headlines and social media commotion about high-profile subscription video on demand (SVOD) titles like Tiger King, Upload and Ozark, a new form of digital streaming is gaining traction: those that are ad-supported.
Known by an array of acronyms, such as AVOD (ad-supported video on demand), FAST (free ad-supported) and CTV (connected TV), ad-supported streaming varieties offer consumers yet another video option amid a vastly fragmenting sea of choice. In addition to appealing to consumers who feel maxed with subscription services, ad-supported options may become more popular among cash-strapped consumers affected by rising unemployment brought on by the novel coronavirus (COVID-19) pandemic.
Importantly, streaming consumption across all video options is up more than 74% from last year—accelerated by COVID-19—signaling that streaming is now the present and future of content creation. Today, Americans in streaming-capable homes spend one-fourth of their time with the TV glass streaming video content. And the growth and stickiness among adults 55 and older suggests that streaming is that much closer to ubiquity across consumer groups.
To date, much has been reported on the popularity and adoption of big-name SVOD services like Netflix, Hulu and Amazon, but much has yet to surface about the time consumers are spending with ad-supported streaming content.
In terms of video streaming distribution, Netflix, Hulu, Amazon and YouTube maintain the lion's share of the pie, with Disney+ already grabbing 4% after just coming to market in November 2019. The "others," however, account for nearly one-quarter of total streaming distribution.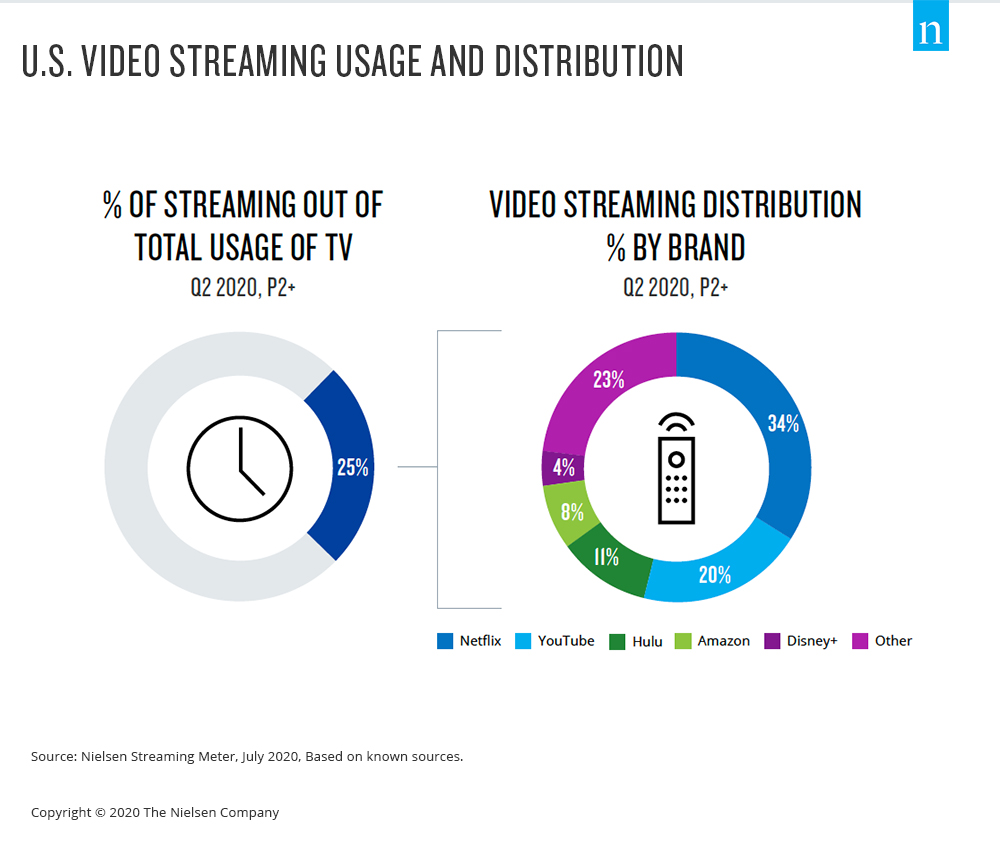 As we've reported previously, consumers have a limit to how many subscription services they're willing to pay for, and the growth in time spent with ad-supported video streaming content suggests that newer entrants should have a clear view into current viewing trends before considering a business model that might not be in line with consumer needs and desires.
Undoubtedly, the COVID-19 pandemic upended our everyday (and night) routines, forcing us to seek out new and engaging ways to pass the time, and streaming came to the rescue. That shift may have altered media consumption permanently, particularly for segments of the population that weren't streaming before (i.e., 55+). That's because despite warm weather and the post-lockdown freedom to leave our homes, the time we're spending streaming video remains well above year-ago levels. Even more impressive is the fact that engagement with internet-connected TVs remains above pre-COVID-19 levels. Comparatively, many traditional media consumption trends, such as linear TV viewing and traditional AM/FM radio tune-in, are nearly back to seasonally normalized levels.
This summer, well after much of the U.S. had re-opened, Americans were still binging on video streaming content. During second-quarter 2020, Americans watched more than 142 billion minutes of streaming video. And while the aggregate growth is notable and speaks to the overwhelming popularity of video streaming, the year-over-year growth in minutes watched outside of content from Netflix, Hulu, Amazon, Disney+ and YouTube was more than 57%, accounting for more than 12 billion minutes.
Digital is where media consumption is rising, and as new digital video content offerings have come online, consumers have been quick to embrace them. And while global ad spend will dip this year amid the COVID-19 pandemic, the February 2020 Nielsen Total Audience Report forecasts that digital media spend should top $500 billion globally by 2023. As video streaming continues to secure its foothold with American viewers, ad-supported video couldn't be better positioned to capitalize.
For additional insights on the ad-supported streaming video landscape, download our "Beyond SVOD" report.