As the COVID-19 pandemic forced consumers across the U.S. into an unprecedented lockdown earlier this year, fans across the country clamored for the return of their beloved live sports. When the return finally arrived after a four-month pause, however, the world—and live sports—looked much different, and TV viewership among the biggest fans has yet to fully rebound.
With virtually no live sports for 25% of the year—including the absence of games being played by the four major North American leagues—it's hardly surprising that the return was met with a thunderous applause, and the share of viewing among Americans quickly picked up in September and October. Salivating after the absence, sports fans also reveled in being able to watch games and matches across the NBA, NFL, MLB and NHL at the same time. Despite the demand and the rebound, however, the share of live sports viewing remains below 2019 levels.
Live sports is one of the few genres that draws in fans as it happens, but 2020 has presented consumers with an abundance of binge-worthy content to choose from. News about the pandemic, rising instances of social justice and a presidential election have all stolen share from live sports, as has the rise of subscription video on-demand (SVOD) content.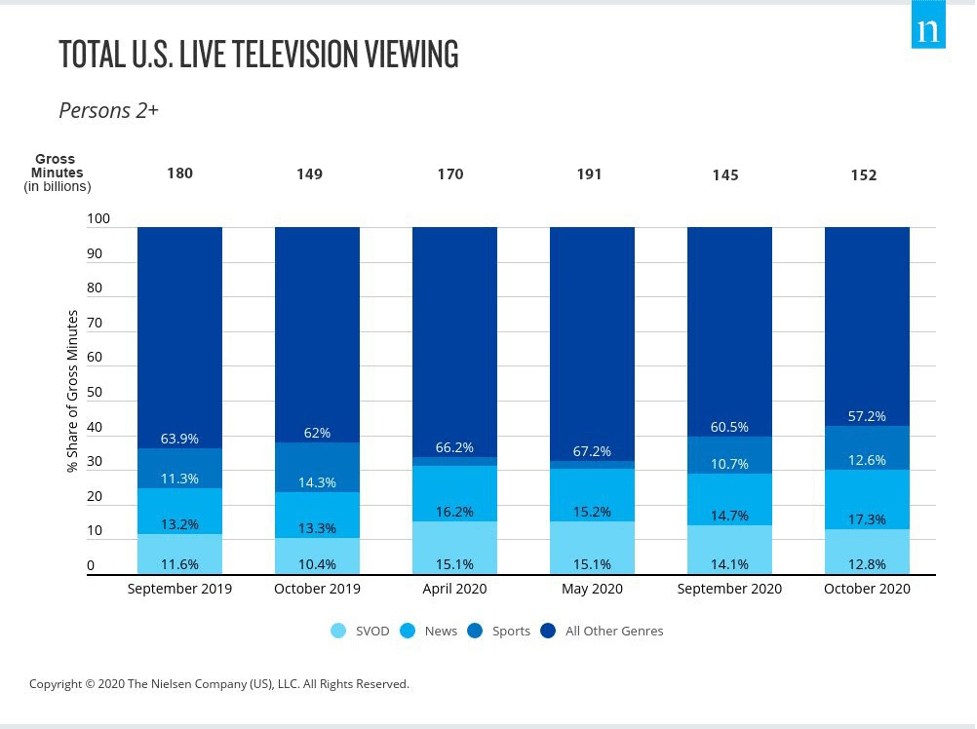 Some of the viewership declines have been due to pandemic-related factors, such as limited out-of-home viewing and abridged sports schedules. The share of viewing for live sports also reflects the overall decline in decreased linear TV viewing year-to-date. It's a trend that has been rising over the past five years. That factor aside, however, the many aspects that characterize 2020 overall have eroded some interest in live sports viewing, as the number of people 2 and older who watched sports in September and October was notably lower this year than last year (70.8% reach vs. 77.7% reach). And while heavy-viewing 18-24 year old consumers provide a bright spot across viewing, the remaining group (medium and light sports viewers) of all ages are driving the biggest viewership declines.
The viewership data complements data in Nielsen's Return of Sports Study, which found that sports fans expressed less intended TV viewership ranging from 2%-10% between May and August. Viewership intent among avid fans was similar, but less dramatic.
The inability to attend many events is tough for most fans, as they believe it's the best way to experience live sports. Despite a rise in sentiment about missing live events since May, 75% agree that the leagues and events need to ensure health and safety ahead of allowing full fan attendance. And in that regard, fans are looking to sponsors and broadcasters to amplify the live experience in the absence of a full-fledged on-site experience.
"This is the perfect time for the sports industry to experiment with technology and broadcasting elements that aid discovery of content across all screens and platforms and enhance the viewing experience across all age groups," says Jon Stainer, managing director, Nielsen Sports. "Seventy-five percent of fans are looking to sponsors to help rebuild the live experience, which is up from just under two-thirds back in May. It's time for all parties to get creative in delivering greater interaction around live sports viewing across digital and linear platforms."
Importantly, overall interest in sports remains high. And while leagues and sponsors experiment and adjust to re-engage heavy sports viewers in the traditionally dominant leagues, women's professional sports are attracting new fans. An increase in televised WNBA games this year and a new NWSL agreement that will increase televised women's soccer matches are appeasing the rising fandom for those two leagues (24% for WNBA and 22% for NWSL, up from 19% and 16% in February, respectively).
The other notable shift across the sports world is the same one that has upended the overall media landscape: digital consumption. The continual addition of new platforms and channels will automatically have an eroding effect on existing options, and sports is no exception. For example, we tracked an annual increase of 11 million consumers aged 25-54 across the top five digital sports platforms in September. That 6% digital unique audience lift illustrates that even live sports isn't immune to media fragmentation.
The media industry is at an inflection point, and live sports are right in the middle of it. Consumers no longer think about TV and digital independently, and sports will need to transcend channels and platforms, likely needing to evolve in the process. That evolution will need to both fill the gap associated with not having fans in the stands and work to re-engage the heaviest sports viewers who have found other ways to spend their time in recent months. Sports are back. Now, we need to focus on bringing back viewers.
Methodology
The insights in this article were derived from the following sources:
Nielsen National TV measurement
Nielsen Fan Insights
Nielsen Return of Sports Study
Nielsen Digital Content Ratings