In March 2020, most states across the U.S. implemented stay-at-home orders as concerns about the novel coronavirus (COVID-19) pandemic swept across the country. And many Americans stuck at home turned to streaming content to fill their time. Specifically, the consumption of non-linear content via internet-connected devices, such as smart TVs and other multimedia devices, rose week after week in March, hitting its peak the week of March 23, 2020.
Previous Nielsen research found that staying put in our homes can lead to almost a 60% increase in the amount of content we watch in some cases and potentially more depending on the reasons. But new Nielsen data shows that streaming trends varied across markets, age groups and times of day during the first month of living restrictions in the U.S.
States and cities that moved quickly to enact stay-at-home orders in mid-March, such as New York, Illinois, Washington and California, saw some of the most dramatic increases in streaming consumption between the weeks of March 2 and March 23.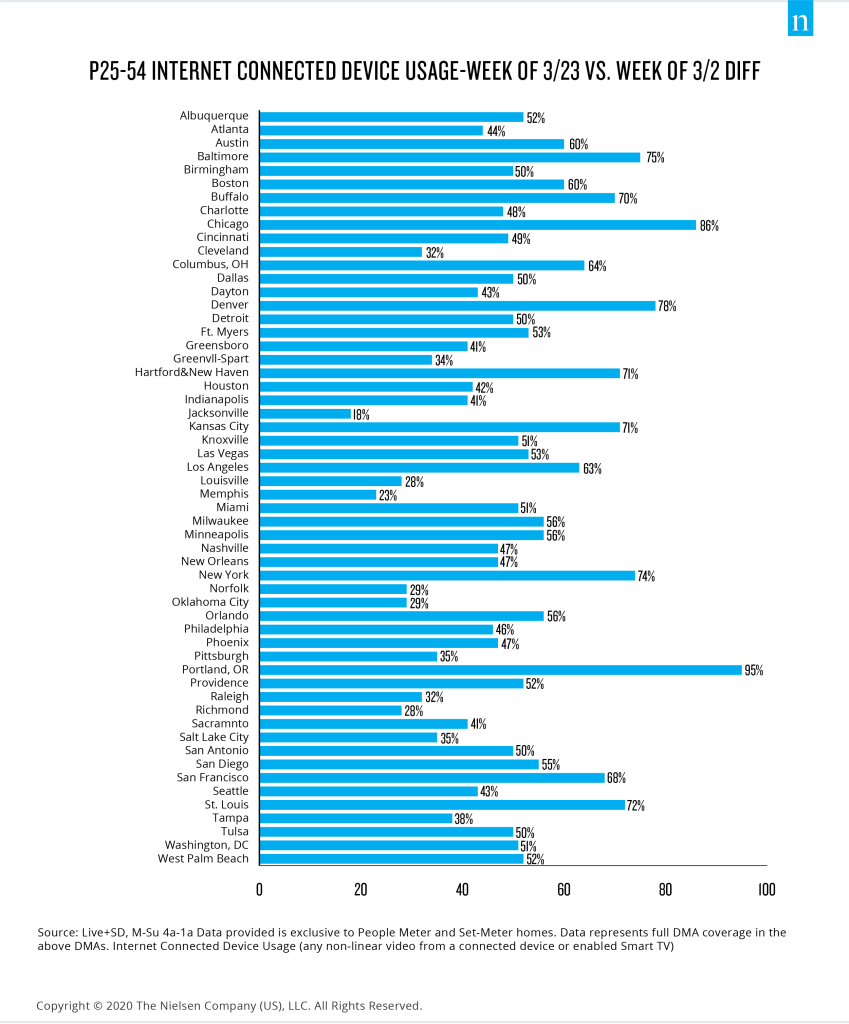 Even during non-crisis times, streaming consumption varies across U.S. local markets. Heavy streaming markets, such as Orlando, Milwaukee and Norfolk, remained among the top markets, in terms of connected device streaming ratings, week to week. However, some others previously ranked outside the top 15 made sizable gains week to week. Chicago and Denver quickly rose in the ranks, moving from 17 and 21 to 5 and 10, respectively.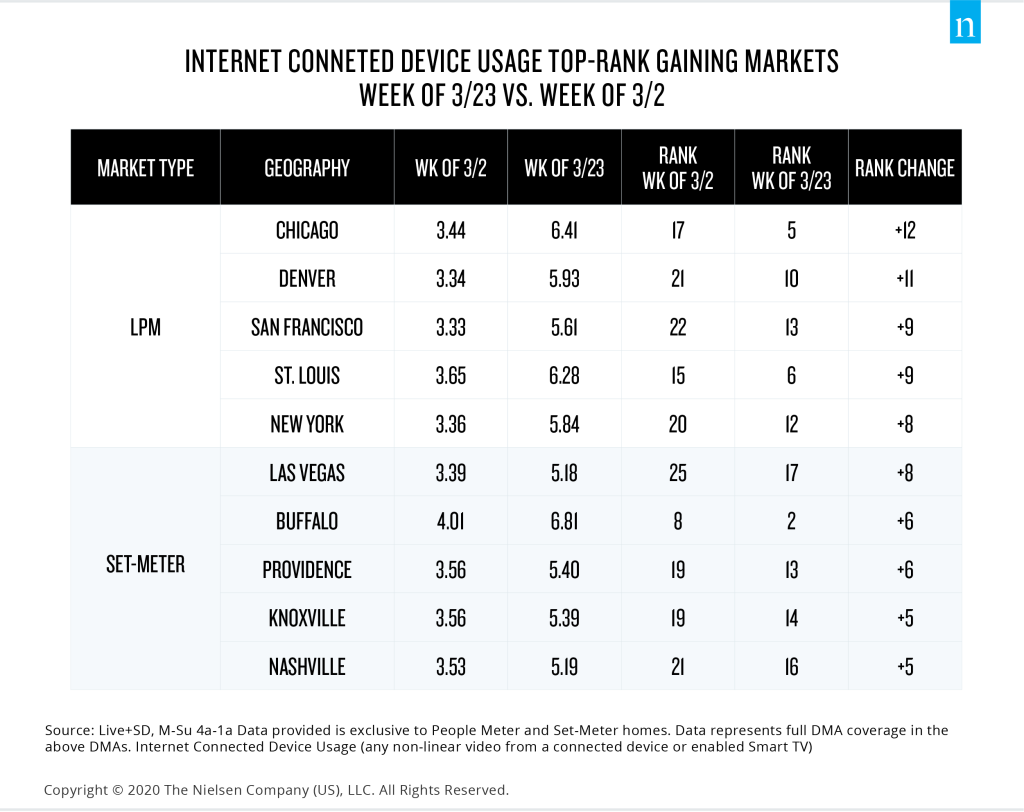 Across Nielsen's 56 largest metered markets, streaming increases have been persistent across all hours of the day. However, the most significant gains have been in the early afternoon hours. Historically, few adults would be home during these hours, but with the lifestyle changes created by stay-at-home orders, we saw more than 50% increases in streaming from 1pm-4pm across markets between the weeks of March 2, 2020 and March 23, 2020. Further, these hours are up over 100% from the same week a year ago.
We also saw streaming of non-linear content increase across all age groups in Nielsen's 56 largest metered markets during March 2020. With most schools closed across the country, younger demographics experienced the largest growth, with more than 60% increases between the weeks of March 2 and March 23 across all markets. Among persons 2+ streaming increased 57% in Local People Meter (LPM) markets and 46% in Set-Meter markets. And persons 25-54 showed similar gains.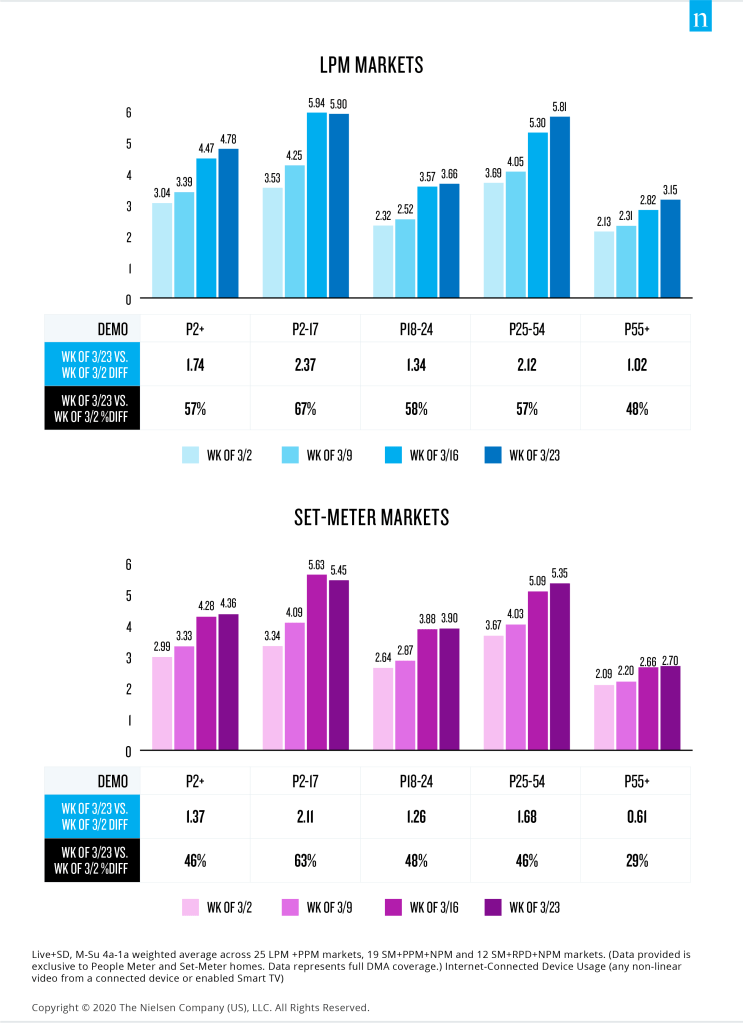 Even before COVID-19, organic streaming had been growing over the past few months as new subscription video on demand services such as Disney+ hit the marketplace, along with several ad-supported services. And advertising could be an important way to connect with viewers as the economy contracts in the wake of stay-at-home orders.
The current outbreak has further accelerated streaming's growth among the key advertising demographic as consumers find themselves with more time in front of the TV glass. Year-over-year, streaming among people 25-54 has increased almost 100%. In addition to searching for new video entertainment content, other categories such as fitness and wellness, gaming live streams and cooking are all likely to be contributing to connected device streaming gains.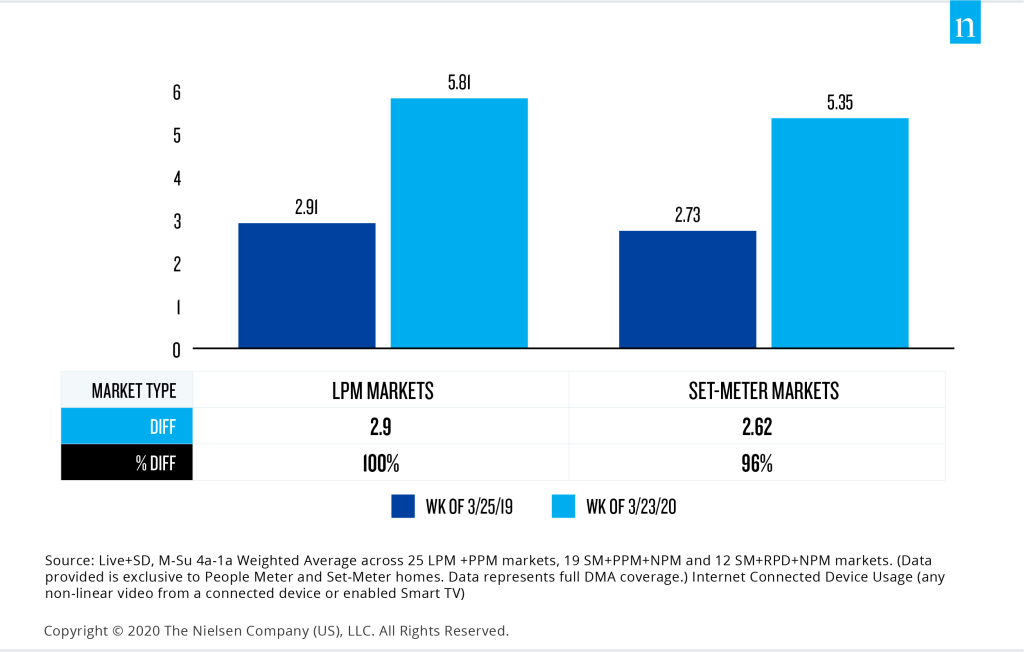 By understanding where, when and who is watching content across streaming platforms, the media industry as a whole will be positioned to connect with viewers. With some states having recently extended their stay-at-home orders for another month and others announcing plans to lift restrictions soon, we'll continue to monitor the impact of COVID-19 on viewing habits.