For marketers, 2020 was the year of the pivot. Those who thrived used ingenuity and agility to keep in lock step with the pace of change. But change is far from over. In addition to preparing to transition into a post-pandemic world, many businesses will need to also recapture consumers' attention after pulling back on advertising spending in 2021. As a result, Nielsen predicts that competition and clutter will escalate as brands prepare for re-entry into the new normal, creating new challenges for marketers hoping to drive return on investment (ROI).
No matter the budget size, measurement remains a universal challenge for all marketers. Brands everywhere are scrambling for more, cleaner data and faster. In a recent survey, marketers across budget sizes and industries reported low confidence in their marketing technology solutions. FMCG and CPG companies, as well as small-budget marketers were the least confident.
For small and mid-sized companies, the good news is that many modern marketing tools are no longer out of reach. Granular data and scalable marketing solutions are providing brands of all sizes with the insights they need to make real-time, actionable decisions. In response to burgeoning needs, marketers are ramping up their investment in martech tools to ensure marketing budgets are well allocated. Ultimately, this will close the data knowledge gap and place companies with mid- and small budgets on a more level playing field with large companies.
 TIP #1:  Marketers with Small or Mid-Sized budgets should level The Playing Field by Investing in Marketing Technology.
Recent data shows that advertising spend is beginning to ramp up, but many budgets will remain constrained in 2021. How marketers spend their money to support their goals is becoming a major differentiator across budget sizes. While companies of every size are prioritizing customer acquisition and brand awareness, small- to medium-sized brands are 22% more likely to rank this objective as more important. In fact, compared with large brands, they are 6x more likely to invest in personalization and 3x more in path-to-purchase sequencing. This is a watch-out for large budget marketers: Given the cost of customer acquisition, are they investing enough to keep their customer loyalty high? 
 TIP #2:  Marketers with mid-sized budgets should invest in personalization and path-to-purchase messaging to keep customer retention high.
As the economy opens up, marketers should remain agile and prepare for an uneven rebound across categories and geographies. During the pandemic, brands with large budgets that also invested heavily in marketing technology and agile marketing principles had a clear advantage. That's because these marketers were able to react dynamically during these uncertain times, especially when it came to their marketing mix spending, while organizations with smaller- and mid-sized budgets faced more restrictions.
TIP #3: Brands with large budgets should lean into their ability to optimize ad spending.
The next big challenges on the horizon for marketers will include identity resolution and cross-channel measurement. Without cookies, marketers will increasingly need to rely on first-party data, and brands with all budget sizes will need to invest in the right tools to help them allocate their budget and better measure their full-funnel media ROI.
Here are more tips marketers of every budget can use.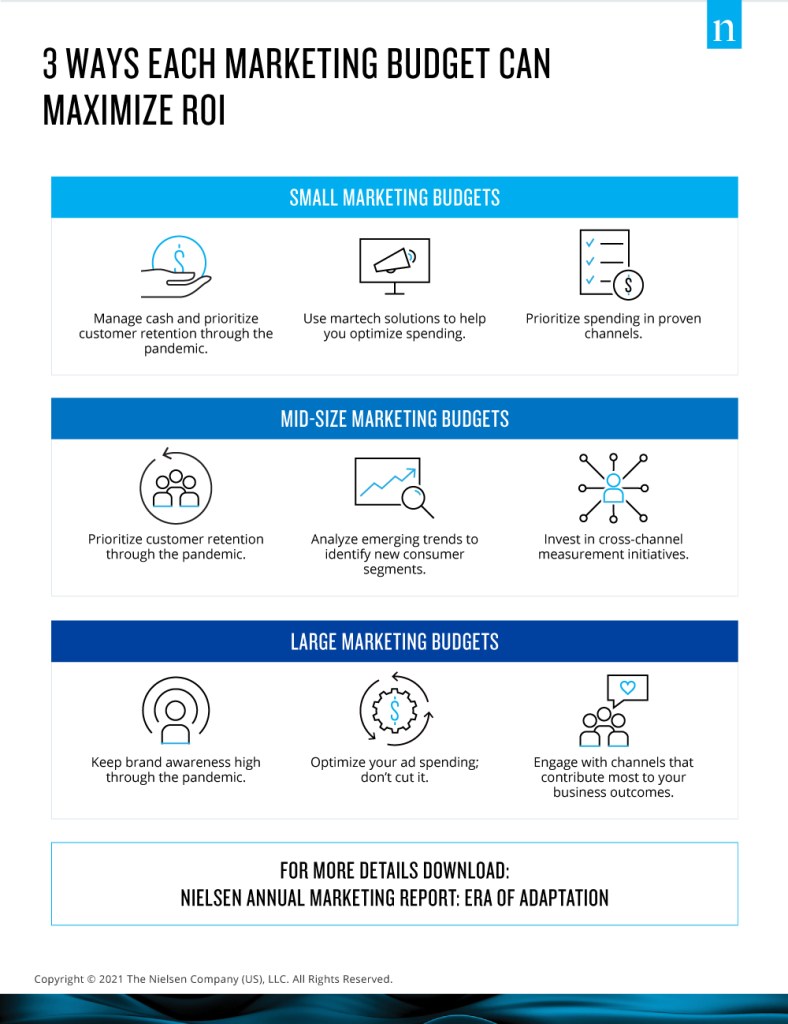 For more detailed insights, download the 2021 Nielsen Marketing Report: Era of Adaptation.