The streaming industry is coming full circle. Compared with its subscription-focused beginnings, ad-supported services and scheduled, live programming have grown more prevalent this year. The growth of free ad-supported television (FAST) services bodes well for audiences, as they boast very familiar user experiences and often feature shows acquired from traditional broadcast and cable programming.
Unlike video on-demand (VOD) offerings, FAST channels often present content in grids, similar to traditional, ad-supported cable and satellite services: live and on a schedule. Many complement their scheduled programming with on-demand content, providing the best of both worlds. In the U.S., FAST services are gaining ground with viewers: the three FAST services that are independently reported in The Gauge (Roku Channel, PlutoTV, Tubi) already account for more viewing per month than all but the two top cable networks. In June 2023, these three services captured 3.3% of total TV viewing in the U.S.
In addition to presenting audiences with a familiar, cable-like experience, FAST channels are built to be adjusted quickly and accommodate shifting audience demand. In fact, new channels can be developed and added rapidly, especially when media companies and other creators seek to add new channels to existing services. In late June, for example, NBCUniversal announced plans to launch 48 FAST channels to Amazon Freevee and Xumo Play. In addition to genre-specific programming, the lineup will include dedicated channels for Saturday Night Live, Top Chef and The Real Housewives franchises.
Given the speed in which FAST channels can be developed and launched, industry stats about how many FAST channels exist are constantly updating. As of June 2023, Gracenote Video Data had a record of 1,400+ individual FAST channels in its database, with 1,050+ of them available in the U.S.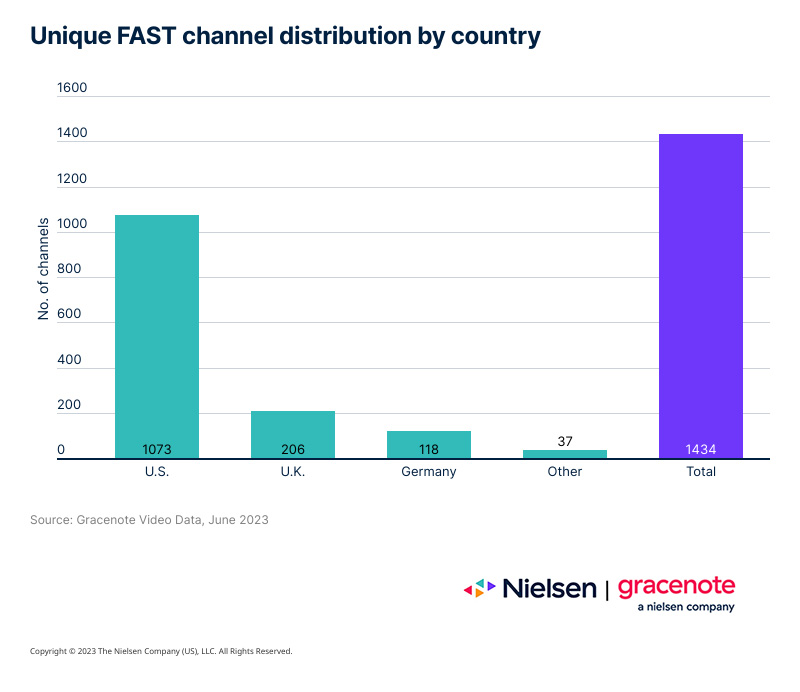 Available to audiences via internet connection without a subscription, FAST channels are ad-supported, and they lean into a trend that isn't discussed much in the industry press: the appeal of classic TV. Compared with traditional VOD services, which typically offer a mix of high-profile originals and titles acquired from other sources, FAST channels are predominantly set up to showcase library content—programming that originally aired somewhere else (usually on traditional TV).
From a viewership perspective, building channels with acquired content makes sense. In May of 2023 U.S. audiences spent 60% of their streaming time watching acquired programming—titles like Suits, NCIS, S.W.A.T and Grey's Anatomy, which frequently appear in Nielsen's top 10 list. In fact, Suits broke the weekly viewership record for an acquired title in June, when audiences watched 3.1 billion minutes of the dramedy between June 26 and July 2. It broke the record again when audiences watched an additional 3.6 billion minutes the very next week.
The industry's early move away from exclusive distribution rights for titles also bodes well for individual services seeking to benefit from popular titles. The aforementioned Suits, for example, is currently available to stream on Peacock and Netflix, representing a notable shift from when Netflix paid to be the exclusive streaming home of Seinfeld for a five-year period that started in 2021. We're seeing the same trend in the FAST space. Warner Bros. Discovery (WBD) and MGM, for example, recently cemented a deal to bring 23 FAST channels to Amazon Freevee, including Cake Boss and Say Yes to the Dress, which are also available on the Roku Channel and Tubi.
This trend away from exclusivity highlights the immense importance of a platform's user experience, especially in the FAST space, where the vast majority of content is available across many services. While personalization and fulfilling content discovery journeys will be critical for success in the FAST space, they are equally relevant across all streaming services. As of June 2023, audiences in the U.S. had more than 1 million unique video titles1 to choose from—far more than any platform's recommendation carousel can showcase. Through that lens, it's clear that user experience will become the most important ingredient for success in the years ahead.
For additional insight, download our latest State of Play report, which focuses on the importance of data-driven personalization and streaming content discovery.
Source
1 Gracenote Global Video Data