As the summer travel season comes to a close, Nielsen looked at the usage of travel-related mobile apps and websites during June 2012. Findings showed that U.S. Android and iOS users spent 95 percent of their time accessing travel information from travel apps, versus only 5 percent from the mobile Web. This discrepancy was largely driven by Google Maps—the top Travel category app and mobile website during June—which accounted for 78 percent of all mobile time spent on Travel.
Americans' decision on whether to open an app or their mobile Web browser depends on the type of travel information they seek. The Cruise Lines category was exclusively accessed through the mobile Web, while 98 percent of time spent browsing map/navigation information was through an app. The Travel Destinations/Theme Parks category seemed to have the most balanced usage among smartphone owners, as 54 percent of time spent was through an app and 46 percent via mobile Web.
"The variation in time spent across the different travel categories shows that there's significant room for app development and growth," said Nichole Henderson, a senior research executive at Nielsen.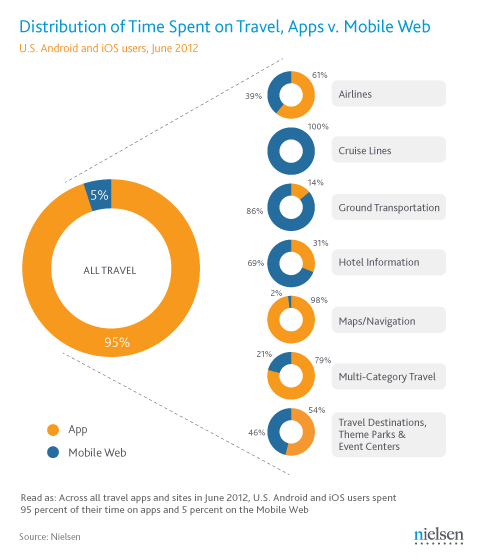 When looking at the top U.S. travel apps and sites, consumers seemingly prefer apps for guidance and the mobile Web for trip planning.  Seven out of the top 10 Travel apps during June 2012 featured a map/navigation function, while the top mobile websites mostly included airlines and travel aggregators, such as TripAdvisor and Priceline.com.  Interestingly, during a summer when gas prices were on the rise, GasBuddy, which lets users search for local gas prices, ranked as the number-two Travel app with nearly nine million users. Along with Google Maps, MapQuest and Southwest Airlines appeared on both lists but had more mobile Web users than app users.
Top U.S. Travel Apps, June 2012

Application
Unique Audience (000)
Google Maps
77,770
GasBuddy
8,934
Street View
4,489
Sprint Navigation
3,979
VZ Navigator
3,049
MapQuest
2,910
Google Earth
2,297
Urbanspoon
2,224
Waze
2,103
Southwest Airlines
1,745
Read as: During June 2012, 77.8 million U.S. smartphone owners used the Google Maps application from Android and iPhone handsets
Source: Nielsen
Top U.S. Travel Mobile Web Sites, June 2012

Mobile Site
Unique Audience (000)
Google Maps
17,427
TripAdvisor
4,156
MapQuest
3,753
Yahoo! Local
2,732
Southwest Airlines
2,026
Priceline.com
1,626
Expedia
1,572
Marriott
1,464
United Air Lines
1,444
Hotels.com
1,355
Read as: During June 2012, 17.4 million U.S. smartphone owners visited Google Maps from the mobile Web on Android and iPhone handsets
Source: Nielsen
Methodology:
A panel of 5000+ U.S. smartphone owners with metered mobile app and Web usage on Android OS and iOS platforms only