While your phone book might be collecting dust, consumers still have a need for the type of information it contains. But in today's digital world, they're more inclined to look for it on the Web. According to a study conducted by Nielsen, a whopping 85 percent of consumers find local business information online, where reviews, store hours, deals and maps are just a click away.
It's only natural that consumers spending time online, no matter on what the device, would look up business info. After all, we spend more than four hours a week using the Internet on a computer. Smartphone and iPad users also spend more than four hours per month on the mobile Web, 13 and 24 percent of their monthly mobile usage, respectively.
The Nielsen study also dug into the habits of Yelp users, in particular, as Yelp attracts tens of millions of U.S. visitors each month. Yelp is also a top site in the Directories/Local Guide category and has a growing mobile audience, with more than 11 million monthly users of its smartphone app in the U.S.
Not only have Yelp users—who tend to be younger, female, affluent and educated—grown accustomed to searching online for local business, but they readily offer their own opinions about the service providers listed on the site as well. These user reviews have helped drive foot traffic into everything from dentists to day spas, and the study found that over 96 percent of Yelp users across devices like computers, tablets and smartphones visit the site specifically for the ratings and reviews. In a separate study, Nielsen found that online reviews are among the most trusted sources for information for consumers, with 70 percent of them finding online opinions somewhat or completely trustworthy.
So what does that mean for point of purchase?
For starters, more than half (51%) of Yelp users make their purchase decisions after visiting the site. The figure for mobile Yelpers, however is a little higher. While Yelp visitations don't always result in action, users report that 93 percent of the time, Yelp usage results in occasionally, frequently or always making a purchase from a local business.
Underscoring the ability of online reviews—especially for those on the mobile Web—to drive local consumption, the study also found that mobile Yelpers' visitations to the site are more likely to result in either in-store appearances or purchases. Additionally, their purchases tend to happen sooner than the non-mobile Yelp visitors.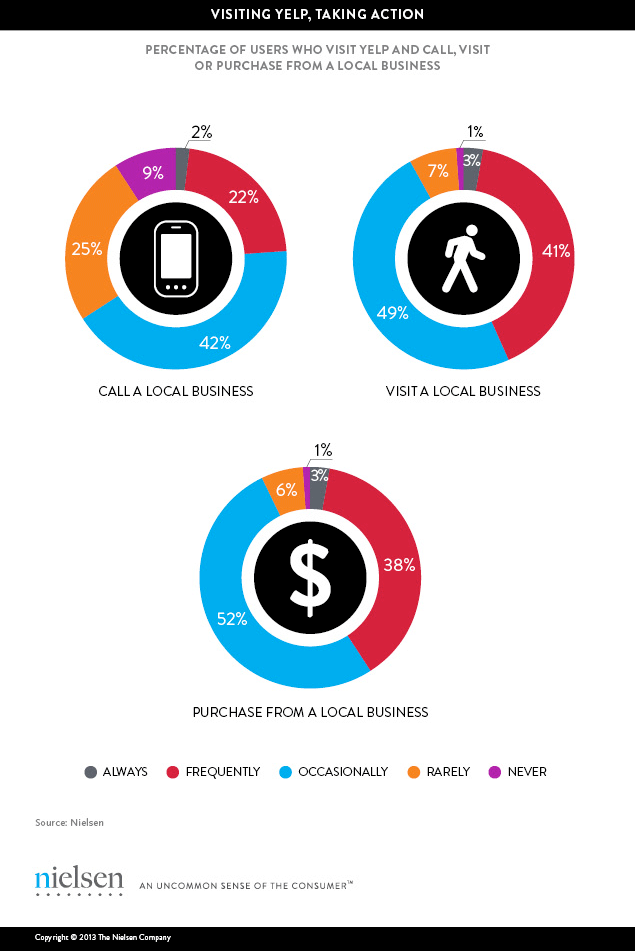 Methodology
This Yelp-commissioned Consumer Survey was fielded in the U.S. between March 29 and April 15, 2013 using Nielsen's online panel. A total of 1,415 responses were collected. Qualified respondents participated in household purchase decisions and used the Internet when searching for information on local businesses or services.