{"order":3,"name":"subheader","attributes":{"backgroundcolor":"000000″,"imageAligment":"left","linkTarget":"_self","pagePath":"/content/corporate/au/en/insights","title":"Insights","titlecolor":"A8AABA","sling:resourceType":"nielsenglobal/components/content/subpageheader"},"children":null}
{"order":5,"name":"pubdate","attributes":{"sling:resourceType":"nielsenglobal/components/content/publishdate"},"children":null}
The online retail eco-system is fast evolving in New Zealand. Shoppers today no longer simply go to the nearest store; they grab the nearest digital device. New data from Nielsen shows over 2 million people are now shopping online. The number of shoppers grew by 4% last year, with an additional 77,000 people taking part. This number is expected to grow to 2,140,000 online shoppers by the end of 2016.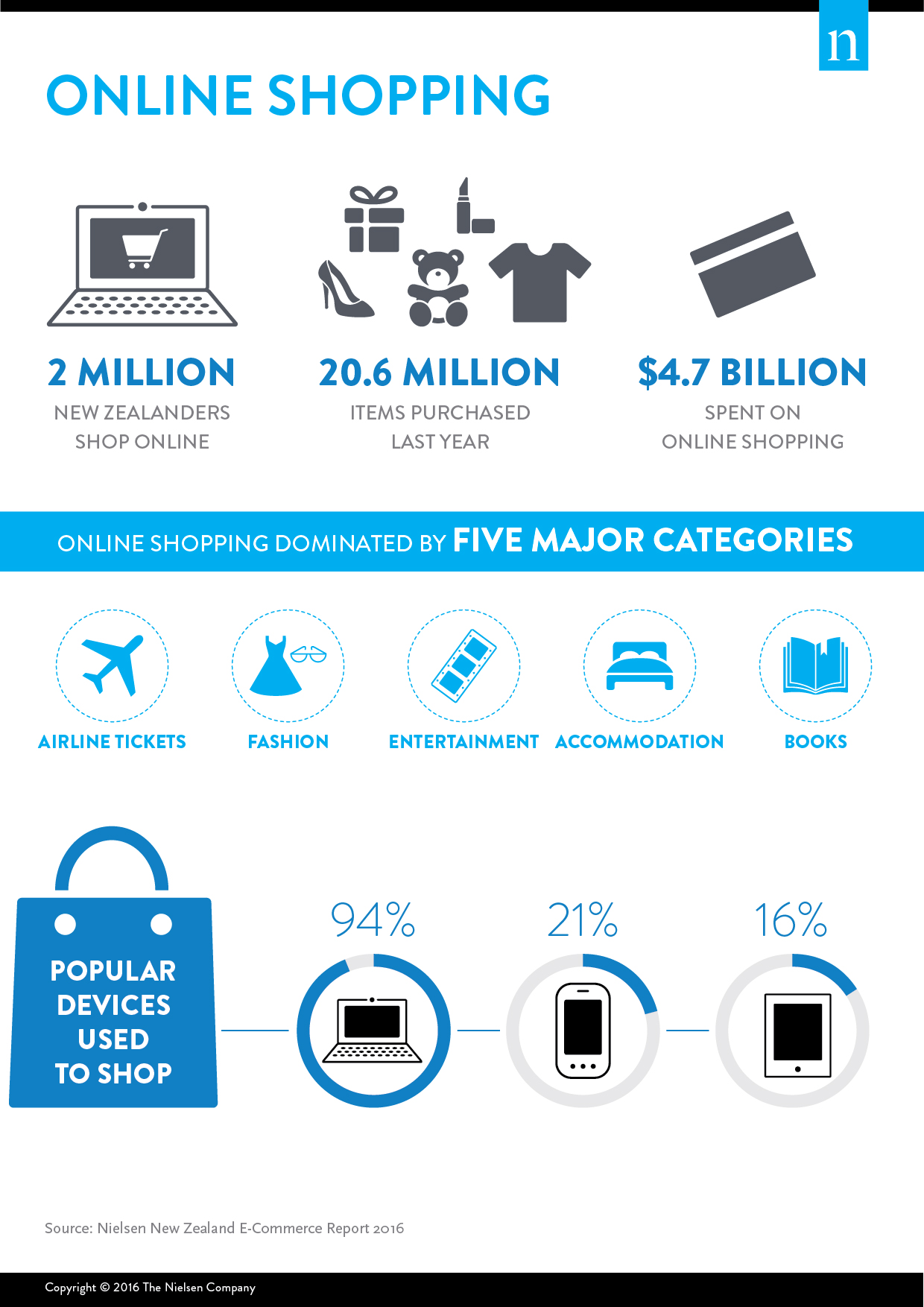 E-commerce engagement has come of age. New Zealand online shoppers have spent $4.7 billion on 20.6 million items in 2015. While growth has steadied over the past year, the market has grown by an exceptional 28% since 2012. The 24/7 convenience of the Web as well as price and value are the reasons cited most frequently by respondents for shopping online. The third driver of e-commerce retail sales is range, product assortment online is much broader than in traditional channels.
Online shopping is dominated by the five major categories – airline tickets, fashion, entertainment, accommodation and books. The top brand for Kiwi online shoppers is Trade Me with more than two-in-five (44%) buying from their website. Following Trade Me is Air New Zealand, The Warehouse, Mighty Ape and GrabOne.
With e-commerce set for even more growth, how can online retailers win more clicks?
For retailers to attract consumers today, they need to put themselves in their shoppers' shoes. Fast tracking the consumers' experiences on their mobiles and allaying delivery concerns means online retailers could enjoy double digit growth over the year ahead.
Online retailers should be optimising their mobile offering to stand out from the crowd and attract more customers. Building trust and confidence in mobile device shopping and payment experience is critical. The prize of being able to 'talk' to consumers one-on-one, including location marketing is a strategy that will also push retailers into strengthening their mobile proposition.
Providing a great delivery service is a differentiating factor that will give an edge to e-retailers over their competitors. Nearly a third of the main reasons for not shopping online are related to delivery concerns – the foremost being cost. Taking cost out of the equation, through premium service offerings for multiple purchases and/or allowing consumers to collect items in-store after buying online, are now being offered by brands as a way to go the extra mile.
ABOUT THE NIELSEN E-COMMERCE REPORT 2016
Nielsen's E-Commerce Report provides New Zealand's only in-depth information on the nation's online retailing. It is an annual measure of e-commerce activity and shopping patterns. The research methodology combines an Online Panel Survey of 1,100 New Zealanders with Nielsen's Consumer and Media Insights service and Nielsen Online Ratings. The report is now available to purchase online.