Fueled by a massive wave of hype leading up to its release, Canadian superstar Drake's Views is already setting the pace to be the biggest album of the year in Canada after dropping last Friday. In its first four days, sales were at 80,000 (including track equivalent sales*), and the album had already been streamed nearly 15 million times in Canada, easily beating the previous full-week record of 10 million streams set by Justin Bieber for Purpose.
These huge streaming numbers reflect the growing popularity of online music listening in Canada. According to the latest Nielsen Music 360 Canada report, more than 70% of Canadian music listeners use online streaming sites and services, driven largely by teens and Millennial music fans. While the percentage of overall streaming users has not increased year-over-year, the volume of streaming has surged. On-demand audio streaming alone in Canada is up more than 336% in year-to-date 2016 ending April 28, with the country's music fans streaming more than 11 billion tracks since the start of the year.
As music streaming grows, consumers are allocating more of their music spend for online streaming services and less for physical music purchases. This increase in streaming spend is particularly prevalent among teens (nine out of 10 of whom listen to music online), increasing 133% in year-to-date 2016 from 2015. The shift to streaming among teens and Millennials is also negatively correlated with the amount of money these listeners spend on buying digital tracks and albums.
As big releases like Views prove, fans will still purchase a highly anticipated album, but streaming is taking an increasing share of time and wallet for young music fans.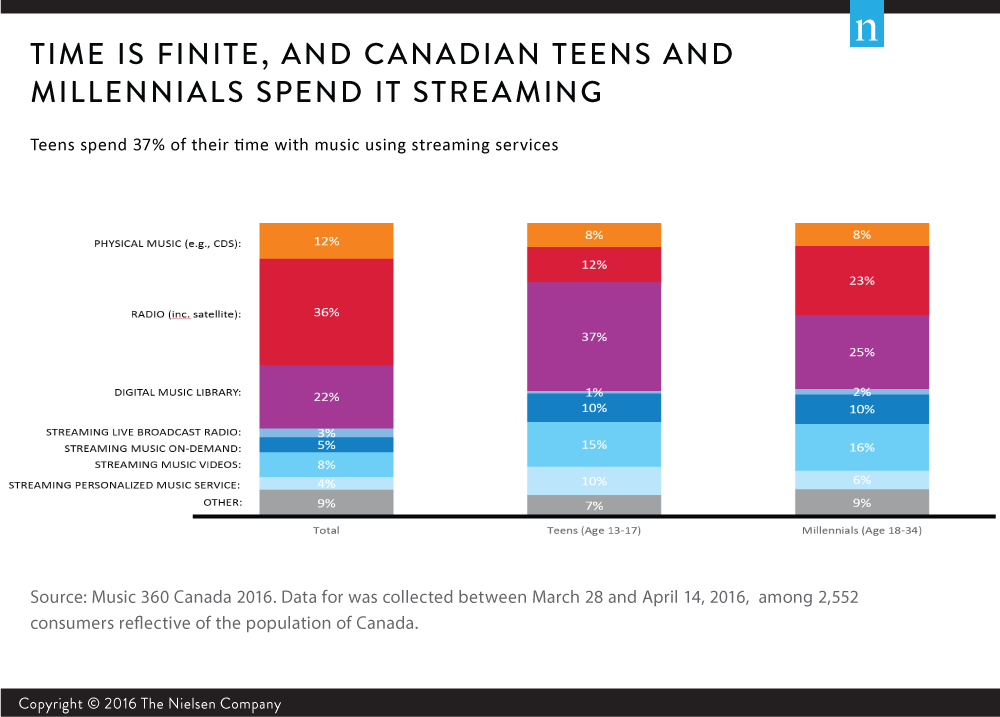 *Track equivalent downloads are calculated as 10 tracks = one album.