Podcasting continues to grow in popularity year after year in the U.S. According to Nielsen's Fanlinks survey data, the medium saw a significant growth in engagement from 2016 to 2017. In the fall of 2016, 13 million homes identified as "avid fans" of podcasts, while by the fall of 2017, the number of homes that consider themselves "avid fans" soared to 16 million.
Brands—both big and small—have taken notice of podcasting's rising popularity. Consequently, more brands are investing in the medium, and every month more advertisers are adding podcasting to their media plans. Fast-moving consumer goods marketers, in particular, are turning their attention—and advertising dollars—toward podcasting.
Podcast fans are heavy grocery shoppers. On a weekly basis, podcast audiences spend more at the grocery store than the average American. This presents a great opportunity for advertisers and marketers! In fact, according to our third-quarter 2018 A Marketer's Guide to Podcasting Report, podcast fans in American households purchased a whopping $10.8 billion of snacks annually. Also among the top five purchased categories are pet food ($8.8 billion), paper products ($8 billion), cheese, bread and baked goods ($7.9 billion), and carbonated beverages ($7.4 billion).  
Advertisers have a clear opportunity to connect avid listeners with their favorite brands in unique and creative ways through podcasts. But first they have to identify the podcast genres that are the best fit for their specific campaigns. The diversity of content that podcasts represent lets nearly everyone find a program they can connect with. So what are the top genres that resonate with podcast listeners?
Music to an Advertiser's Ears
More than 61% of American households have a fan of podcasts in the music genre. Thirty-seven million of these households identify as avid fans, while 24 million consider themselves casual fans. Avid fans of music podcasts are heavy buyers of beer, liquor, pet care, tea and baby food. TV and movie genre fans also mirror this trend and vary only in their heavy consumption of candy versus baby food.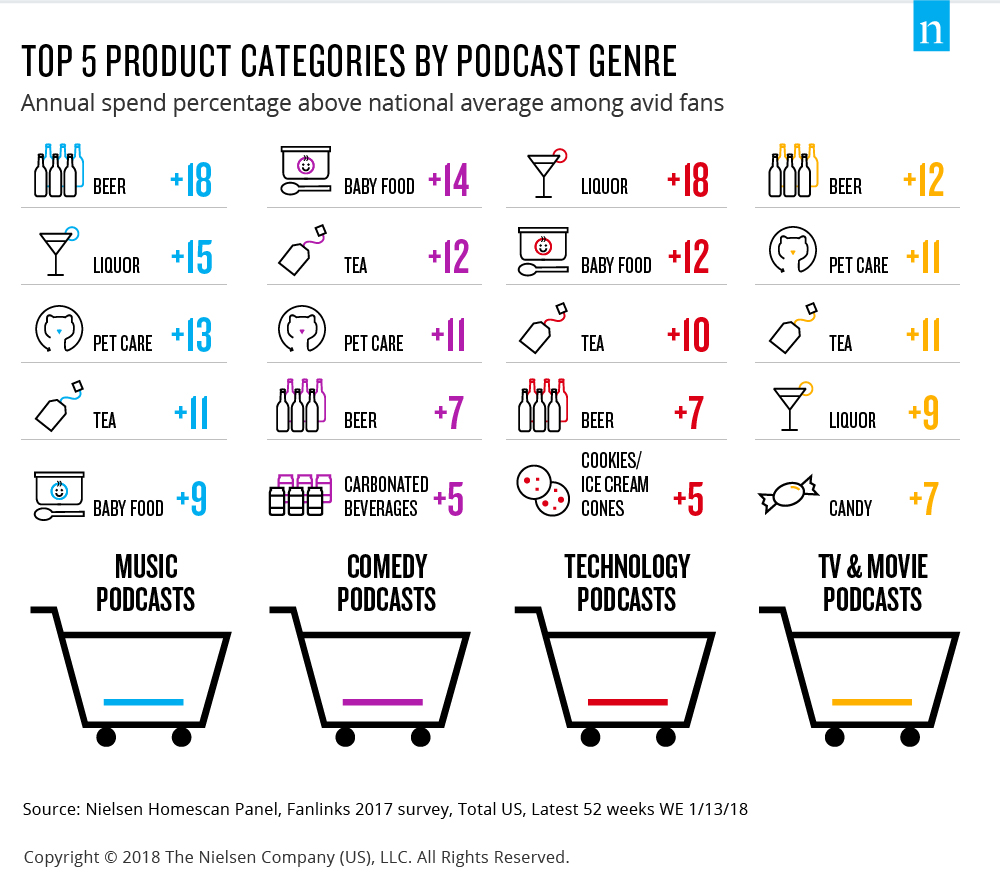 Comedy is No Laughing Matter for Advertisers
The Comedy genre is popular among 60 million American households. Thirty million of these households are avid fans of the genre. Avid fans of comedy podcasts are heavy purchasers of baby food, tea, pet care, beer and carbonated beverages.
Staying on Top with Tech
When it comes to tech podcasts, 46% of American households have fans of podcasts of the genre. Approximately  27 million households include an avid fan, while nearly 32 million of these households are casual fans. Tech podcast fans' consumptions of choice are liquor, baby food, tea, beer and cookies.
To learn more about trends among podcast fans, download our full report.