Heightened by significant enablement in mid-2020, the video streaming landscape has quickly become a vast realm of widespread choice for consumers. Amid the options, subscription-based video on-demand (SVOD) content remains hot around virtual water coolers, the Nielsen Top 10 list and social media. Without advertising, however, SVOD platforms are easy for marketers to disregard when they're looking for brand messaging channels. But new research about branded integrations suggests they shouldn't.
Product placements in video content are certainly nothing new, but few are objectively measured—even when they play a key role in a program's storyline. FedEx, for example, almost becomes a character in the 2000 film Cast Away starring Tom Hanks, yet the brand integration didn't cost the global delivery company a penny. Speculations about the end value of the integration are varied and widespread, which is a key reason why many of these types of integrations aren't readily monetized.
As more content becomes available via streaming platforms, including movies that are simultaneously released in theaters, the 30-second commercial—the time-proven unit of advertising—becomes a viable means to measure and steward brand integrations in SVOD programs. And in that regard, Nielsen, in conjunction with clients, developed a metric* that allows for SVOD brand integrations to be tracked in ways that put it on the same playing field as traditional advertising.
For example, we recently used this metric to calculate the actual impressions of several brand exposures in the first two seasons of Cobra Kai in its first month on Netflix, including Mercedes Benz. Given that much of the inventory at Daniel LaRousso's car lot is luxury cars, Mercedes-Benz takes center stage throughout the episodes.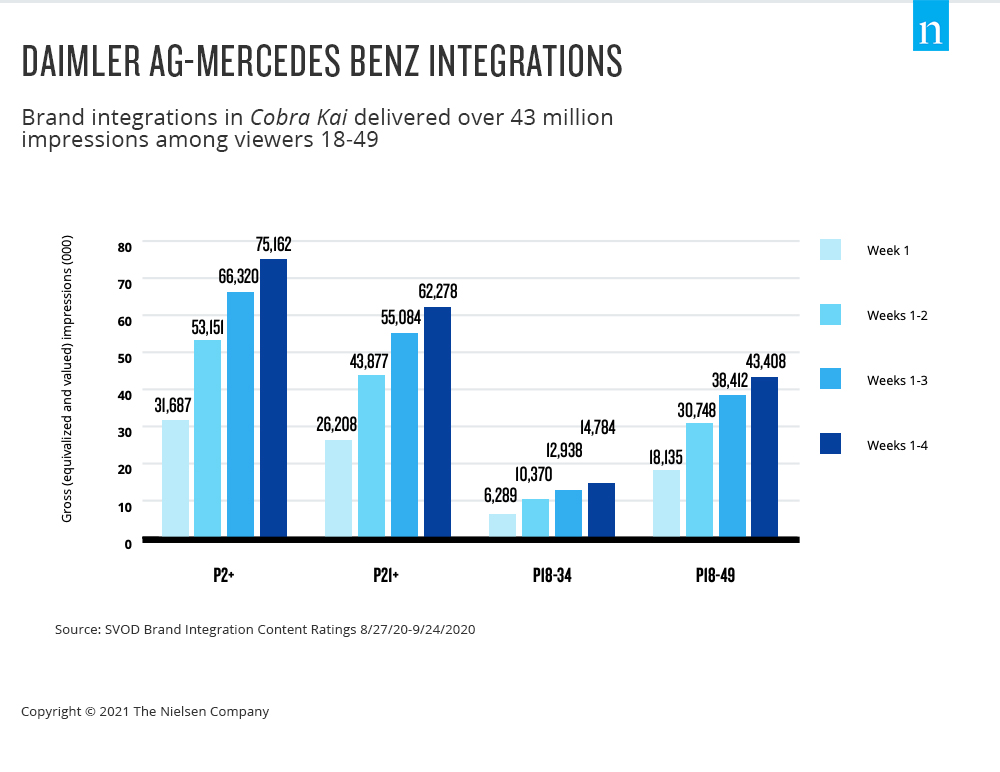 Dell Computers is another brand that Cobra Kai weaves into the storyline, largely through the tech ineptness of Johnny Lawrence's character, who at the onset, doesn't even know how to turn on a laptop, let alone connect it to the internet or conduct a search for something. And in the first four weeks of being available on Netflix, season 1 of Cobra Kai delivered Dell more than 70 million impressions to viewers 18-49, a key age demo for computer users.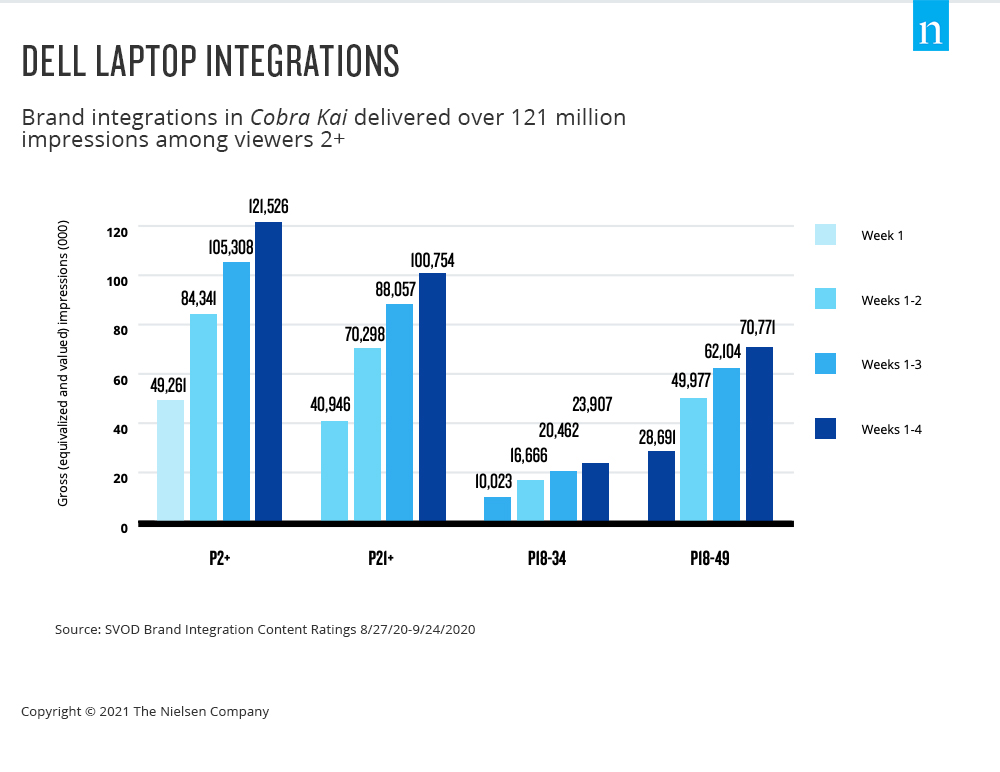 Given that SVOD content is free of advertising, product placements and branded integrations provide advertisers and agencies with a modern way to integrate brands into the burgeoning streaming realm while simultaneously gaining incremental reach. While there's little doubt that including a brand in a program has an impact, zeroing in on the incremental contribution of the exposure has historically been challenging. But that's no longer the case.
For additional insights, download our recent Branded Integrations Come of Age in a Streaming World report.
Note
Using the traditional 30-second spot as a baseline, the methodology adjusts for duration and integration type to arrive at valued, equivalized impressions. The resulting metric illuminates both delivery and incremental reach. Importantly, the metric provides full visibility of the value of branded integrations in the SVOD space. That visibility means that advertisers and agencies now know that they reach their target and get what they pay for.