Coming to a TV station near you: your favorite local sports team.
As the television landscape evolves, access to local sports is changing—and the price point for some fans couldn't be better: free. How is this possible? As audiences continue to migrate away from traditional cable packages, a handful of teams are partnering with local TV stations to provide fans with free over-the-air (OTA) access to local games.
While the cost—and access—is a breath of fresh air for sports fans, viewership is the motivating factor for sports teams—something that has been declining in recent years because regional sports networks (RSNs) content is bundled in traditional cable and satellite TV packages.
Over the past year, a handful of professional sports teams have entered deals that provide all fans in their broadcast regions the ability to watch local games for free via digital OTA antenna:
Phoenix Mercury (WNBA)
Phoenix Suns (NBA)
Utah Jazz (NBA)
Las Vegas Golden Knights (NHL)
Arizona Coyotes (NHL)
These teams aren't alone in realizing the reach that traditional broadcast programming has. Many MLB teams, for example, broadcast a portion of their games exclusively through local TV stations in combination with cable. The New York Mets, for example, broadcast 24 of the games in their 2023 season exclusively on WPIX; the other 124 were broadcast across SNY, a local RSN. And not too far away, the Philadelphia Phillies broadcast 12 of their 2023 games on local TV.
In choosing to broadcast some games through local stations, the Mets added 17% to their total reach throughout the 2023 season. We see a similar trend in Philadelphia, as the Phillies added 13% to their total reach during the regular season by broadcasting a selection of games through the market's local TV station. Combined, approximately 950,000 viewers of 2023 Mets and Phillies games watched only through traditional broadcast programming.
TV rights deals that provide non-cable audiences with access to local games aligns with how fans watch TV. As of September, only 46% of U.S. homes1 access programming through a traditional cable or satellite service. That's down 23.6% since September of 2021.
The shift to OTA broadcasting by the Mercury, Suns, Jazz and Golden Knights marks a return to how local games were televised before RSNs became commonly distributed through the expanded basic tiers of cable programming in the 1990s. The new deals, however, do more than just take a page out of the history books. Each comes with a companion direct-to-consumer streaming option as well, which also aligns with the growing number of homes that get their programming from broadband internet service, as well as viewers' time streaming. In both July and August of this year, streaming accounted for more than 38% of total TV usage.
While these deals have yet to affect the upcoming NBA and NHL seasons, the Suns-Mercury-Gray Television deal went into effect just in time for the Mercury's 2023 season, which ended Sept. 10. With games available locally through OTA access, the Mercury's average household audience was nearly 6x larger than during the team's 2022 season (when local games were broadcast via RSN). It's also noteworthy that the percentage of OTA homes in Phoenix is more than 7 percentage points higher than the national average.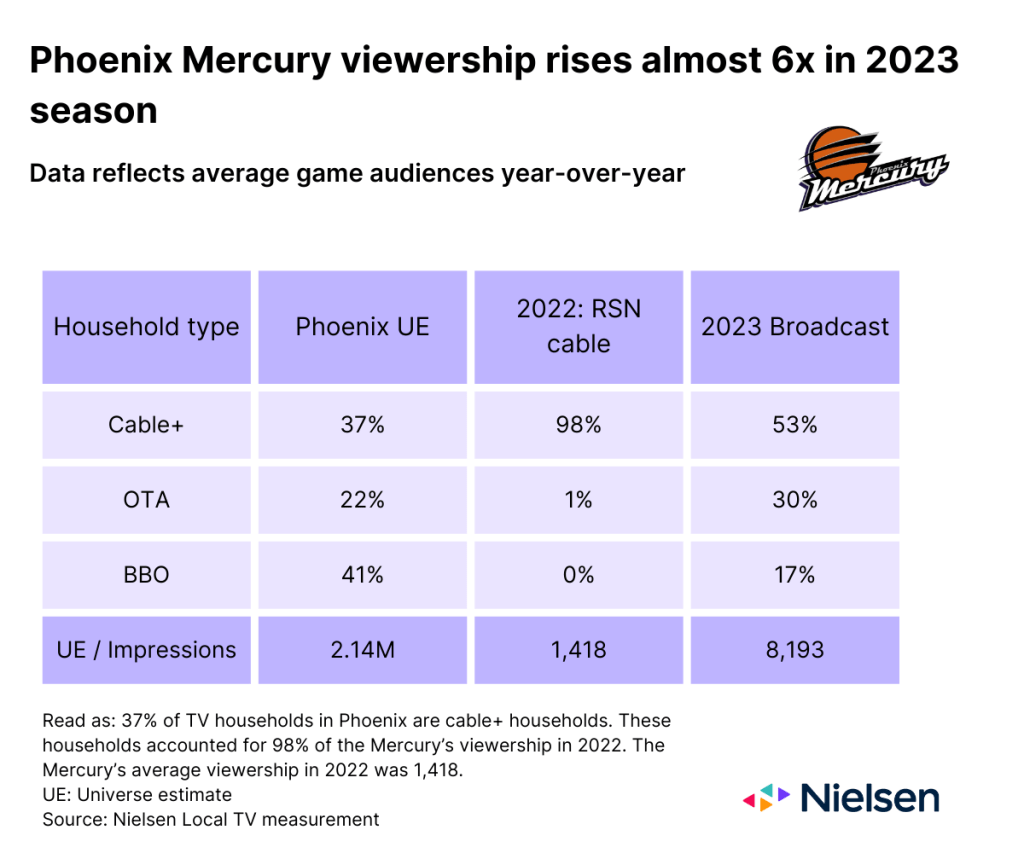 As the Phoenix Suns and Las Vegas Golden Knights begin their 2023-24 seasons, we can see the potential reach gains associated with transitioning to broadcast telecasts. Through their RSN broadcasts, the Suns reached an average of 2.24% of the market's TV viewers per game last season, while the Golden Knights reached an average of 2.16%. And to ease the viewing transition for fans, the Suns offered free antennas for local viewing in the lead up to the season. The offer was so popular that the team had to order more.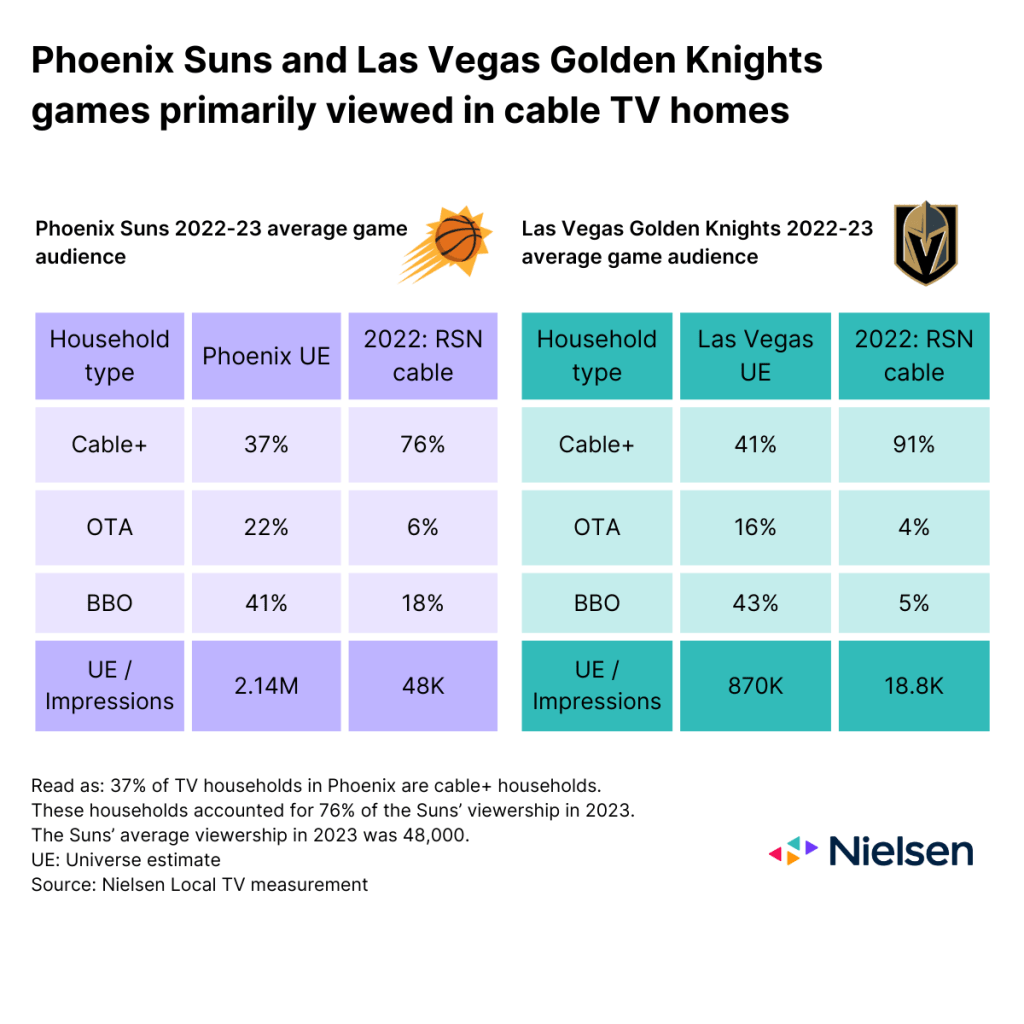 Amid the evolving TV landscape, the audience has more choice than ever, and the arrival of new platforms and channels amplifies the complexity of knowing what's on, where to find it and whether there's a cost to access it. From a local sports perspective, the shift among some teams to OTA broadcasts highlights their focus on ensuring that as many fans can see the games as possible, and at a price point that can't be beat.
Source
1Nielsen National TV panel