Black Friday and Cyber Monday are true American traditions. They give consumers the opportunity to head out to the stores after giving thanks and ring up a ton of more things to be thankful for. As the name Black Friday suggests, however, retailers face a very different situation—a high-stakes battleground where winning or losing can have a dramatic impact on annual sales trends and profitability. Well before any of us prepared to hit the aisles this year for deals and steals, advertisers strategized to make their messages break through the bombardment of ads clamoring for consumer's limited attention.
As the blanket of Black Friday/Cyber Monday promotions increases, the relative newsworthiness of individual promotion-touting ads decreases. This in-turn ups the challenge for marketers with respect to creating strong ad memorability and brand identity.
Given the ad and promotion clutter, retailer's in-market ad performance during this critical period is declining, according to Nielsen. Compared with the average ad**, 2013 Black Friday/Cyber Monday ads were only 60 percent as effective at driving ad memorability and branding within the general population (people 13 and older), continuing a trend that began in 2012. Relatively soft Black Friday/Cyber Monday ad engagement isn't surprising, however, given the basic intent of these ads. Specifically, they focus on promotional education rather than entertainment. As such, Black Friday/Cyber Monday ads often don't make emotional connections via humor or sentimentality, or contain attention grabbing visuals—traits that are known to drive ad memorability amid the noise of today's real-world TV viewing environment.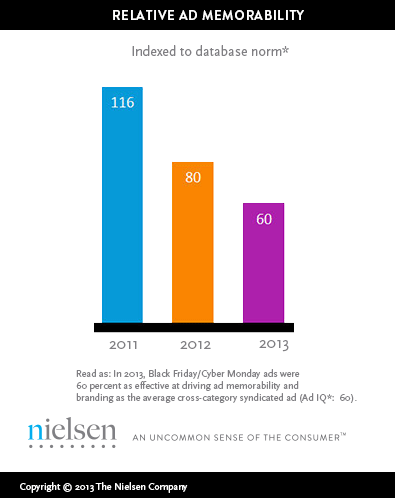 Even in the face of these challenges, however, some 2013 Black Friday/Cyber Monday ads performed at above-average rates.
Toys "R" Us' "Wishes Come True" spot led the Black Friday/Cyber Monday pack this year for ad impact, achieving 32 percent better ad content memorability and branding than the average 2013 ad. Toys "R" Us ads have a solid track record leading into the holidays, capitalizing on their stores' unique ability to showcase the child gift-giving experience to rank as the top Black Friday/Cyber Monday advertiser since 2011. As it has done in the past, the toy retail giant this year visualized the highly relatable and emotionally rewarding experience of children playing with toys to increase viewer engagement and boost ad memorability while showcasing the brand logo and recognizable store front.
The second-most memorable and well-branded Black Friday/Cyber Monday ad was Pep Boys' "Black Friday Sales Event," which performed 16 percent better than average, demonstrating that a product or retailer doesn't need to be directly connected with holiday gift giving to generate strong ad memorability during the holidays. The ad's simple visuals, consistent use of the Pep Boys' creative style, and Black Friday-specific offerings were strong traits that drove the ad's memorability. Additionally, the ad's program placements boosted performance as it ran primarily during shows intended for male audiences, ensuring its "car-care" focus was relatable to a high proportion of viewers.
Kmart's "Gif-ing Out" commercial, which performed 8 percent better than the average ad, demonstrates how entertainment can be central to ad memorability even during promotion-intensive periods. The Black Friday message was only presented as a tag at the end of this ad, but its humorously attention-grabbing visuals and audio remained in holiday shoppers' minds long after they turned off their TVs.
Notes
*Ad Impact Quotient (Ad IQ) = The percent of viewers who remember both ad content and the advertised brand 24-hours after natural viewing exposure dividend by the norm for all ads**.
**Database norm: Inclusive of ads across all categories at any time of year within TVBE coverage.
Source: Nielsen TV Brand Effect 11.1.13 – 12.2.13. P13+. 2011 Data: 11.1.11 – 11.30.11. 2012 Data: 11.1.12 – 11.30.12