Love is in the air and in the entertainment aisle. So as we celebrate Valentine's Day, let's look at how romance influences music, books and home entertainment—as well as how consumers respond and engage with it—even on days other than Feb 14.
LOVE YOU LIKE A LOVE SONG
Even though love is in the air, it may not be streaming. In fact, despite the growth in streaming activity, romantic-themed music isn't a top choice on Valentine's Day. In fact, last year on Valentine's Day, the top streamed songs were aligned with the popular songs at the time, starting with Baauer's "Harlem Shake," with a whopping 17 million streams overall that day. "Thrift Shop," by Macklemore & Ryan Lewis featuring Wanz, and Rihanna and Mikky Ekko's "Stay" were distant followers.
When we looked at the top on-demand streamed songs that contained the word "love" in their titles, we discovered that the term inspires an array of interpretations, ranging from hip-hop pleas proposing marriage equality for same-sex couples ("Same Love" by Macklemore & Ryan Lewis Feat. Mary Lambert) to a love of groupies ("Love Me by Lil Wayne feat. Drake & Future).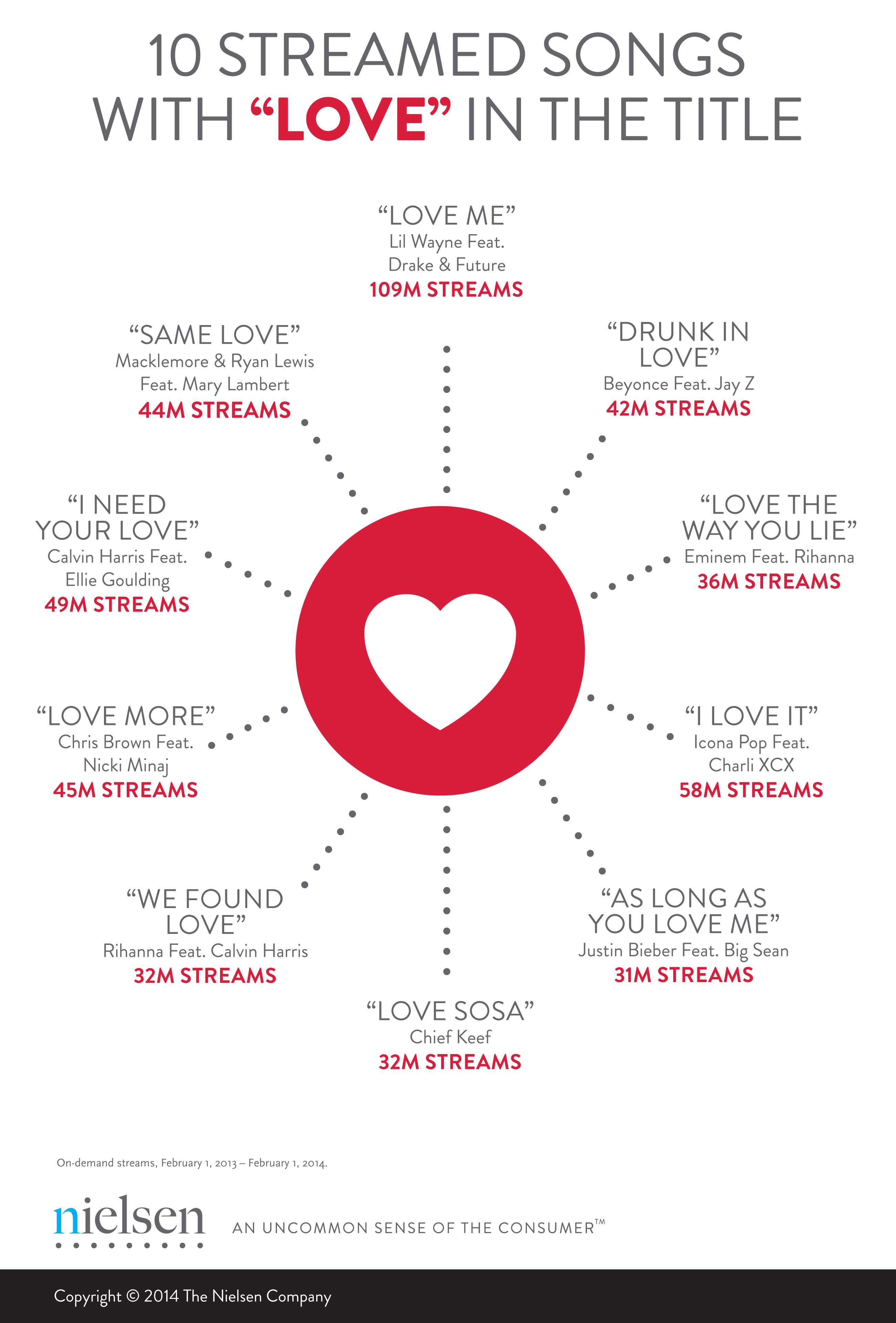 "PS I LOVE YOU" ON "VALENTINE'S DAY"
Whether you're a romantic comedy fan or not, Valentine's Day has a way of pulling at even the toughest of heart strings, which can inspire many of us to indulge in feel-good titles. Although romantic comedies made up about 3 percent of total unit sales during the week of Valentine's Day (week ending Feb. 17, 2013), sales in the genre spiked 47 percent from the previous week, which is consistent with the trend in the prior year. When looking at a list of top 50 romantic comedy titles, sales for that week were up 46 percent from the previous week. Then they dropped 35 percent the week after the holiday.
Top Romantic Comedy Titles (Week of Valentine's Day 2013)
Title
Format
Retail Release
 % Unit Sales of Top 10
VALENTINES DAY
DVD
5/18/2010
28%
BRIDESMAIDS
DVD
9/20/2011
15%
PS I LOVE YOU
DVD
5/6/2008
9%
HALL PASS
DVD
6/14/2011
8%

ZOOKEEPER
DVD
10/11/2011
7%
FORGETTING SARAH MARSHALL-WIDESCREEN
DVD
9/30/2008
7%
THINK LIKE A MAN
DVD
8/28/2012
7%
BACK UP PLAN
DVD
8/24/2010
6%
BOUNTY HUNTER
DVD
7/13/2010
6%
DEFINITELY MAYBE-WIDESCREEN
DVD
6/24/2008
6%
Sell-through disc sales for week ending Feb. 17, 2013.
Source: Nielsen
READING THE ROMANCE BUYER
The romance market is dominated by female book buyers (accounting for 87% of units purchased), and 43 percent are acquired by consumers between the ages of 18 and 44, according to research from Nielsen's Books & Consumer survey research*. Compared with most other fiction genres, romance attracts a lower-income buyer. While consumers have historically bought their romance in mass market paperback, e-books now represent a large portion of sales. In fact, between January and November 2013, consumers bought 40 percent of new romance novels as e-books. Interestingly, this is actually down from 2012, when closer to half of romance books were e-books. This dip is at least partly due to the fact that the 50 Shades series (a big hit in the e-book format) slowed down in the market.
So what drives consumers to buy new romance books? Buyers are very loyal to authors and series, and they plan their romance purchases more than any other fiction. According to our survey research, it's also less important for romance buyers to have a recommendation from someone they know. When intending to purchase, an intriguing book title ranks higher in romance than other fiction genres, and the description on the jacket is typically the final hook that inspires the purchase. In terms of authors, romance is actually one of the strongest genres for self-published writers. In fact, for the first three quarters of 2013, more than half of romance book sales came from non-traditional publishers.
So what better way to celebrate the holiday than with entertainment? Go on—stream your favorite love song, turn on your favorite flick, or cozy up with your favorite book.
*Books and Consumer research from January – November 2013.