{"order":3,"name":"subheader","attributes":{"backgroundcolor":"000000″,"imageAligment":"left","linkTarget":"_self","pagePath":"/content/corporate/au/en/insights","title":"Insights","titlecolor":"A8AABA","sling:resourceType":"nielsenglobal/components/content/subpageheader"},"children":null}
The uptake of additional, new connected screens is stimulating a shift in our media and online media consumption habits. We are consuming more content now than ever before; more video, more audio and more text across a plethora of screens.
Dual-screening is now considered normal among online Australians – three in four (74%) now multi-task with two sets of content. A new movement, however, in the form of triple-screening, has begun to infiltrate consumers' media behaviour, with more than a quarter (26%) now participating in this new phenomenon over the past year.
By 2017, we predict that smartphones will be the connected device owned by most Australians, and tablet ownership will be on par with laptop. With these small, agile devices soon in the majority of homes, triple-screening behaviour is expected to increase in both its reach and frequency.
Among the multi-screening population, 53 percent of 16-24 year olds and 52 percent of 25-34 year olds are triple-screeners. This drops to 34 percent among 35-44 year olds, 24 percent of 45-59 year olds and just 14 percent of those aged 60+ have ever tried triple-screening. Men are only slightly more likely to triple-screen than women, as are those in metro areas compared with non-metro areas.
While these figures are still well below the number of consumers engaging in dual-screening, it reveals our continued adoption of new 'media multi-tasking' habits, our insatiable appetite for content, and the increasingly complex user environment influencing message cut-through.
The task-ahead, is for broadcasters and brands to work together to engage eye balls with compelling content that keeps viewers attached to the main screen when it matters. In addition, opportunities exist for those who develop smart cross-platform strategies and executions that use the second and third screens to enhance and complement the main screen, extending advertising reach and resonance across multi-screening audiences.
Click here to learn more about Nielsen's 2014 Connected Consumers Report.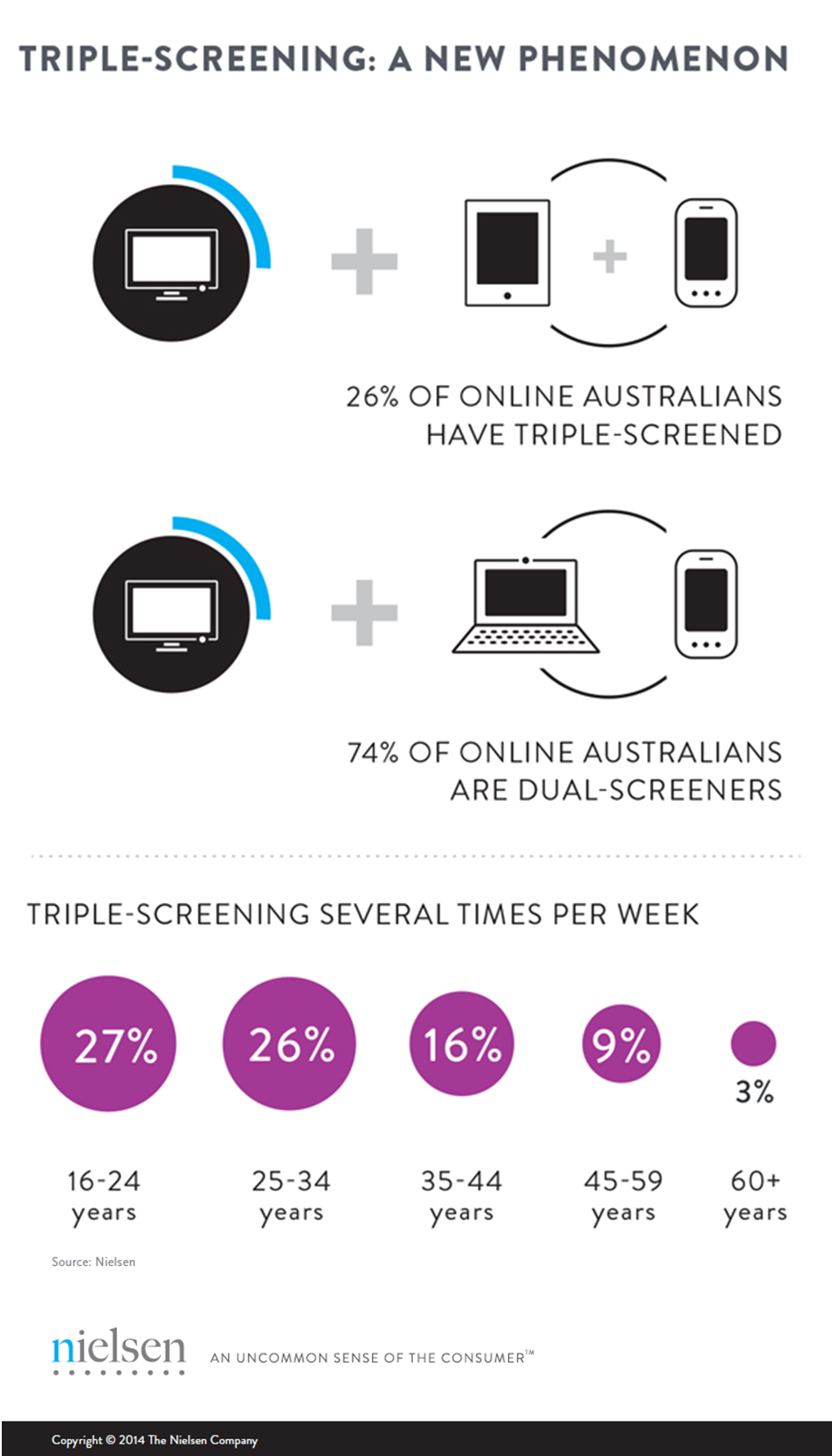 About the Australian Nielsen Connected Consumers Report, 2014The Australian Connected Consumers Report (formerly known as The Australian Online Consumer Report) has been published since 1997 and is now in its 16th annual edition. The 2014 report analyses the responses of 4,980 online Australians aged 16 years and above through an online survey methodology. All responses were collected during December, 2013. The report will be released on Monday 3 March, 2014.