Stephan Vogel, Ogilvy & Mather Germany's chief creative officer, has said "Nothing is more efficient than creative advertising. Creative advertising is more memorable, longer lasting, works with less media spending, and builds a fan community…faster."1 But in the world of marketing, creativity needs to convert into sales. Are brands succeeding in making the creative in their advertising campaigns as effective as they should be?
Nielsen's marketing mix work in the FMCG space has found that television advertising drives about 50% of incremental sales for a brand. Our meta-analysis showed that the average efficiency of a TV campaign in driving incremental sales is 1.2X. This was seen to as high as 3.5X in case of stronger campaigns.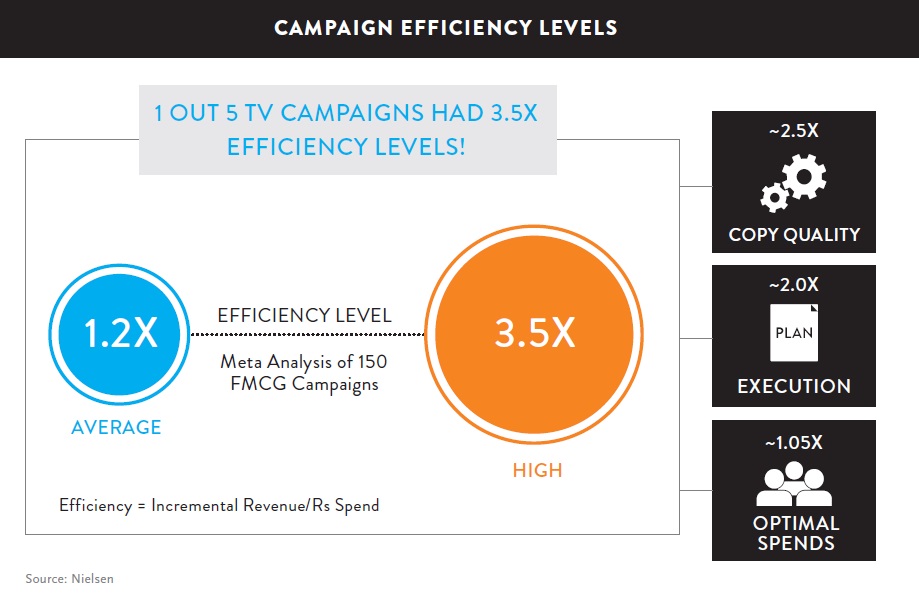 The 3C Model
So how can marketers ensure content quality, execution and spends are at optimal levels? At Nielsen, we believe the solution to this issue is a "3-C" framework. By focusing on consumers, content and context, brands can drive campaign success and deliver better advertising.
Reaching the consumer efficiently is the first step towards efficient advertising. Consequently, brands need to focus on accurate reach in addition to considering total reach. While there is robust measurement available for television, there are no powerful reach measurement tools in case of digital. And the right tools are essential. Nielsen's Digital Ad Ratings, for example, enables marketers to choose the right publishers by looking beyond their reach or traffic numbers to the on-target reach they offer.
Secondly, effective television advertising's content should capture the viewer's attention in the first five to seven seconds because that is where the risk of losing the consumer is highest. The content must also engage consumers and activate their memory at the moment of purchase. Empirical evidence shows that the use of elements like multisensory stimulus, motion that helps direct viewers' gaze and a central visual field that garners maximum attention of viewers, have a deep impact on the memory, making advertising content with such features more effective.
The third important pillar in making advertising more effective is context. Brands could consider priming their advertising campaign within an appropriate context. At any moment when consumers engage with a stimulus or any content, they are "primed" by what they have been exposed to previously. It has been found that if the content of the advertisement matched the contextual theme, it performed significantly better across key neurometrics.
In conclusion, advertising campaigns need to be tracked and modelled around the 3-Cs. When put to use, the 3-C framework can generate significantly better return on investment for advertising campaigns across media, thereby ensuring better marketing effectiveness for spending.
1-Werner Reinartz and Peter Saffert, "Creativity in Advertising: When It Works and When It Doesn't," Harvard Business Review, June 2013. https://hbr.org/2013/06/creativity-in-advertising-when-it-works-and-when-it-doesnt
For more details, download the full report (top right).