No genre stands out in the lead-up to Halloween like horror, but its popularity has grown well beyond the arrival of the season. As of Oct. 10, 2023, the 43 horror films released theatrically this year had already generated more revenue than the genre's total box office in 20221. That popularity extends to TV audiences, and not just around Halloween.
This year, in fact, four recent big-budget horror movies debuted on Nielsen's top 10 list when they became available to streaming audiences.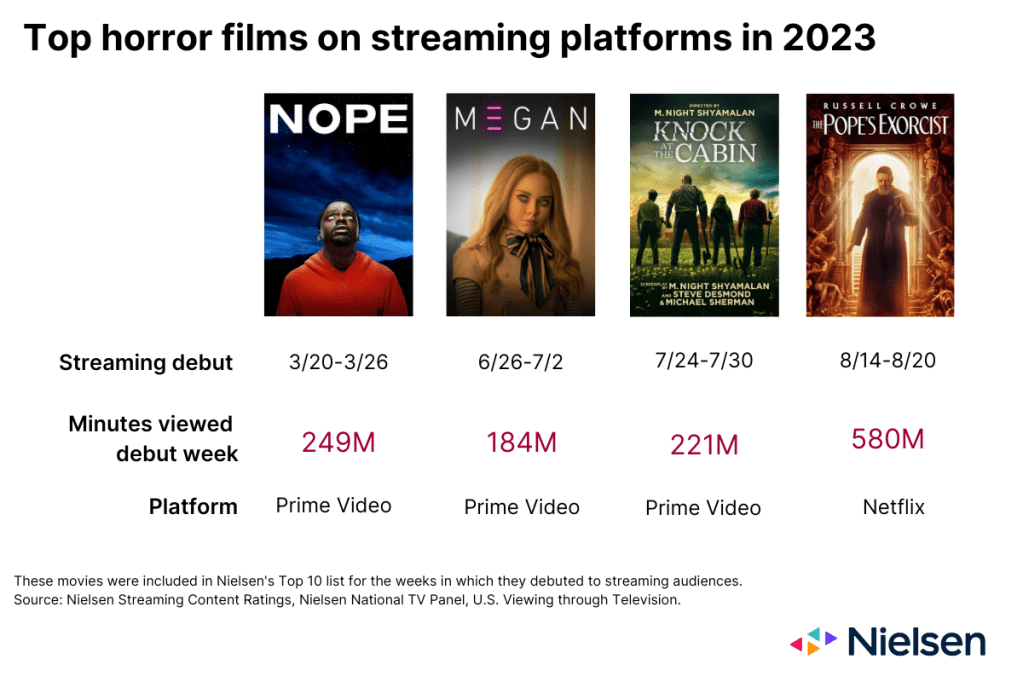 Given these four films' large budgets, high-profile casts and well-known directors, they were never in any danger of not being seen by prospective viewers. That, however, is not the case for the thousands of other horror titles that are screaming to be watched. In fact, TV audiences now have nearly 1.1 million2 unique horror titles to choose from, which span across six different sub-genres. While the vast majority fall into the general horror category, more than 189,000 fall into the paranormal sub-category.
With that much choice, combined with an ever-growing array of places to find content, it can be challenging for viewers to find something they're interested in. In fact, 44% of respondents in Nielsen's June 2023 streaming consumer survey said it's getting hard to find the content they want because there are too many services available. And what's more, only 62% say they know what they want to watch when they open their streaming service.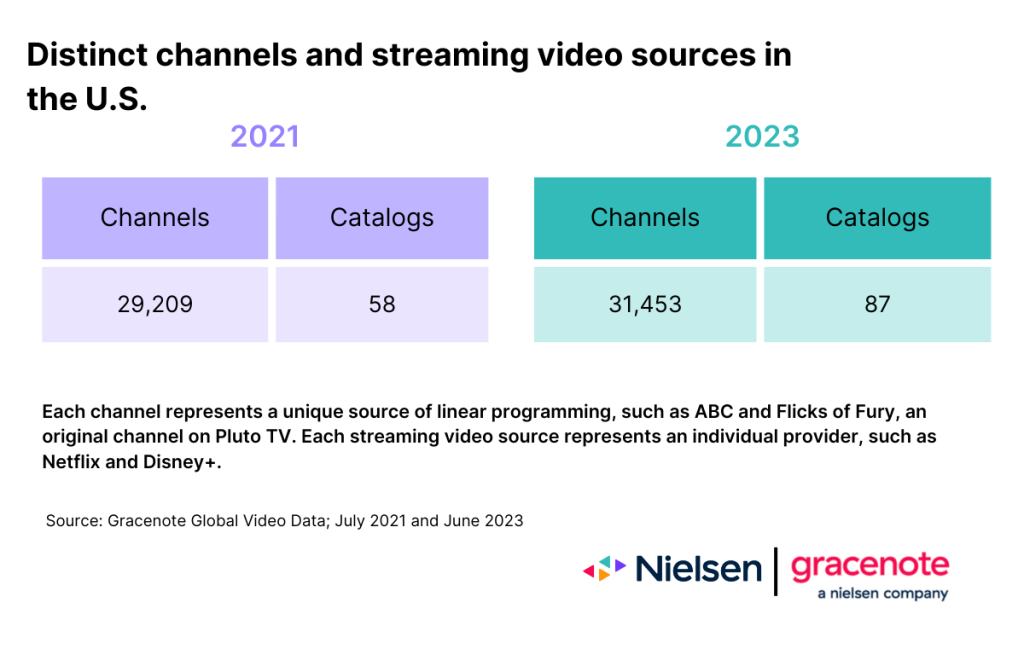 To help audiences on their content journeys, recommendation engines and top 10 lists have become standard within video on demand (VOD) streaming services. But promoted content carousels typically feature a very small fraction of a platform's content—and top 10 lists offer perspective into popular titles among all users rather than content specific users might like. Through that lens, it's not surprising that only 27% of survey respondents strongly agree that menu recommendations are useful in finding something to watch. They believe visuals are more important, as 36% say a title's thumbnail image is extremely/very important in deciding what to watch.
With consumers increasingly expecting personalized experiences, content owners and streaming services can leverage tools like Gracenote's Personalized Imagery for thumbnails and Streaming Channels Data to help audiences find content when they aren't familiar with specific program titles. Descriptive metadata, like Video Descriptors, can also fill in the gaps that traditional program information has.
The basic program information associated with John Carpenter's 1978 film Halloween, for example, isn't capable of helping a platform or service suggest this film to audiences looking for something that interests them at a personal level. That's because basic program information only includes details like program title, summary, genre, production date, primary cast, run time and country of origin.
But when a platform or service leverages the 30 individual Gracenote Video Descriptors across 10 different content attributes associated with the film, it can facilitate more meaningful content journeys for viewers. These descriptors can also assist in contextual ad targeting.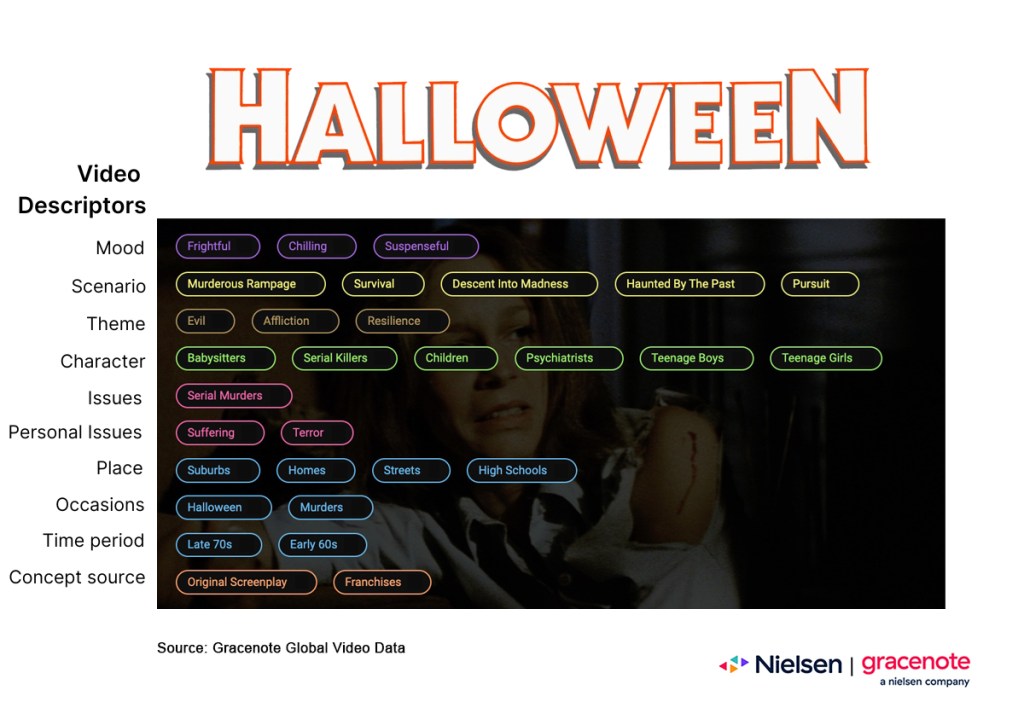 In addition to helping audiences find content that interests them, metadata will become increasingly important from a competitive, personalization perspective as individual titles become available across multiple services. This trend, while new for many big-budget productions, is very common for mid- and small-budget projects seeking to get as much audience exposure as possible.
Excluding big-budget films like Nope and Scream VI, non-exclusivity in the horror genre is very common. And when a single program is available in more than one place, the onus of audience engagement is in the hands of the individual services. According to Gracenote Video Data, only one-third of the video titles available in the U.S. are exclusive to either linear TV or a subscription service.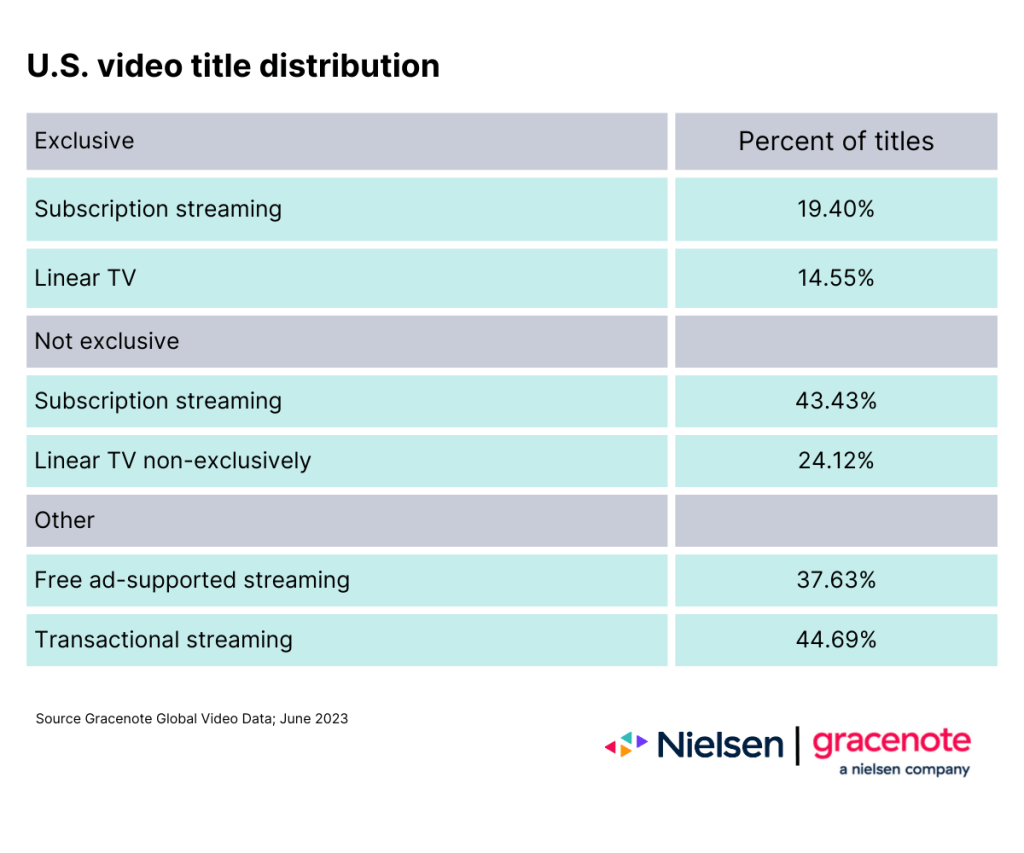 To illustrate, let's look at Terrifier 2, a break-out success story from last year. Made for approximately $250,000, the independent slasher sequel gained so much media attention because of its over-the-top effects that it ultimately gained widespread theatrical release and grossed $10.6 million in the U.S. alone. Now, as work on a third installment with a 7-figure budget is in development, Terrifier 2 is making the rounds across a number of streaming services in the lead up to Halloween. While some services change their libraries frequently, online streaming guide JustWatch highlights that audiences can find the film on four subscription services and two FAST services. It's also available for rent on nine services and for purchase on seven.
While the variety of platform choice and access options is key for audiences, services like JustWatch wouldn't be able to aggregate the options for viewers if it weren't for granular metadata and unique content IDs that facilitate content searches across the internet—not just within individual platforms.
"The power of metadata isn't limited to the content or the platform," says Filiz Bahmanpour, VP of product at Gracenote. "When you do an internet search, it becomes a tool that looks at deeper metadata that helps identify why an audience member might want to watch something. And with metadata today, descriptors even involve things like mood, theme and scenario."
Combined, the universal ID for Terrifier 2 ensures that audiences can find it, and the 34 unique Video Descriptors provide content aggregators and streaming services with the ability to provide more personalized content journeys for their audiences.
Sources
Gracenote Global Video Data, October 2023
For additional insights, download our latest State of Play report, which focuses on the importance of data-driven personalization and streaming content discovery.