As gaming companies continue to release everything from next generation consoles to hyper-addictive mobile apps, today's gamer has a vast array of options to choose from. So what's a gaming enthusiast to do? For many, the answer is to simply grab the nearest device and play more!
And in looking at the research in the latest Nielsen 360° Gaming Report, gamers are complying. In fact, players aged 13 and over spend more than six hours a week on any gaming platform. That's a 12 percent increase from the 5.6 hours they spent with gaming platforms in 2012. And what's more, U.S. console gamers are diversifying the devices they play on, as 50 percent say they also play games on a mobile or tablet device, up from 35 percent in 2011. This multi-platform trend suggests that the introduction of new platforms isn't cannibalizing gaming time. Rather, it's strengthening gamer engagement.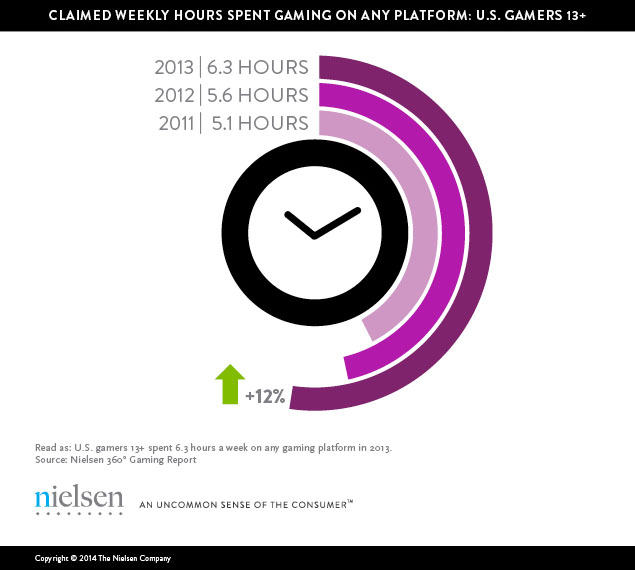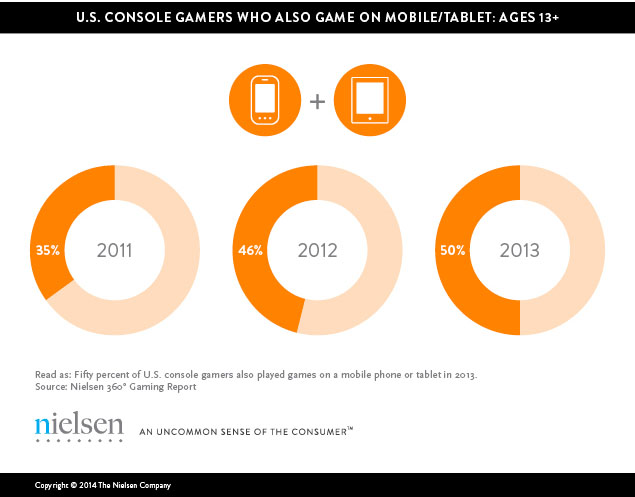 It's only natural that the influx of new gaming occasions has also shifted the distribution of how U.S. gaming time is spent. For example, in 2011, mobile and tablet gaming accounted for just 9 percent of U.S. weekly gaming time. But by 2013, the share of mobile and tablet gaming more than doubled, reaching 19 percent. And while gamers are now playing slightly less on 7th generation gaming systems, hours logged on the new PS4, Xbox One and Wii U platforms have helped maintain console gaming's share of overall leisure time.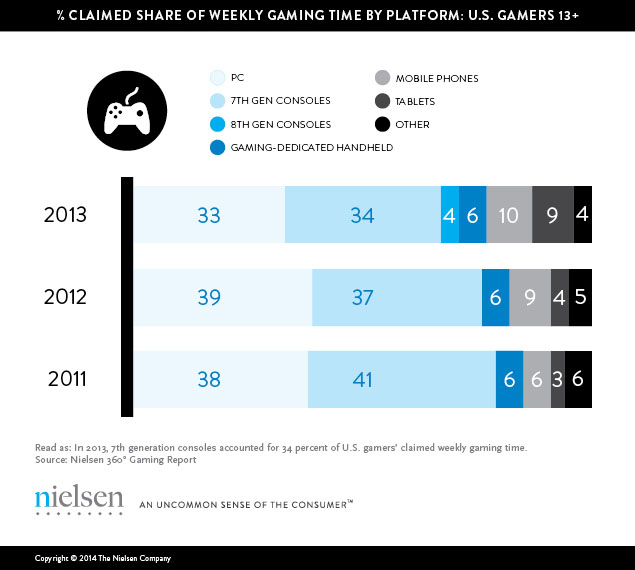 "With these 8th generation consoles still in their infancy, in addition to up-and-coming platforms such as microconsoles and cloud gaming gaining momentum, gaming time is poised to continue evolving moving forward," says Nicole Pike, Director at Nielsen.
For additional insights, join Nielsen's "Gaming, A 360 View: How We Play, Buy and Interact with Games in the U.S." webinar on May 28, 2014. Click here to register for the webinar.
METHODOLOGY
Insights from the Nielsen 360° Gaming Report are based on a survey of a representative sample of more than 2,000 US consumers aged 13+ (including gamers across devices) conducted in Q4 2013 and Q1 2014.