Asian-American consumers are on the cutting edge of everything digital. Their preferences, habits and adoption of devices are indicative of a larger U.S. trend that is seeing consumers turn to their devices for their favorite content. By studying the unique consumer preferences of Asian-American consumers, marketers and advertisers can gain insight into reaching other consumers, while also continuing to make progress with one of the most powerful consumer groups in the U.S.
Nielsen's sixth installment in its Diverse Intelligence Series on Asian-American consumers, Asian Americans: Digital Lifestyles and Growing Influence, highlights how Asian Americans are leading the adoption of the latest devices and digital consumption. The report also shows how Asian-American consumers' economic clout is on the rise, making this consumer group an essential to reach for marketers. In the past 10 years, Asian-American buying power has grown 257% to $986 billion.* The growth in buying power is partially attributable to a population boom. Since 2006, the Asian-American population has grown 43%, making them the fastest growing racial/ethnic demographic group in the U.S. Asian-American consumers are also among the most highly educated in the U.S. and have a higher average household income than the total population. The case for reaching these consumers is clear, and marketers should start by exploring the digital platforms where Asian-American consumers spend the most time and wield the most influence.
INNOVATIVE DIGITAL CONSUMPTION
The digital content market becomes more fragmented by the day, and an indicator is the weekly viewing habits of Asian Americans. Asian-American adults spend nearly as much time per week using apps and the web on smartphones (14 hours and 18 minutes) as watching live+DVR/time-shifted TV (14 hours and 38 minutes). In addition, they spend nearly one more hour per week using multimedia devices (three hours and nine minutes) than the total U.S. population (two hours and 16 minutes).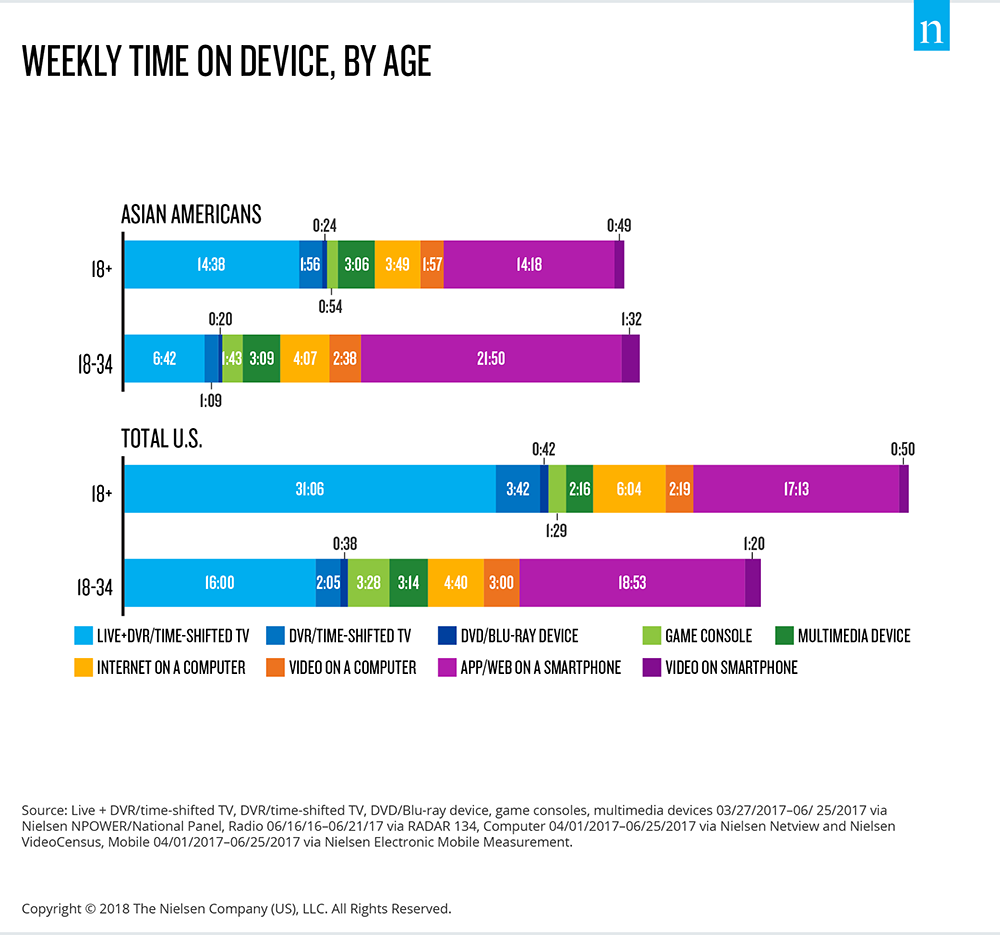 Asian-American Millennials (18-34) have adopted fragmented media platforms in an even more pronounced way than older Asian-American generations. For instance, Asian-American Millennials spend the majority (51%) of their digital time using apps and the web on smartphones. While they spend roughly the same amount of time using multimedia devices as total Asian-American adults, Asian-American Millennials spend less than half the weekly time as Asian Americans aged 18 and older watching live and time-shifted television and nearly an hour more watching video on smartphones.
While the shift of Asian-American consumers' digital consumption to new platforms is more pronounced than the total U.S., marketers can look to their weekly time spent as a model for the future of mainstream consumption.  
DEVICE AFFINITY
Consumers' lifestyles and consumption habits begin with devices, and that is abundantly clear for Asian Americans. Asian-American households are 66% more likely to own smartwatches, 39% more likely to own streaming media players, 17% more likely to own smart TVs and 16% more likely to own smartphones than non-Hispanic White households.
Asian Americans' attitudes toward gadgets and devices indicate that this large attraction to ownership will continue. One-third of Asian-American consumers (33%) agree that they want others to say "wow" when they see their electronics, and 70% agree that technology helps make their life more organized. In addition, 66% of Asian Americans agree they would feel disconnected without the internet. These attitudes show that Asian-American consumers feel devices are essential to their daily lives and see having the latest and greatest technology as making a status statement.
REACHING ASIAN-AMERICAN CONSUMERS
While it is certainly important to know where Asian-American consumers spend their digital time, it is equally important to know where they find advertising to be most relevant. Asian Americans aged 18 and older continue to find advertising on TV relevant for a variety of purposes. Perhaps more importantly, they are more likely than their non-Hispanic White counterparts to find advertising on mobile phones and the internet relevant, saying it provides meaningful information about the product use of other consumers, useful information about bargains and useful information about new products and services.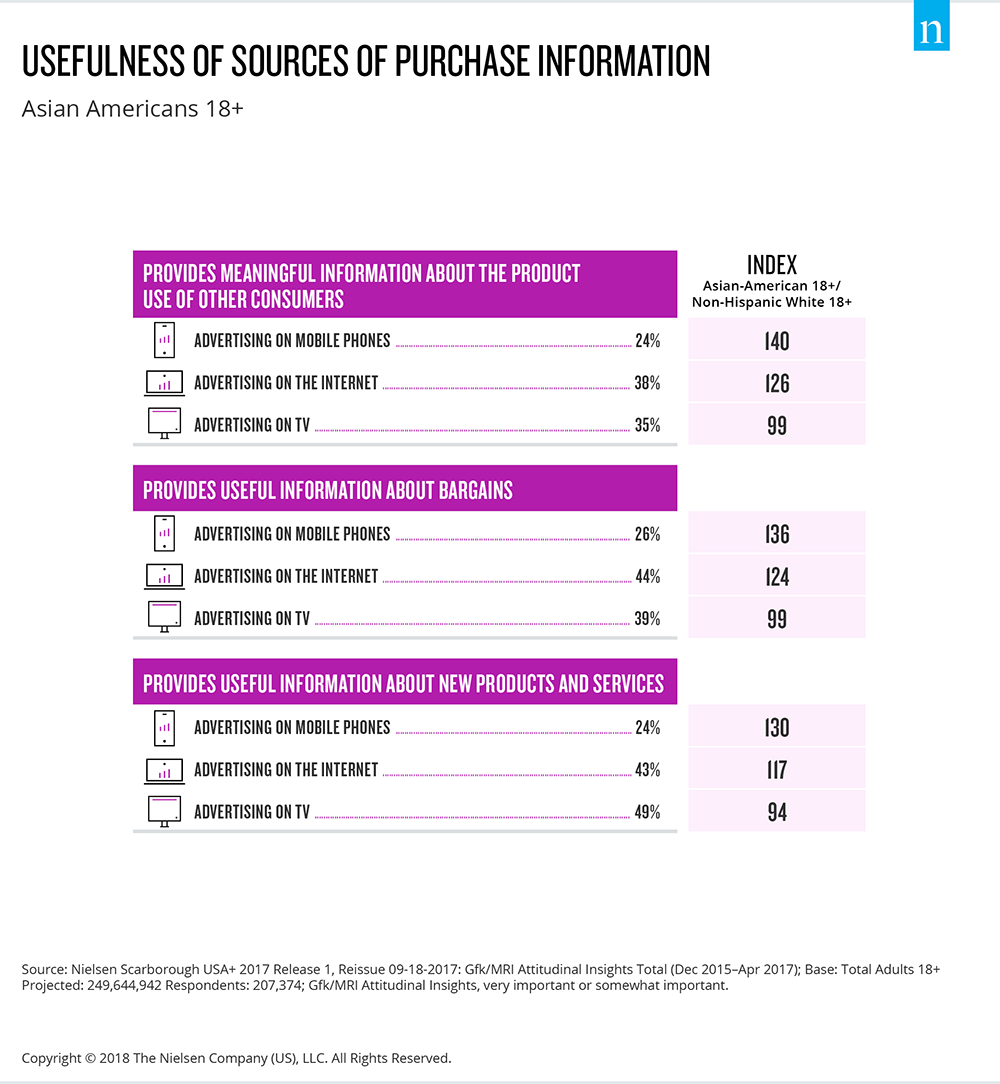 Thus, marketers who seek to earn Asian Americans' business must develop a robust digital strategy in order to reach them on the platforms where they will be the most receptive. Marketers can also anticipate that, as the total U.S. population follows the digital consumption trends already established by Asian Americans, their attitudes toward advertising will undergo similar shifts.
Additional highlights from the report include:
Asian-American consumers are active online shoppers; with the average amount of $1,151 spent on internet purchases in the last 12 months, 20% higher than online spending by non-Hispanic Whites.
Asian-American consumers over index non-Hispanic Whites by 124% for using Yelp, by 92% for reading and contributing to blogs and by 51% for reading restaurant reviews.
Asian-American households are more likely to include a married couple (63%), have children under 18 in the house (39%) and be multi-generational (26.7%).
Asian Americans aged 18 and older over index the total population by using leading smartphone apps such as Yelp, Venmo, Lyft, Uber, Skype and WhatsApp.
For more insights, download Asian Americans: Digital Lives and Growing Influence.
*Source: Selig Center for Economic Growth, 2017