It's likely that the world has never been as reliant on connectivity as it has become over the past year. With much of the world spending more time at home, technology has become the lifeline to everything from commerce to social gatherings to the latest entertainment. Much has been written about these areas, but given that connectivity affords millions of Americans the ability to work from home and provides countless children across the country access to virtual schooling, it's fair to say that virtual is the new IRL. 
That has inspired many Americans to think about where they want to live. Especially if a physical office location is no longer a consideration, the idea of relocation becomes a real option, particularly for those seeking to escape the density of heavily populated urban areas. Many consumers sought temporary solace away from big cities early on, but the prolonged duration of the COVID-19 pandemic has metro-dwellers thinking about more permanent moves, especially as many work-from-home and remote schooling arrangements remain intact.
The prospect of moving could have long-lasting implications for the distribution of the U.S. population. According to recent Oliver Wyman research, one in five urban dwellers is planning to move or considering a move because of the pandemic. And we're already starting to see the shift. In looking at Nielsen's year-over-year U.S. household data, we can see increases in an array of smaller-sized designated market areas (DMAs). Many of the increases represent changes of less than 2%, but a handful have been more significant, with the Charlottesville, Va., DMA registering a 16.6% increase in households between the 2019-2020 and 2020-2021 universe estimate periods.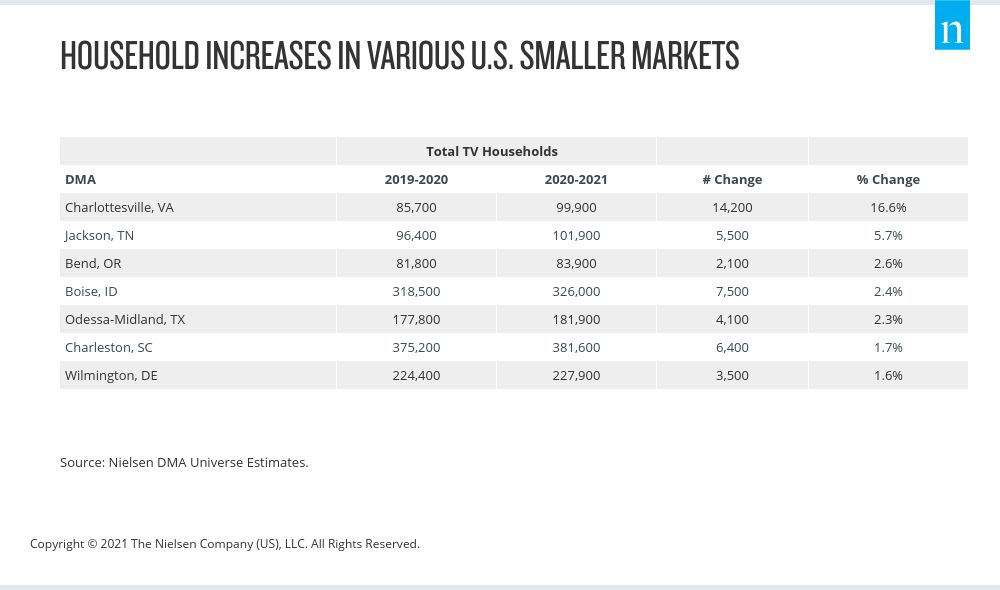 This trend is important for brands and advertisers looking to stay in touch with consumers as their habits—and their habitats—shift.
Importantly, many of the country's lesser-populated DMAs present a valuable opportunity given how digitally engaged their residents are. Whether they're in cities in Texas, South Carolina, Indiana, Florida or Colorado, consumers in these markets are spending more time connected online. In Abilene, Texas, for example, which is just over 200 miles away from Austin, household use of fiber optics connectivity had increased 165% according to the survey data from Nielsen Scarborough. That connectivity has facilitated a 36% increase in usage of five to nine hours online per week, as well as nearly a 20% increase in usage of 20 hours or more online. In some DMAs, such as Myrtle Beach, S.C., and Wichita Falls, Texas, we're seeing decreases in internet usage across shorter periods of time and increases in usage across longer periods of time.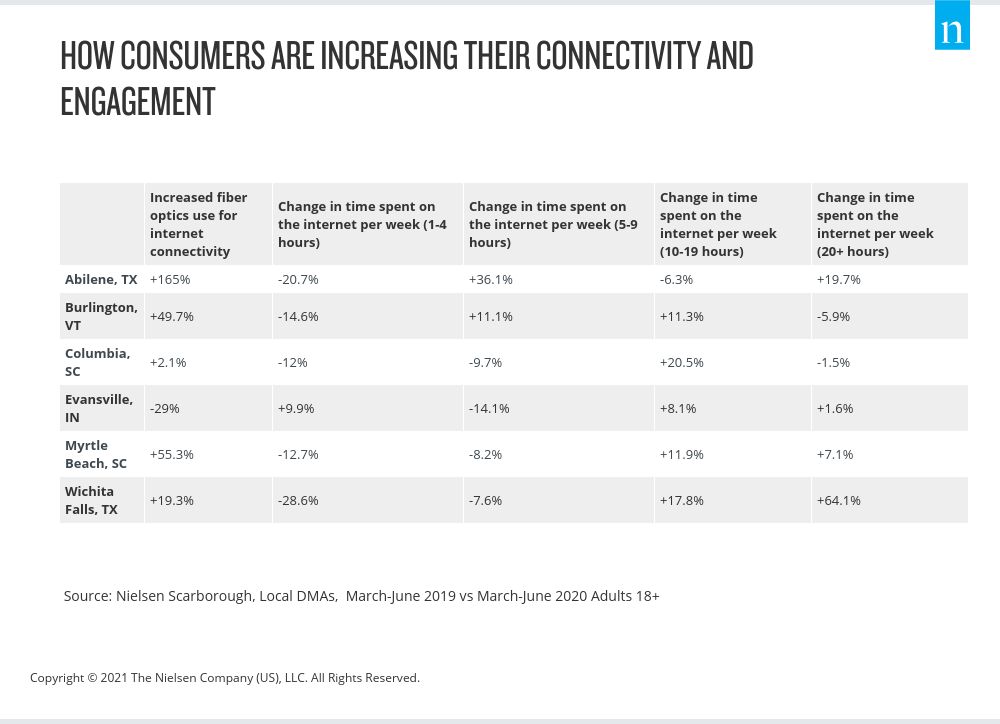 In addition to spending increasingly more time using the internet, consumers in many less-populated areas are following the national trend of leaning into the growing realm of streaming and video on demand. As of second-quarter 2020, U.S. consumers were spending an average of 1 hour and 14 minutes each day with their internet-connected devices, up from just 50 minutes a year ago. Much of that time is spent viewing streaming content, which, according to Nielsen TV measurement, accounted for 23% of total TV time in streaming-capable homes in December 2020. And while the big five streaming video on demand (SVOD) platforms (Netflix, Amazon Prime, Disney+, Hulu and YouTube) accounted for 53% of streaming minutes each week, the myriad providers in the "other" category now garner the other 47%.
Multichannel video programming distributors (MVPDs; traditional cable companies that augment traditional delivery with a streaming app) and virtual MVPDs are newer to the streaming landscape, but accounted for 36% of the "other" category as of July 2020. They're also gaining in popularity across many of the country's lesser-populated DMAs, including Abilene, Burlington and Evansville. In Abilene, for example, Nielsen Scarborough survey data shows that consumers' past 30-day usage of Sling TV (a subscription-based vMVPD) was almost 235% higher than during the previous survey period. Consumers in the Burlington, Vt.-Plattsburgh, N.Y. DMA report an increase of nearly 102%. Comparatively, consumers in Abilene and Burlington report increased or flat usage of the more traditional SVOD services, but the reported increases were notably lower than those reported for vMVPD usage.
Importantly, despite the growing streaming options available to consumers (including free ad-supported offerings), many are focused on premium offerings. For example, according to Nielsen Scarborough data, consumers in Evansville report more than a 5% decrease in using an internet-connected device or app to watch free TV programs. In Myrtle Beach, consumers report a decrease of 26%. In combination with increased stated usage around paid video options, it's clear that consumers in these DMAs are gravitating toward what interests them rather than what's free. This speaks volumes about the value of quality content—even as the market is seeing an array of free, ad-supported options come to market. And when you consider that adults 18 and older were spending an average of almost 11-and-a-half hours with media each day as of June 2020, knowing which platforms and programs they're engaging with—and the markets where they're engaging—couldn't be more important.