As we look across the broad and deep menu of video entertainment offerings in the U.S. today, it's challenging to remember a life without streaming. But it was only nine years ago (Feb. 1, 2013) that Netflix launched its very first original series, House of Cards, and others soon followed. Until then, Netflix had been operating as a distributor of acquired content, which today still drives tremendous engagement on the platform.
Netflix's 2016 debut of Stranger Things marked another milestone along the streaming journey, given its incredibly broad appeal. There was something for almost everyone, from sci-fi and horror, to the retro appeal of the 80s, to the group of kids stirring up trouble while coming of age. While programs that attract a wide range of audiences have always been an effective way to drive viewership, streaming platforms are developing programming to differentiate themselves and attract more niche audiences, similar to how the cable networks were able to differentiate themselves over previous decades.
It's this type of content that engaged audiences in 2021, as we take a deeper dive into Nielsen's recently released Streaming Unwrapped 2021 data.
In looking at the bevy of content available to viewers in 2021, Squid Game is a clear standout. First, it was the second-most viewed original series of the year, with nearly 16.5 billion minutes streamed on the list. Among male viewers, however, it moves up to first place. Among women, it falls to fifth (behind Lucifer, Great British Baking Show, Virgin River and Bridgerton). But the Squid Game audience became more sharply defined when we look at engagement among different age groups.
Squid Game also stands out for having massive appeal outside of Korea, as non-Korean audiences engaged with the series in dubbed or subtitled versions. International content is a fertile source for streamers, and with Squid Game being offered with both English-dubbed or native Korean with subtitles, 29% of the 18-34 year old viewing (the highest percentage demo) was attributable to watching the Korean language version with subtitles feels like a material insight.
Engagement across different race and ethnicity groups were also telling. In addition to being popular with Asian viewers, Squid Game was the most-viewed original among Hispanics and African Americans. Among white non-Hispanic (and females overall) audiences, it came in at No. 5 (behind Lucifer, Great British Baking Show, Virgin River and Bridgerton ahead of it). The Korean language version accounted for 45% of the viewing minutes in Asian America homes and 33% in Hispanic households.
Despite having a run on linear networks, a number of acquired titles amassed massive amounts of viewing time. The combination of Criminal Minds, Grey's Anatomy and NCIS garnered almost 100 billion viewing minutes of streaming in 2021. And while Criminal Minds attracted the most viewing minutes over 322 available episodes, Cocomelon, with just 15 episodes available, is a true standout. It also drove a big acquisition deal for its studio. Broadly available across Netflix, Hulu, Amazon Prime and YouTube, Cocomelon accounted for 33.3 billion minutes of viewing.
How can a series with only 15 episodes generate that much viewing? The answer is simple, and it's a common trend Nielsen's Streaming Unwrapped data revealed among kids programs: repeat viewing. In its core audience of 2-5 the average viewer watched each episode nearly three times in the fourth quarter alone, which looks more like 180 episodes when extrapolated over a year. In addition to its appeal among young children Cocomelon was also a hit among multicultural audiences. With 56% of its audience coming from African American, Hispanic or Asian American homes, Cocomelon had the highest multicultural audience of any of the top 15 acquired titles. This broad cultural appeal and repeat viewing make Cocomelon likely the most-streamed kids title ever.
In the movie category, there are consistent themes for success across the different genres. To reach a lot of viewers, action is the best bet. For greater reach and repeat viewing, a kids movie is the ticket. For an extra measure of success, include Dwayne "The Rock" Johnson (who starred in three of the Top 2021 films). Some quick facts about the top 10 movies of 2021: 60% attracted at least 40% of their audience from kids 2-11 (Cruella just missed with just over one-third). Luca was the runaway winner among that 2-11 year old audience in 2021 with a 17% lead over Moana, which finished second. Interestingly more people watched Luca than Moana, but the Moana viewer tended to watch it more times and it holds the title as the most-streamed kids movie ever*.
From an audience perspective, engagement among movie titles remains remarkably consistent across different age groups until looking at preferences among viewers 50 and older. In terms of viewer engagement, Amazon Prime viewers typically skew older than other streamers, and three of the top 10 movies among viewers 50 and older are on Amazon Prime Video (The Tomorrow War, Coming 2 America and Without Remorse). Aside from diversity by audience age, many of the most popular movie titles of the year appealed broadly across race and ethnicity. Coming 2 America, The Harder They Fall and Without Remorse were the primary exceptions, as engagement with these titles was higher among Black audiences.
Regardless of genre or intended audience, the streaming content from 2021 highlights how critical it is that audiences see themselves in the content they seek out and consume. Inclusion and representation are becoming critical to success in the streaming world as well as in the broader media industry. A deep understanding of program audiences and how to engage them will be foundational to retaining existing viewers as well as attracting new ones.
Note
*Since Nielsen began measuring streaming.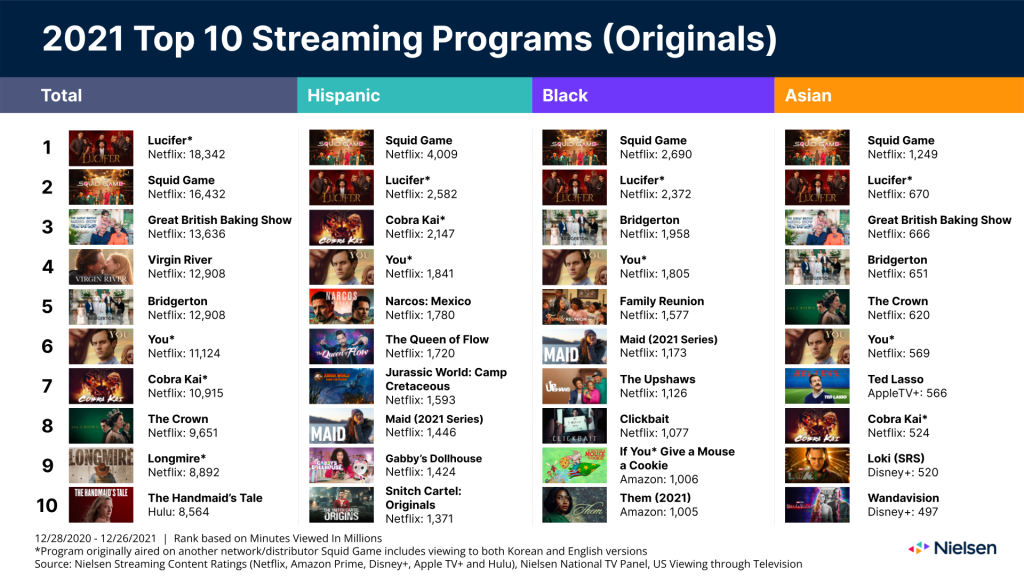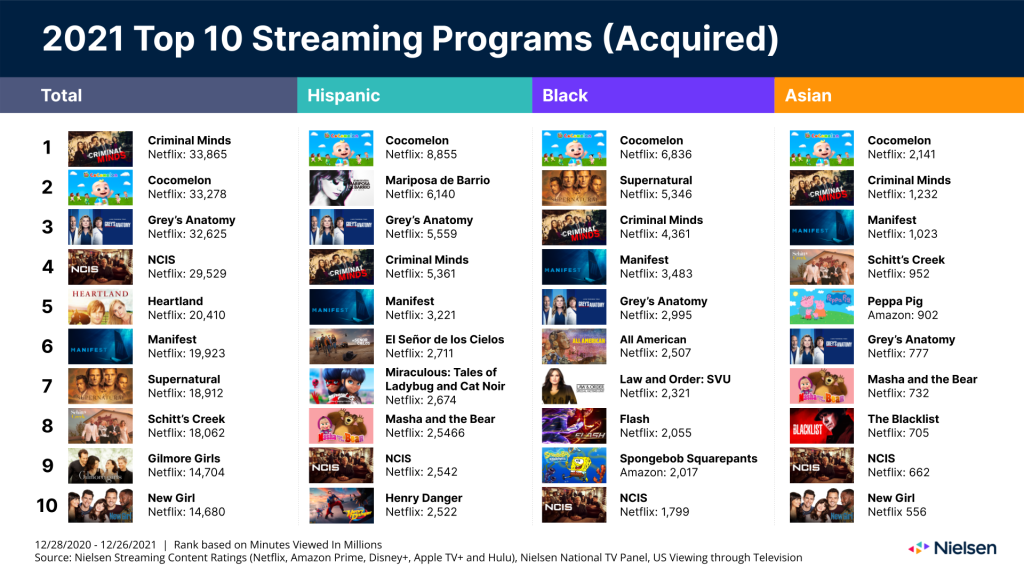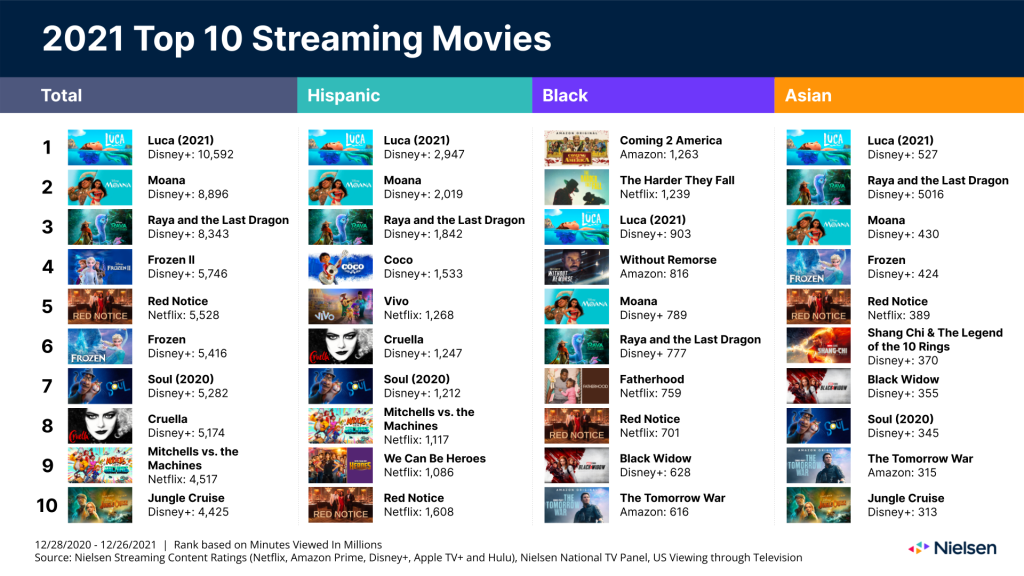 Brian Fuhrer, Nielsen's SVP of Product Strategy and Thought Leadership, offers some perspective on these top streaming programs of 2021.