When a video gets posted online, there's no telling whose hands it can fall into or how popular it may get. And as with anything digital these days, all it takes is a few forwards or shares on social media to propel something to into the mainstream media within minutes. Whether it's a video of a cat jumping (and failing) to the tune of AWOLNATION's "Sail," a woman quitting her job by doing an interpretive dance to Kanye West's "Gone," or a bridal party's entrance featuring Chris Brown's "Forever," it's hard to resist a funny, shocking or touching video—especially when they incorporate the tunes we love. While there's no denying that music adds a special touch to these videos, could the millions of these video views have a larger effect? Specifically, could they affect song sales?
Although a number of influences can drive song sales, recent trends suggest that viral videos can play a part. In fact, some sales increased drastically a month after a viral video featured these songs. For example, sales of Katy Perry's "Peacock," included on 2010's Teenage Dream, spiked 64 percent within a month after Stephen Kardynal released his viral "Chatroulette Version" in November of 2010, well after Perry released her breakthrough album. Similarly, sales of Robyn's 2011 single "Call Your Girlfriend" increased 12 percent one month after sister-duo Lennon & Maisy uploaded their acoustic, Erato-inspired cover in 2012. And these aren't the only songs that have benefitted from being featured in viral videos. Songs from artists like Nicki Minaj, Drake and Lady Gaga have also seen noteworthy sales increases.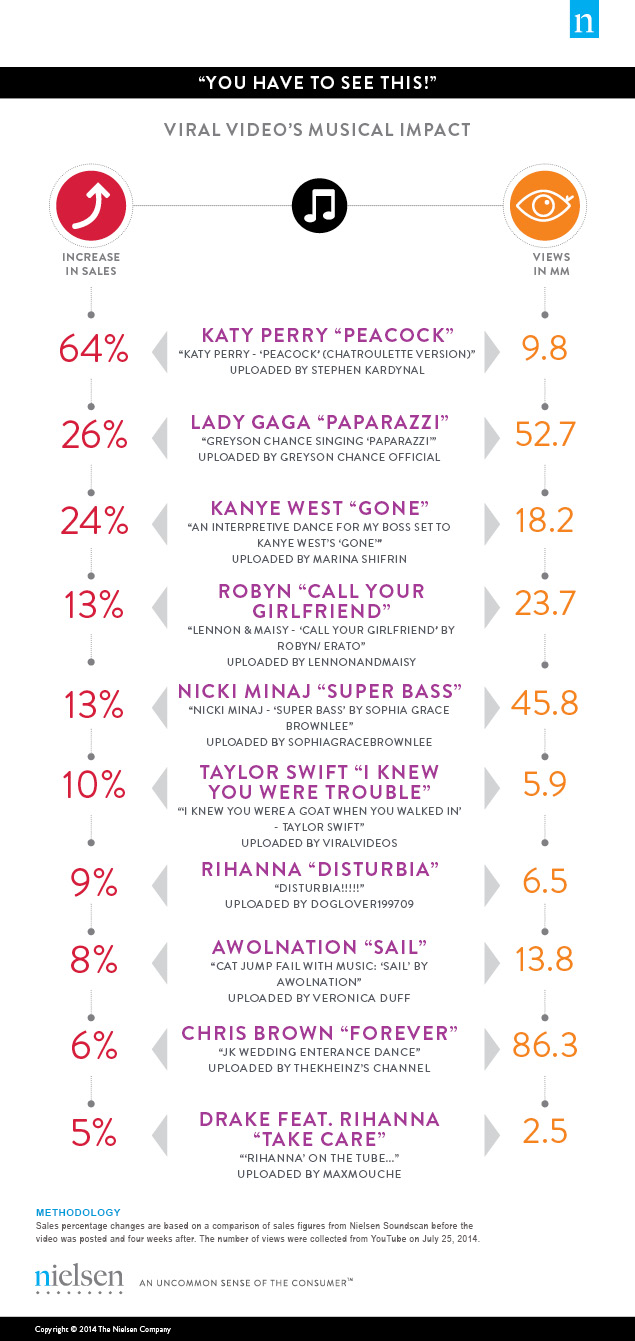 Methodology
Sales percentage changes are based on a comparison of sales figures from Nielsen Soundscan before the video was posted and four weeks after. The number of views were collected from YouTube on July 25, 2014.