Nielsen and SPOT analyze the market
Recent research by the payment platform PYMNTS shows that trust in a website is the most important factor for consumers to make online purchases. Trust wins out over factors such as price and delivery. Branddeli recently saw the same outcome in a study into book behavior on holiday sites. This showed that 66% of Dutch people prefer to choose a booking site with sufficient brand awareness when booking a holiday online. Vacationers have the most confidence in booking sites that they know through friends and family, rating sites and TV advertising.
TV advertising is the most important channel for the e-commerce industry to build trust, credibility and brand awareness. According to the latest figures from Thuiswinkel.org, more than 142 million online purchases were made in the Netherlands last year for a total amount of €16 billion. This is an increase of about 16% compared to the previous year and is mainly caused by sectors such as food, toys and fashion.
Order amount constant, number of orders doubled
The number of orders and turnover have almost doubled since 2011. The average order amount, on the other hand, has remained fairly constant at around € 111 million. The number of people making purchases online has grown from 10 to €11 million in the past five years. The increase in the number of orders from a growing group of online shoppers is the main explanation for this revenue growth in the e-commerce industry.
Media budgets grow strongly, TV grows by 70%
In order to achieve growth in turnover and the number of orders, the e-commerce industry is heavily advertising. According to Nielsen figures, the industry's gross media budgets increased from over €304 million to €330 million in the period 2011 to 2015 (Chart 2). It should be noted that media spend on online media is limited by Nielsen (display on desktop only).
Striking growers and newcomers on both the total market and on TV are the meal boxes, tour operators, comparison sites and telecom web shops.
Webshop department stores largest gross media budget
The product group within the e-commerce industry with the largest gross media budget is webshop department stores. Well-known web stores such as Bol.com, Wehkamp, ​​Zalando and Coolblue account for the majority of the spending. TV advertising has a budget share of 65% within webshop department stores, making it by far the largest medium type.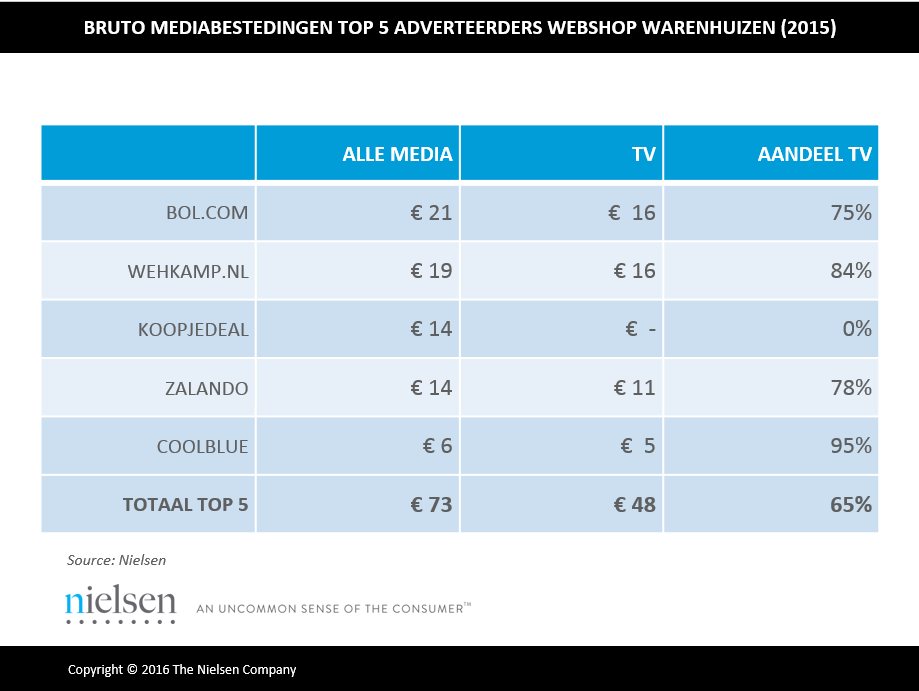 The position of Koopjedeal is striking. With a budget of almost €14 million, it is well represented in the top 5, but the budget is spent almost entirely on the daily newspapers. Among the other top 5 advertisers, TV plays the most important role when it comes to the distribution of advertising budgets (Chart 3).Source: Nielsen
While total media expenditure grew by 9% in the past four years, TV took it even further. E-commerce companies have grown their TV spend by as much as 70% over the past four years. As a result, the share of TV in total media spending grew from 32% to 50% in the same period (Chart 4).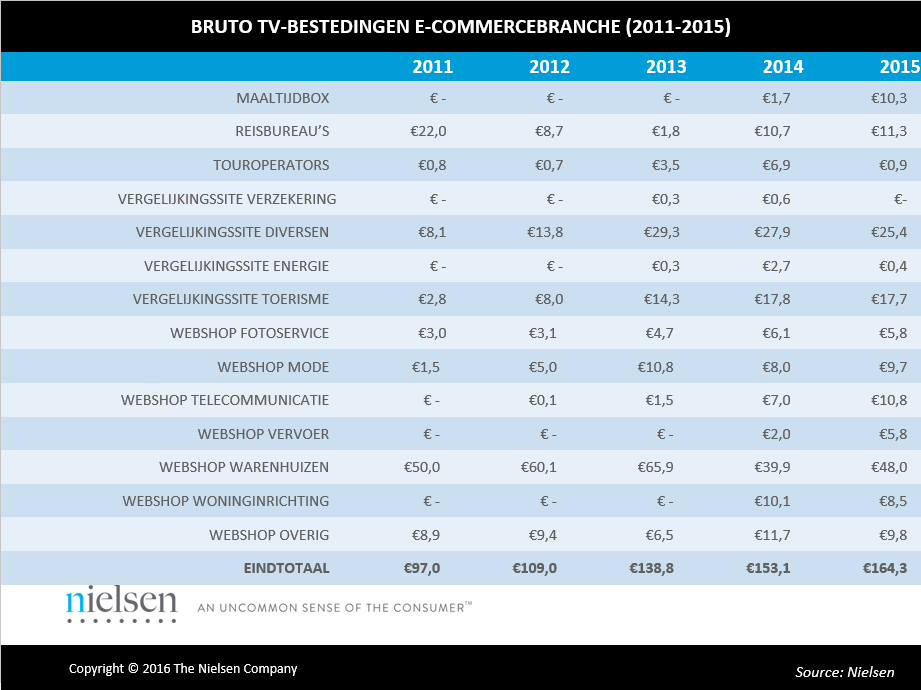 In 2015, TV accounted for 50% of the total e-commerce budget. After TV, Newspapers and Direct Mail follow remotely with € 62 and € 28 million respectively, which is good for 19% and 9% of the budget. Radio, often referred to as a traffic generator, realizes 9% of the e-commerce budget (Chart 5).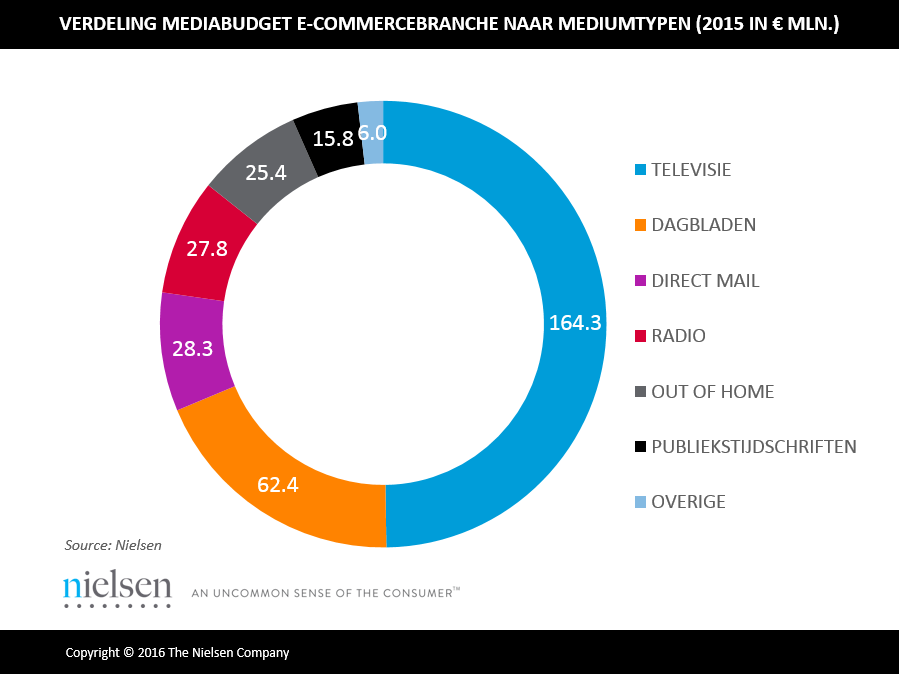 Meal boxes new to the e-commerce family
The meal boxes are new within the e-commerce family. The HelloFresh brand in particular is making progress. Grocery Delivery Services spent almost €10 million on advertising in 2015. 75% of this went to TV. In 2014, the HelloFresh budget was 'only' € 2 million. The supplier of meal boxes from Duivendrecht is in the top 10 of largest e-commerce advertisers in 2015. The number 1 and largest e-commerce advertiser is again Bol.com (Chart 6).
Effect of brand awareness on trading platforms
The question is, of course, whether the budgets have led to the desired brand awareness. Because according to the aforementioned studies, that is the most important factor when shopping online. Marktplaats published a survey in July 2015 into, among other things, the awareness of online trading platforms, which shows that the major TV advertisers are indeed at the top of the list. Marktplaats and Kieskeurig are also in the top 5, but are less comparable with the real online shops.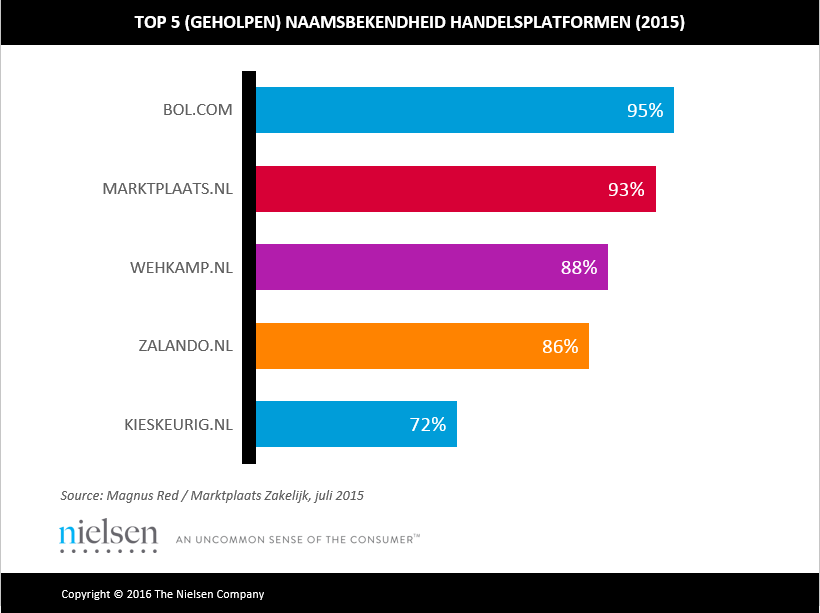 In an explanation of the research, it is stated that despite the increasing popularity of online trading platforms, only a small group of platforms are known among consumers. It is also those platforms that are characterized by them as a trusted website. When asked which platforms consumers actually use, only a few players are mentioned: Bol.com, Zalando, Wehkamp and Marktplaats[1]. Once again the confirmation that brand awareness and trust are important basic values ​​for online shopping. Apparently TV can help with that.
E-commerce abroad even bigger
The situation in the Netherlands is not unique. The online industry also advertises heavily on TV in Germany. The comparison sites Unister, Check24 and Trivago together accounted for almost €500 million in TV advertising in 2015. That is about €100 million more than in 2014. According to the German research agency XAD, one third of all TV commercials contain a call or reference to an online domain. In 2014 that was still a quarter.
This development is also clearly visible in England. Here too, the online parties benefit from the power of TV to build awareness and trust. Steve Dunne, chairman of the umbrella travel organization CIM Travel Group, describes it as a watershed, a turning point in travel marketing, where travel agents en masse opt for TV to generate awareness and trust among consumers. Travel agencies want to be visible on TV for this reason. And it's not much different in other industries.
About this article
This article has been compiled by Peter Wiegman on behalf of SPOT and Nielsen, based on an analysis of Nielsen media spending. Sources consulted include BrandDeli, Thuiswinkel.org, Emerce and Warc.