When live sports returned in the middle of last year after being sidelined due to the pandemic, fans and TV networks reveled in a very slight return to a sense of normalcy. That said, a return without fans at live events presented a unique challenge for sponsors, given the on-site activations they host across sports leagues.
As with other aspects of life while living with COVID-19, digital platforms have become the go-to opportunity for brands as they activate their partnerships, with social media becoming a universally necessary activation component. That's where athlete endorsement comes into play, particularly as new brands are trying to build awareness, connect with new fans and jump into opportunities they haven't explored before. Athlete-owned Instagram accounts, for example, are dramatically growing in value for brands. In fact, a recent Nielsen analysis across 15,000 athlete-owned Instagram accounts found a 58% rise in branded content posts.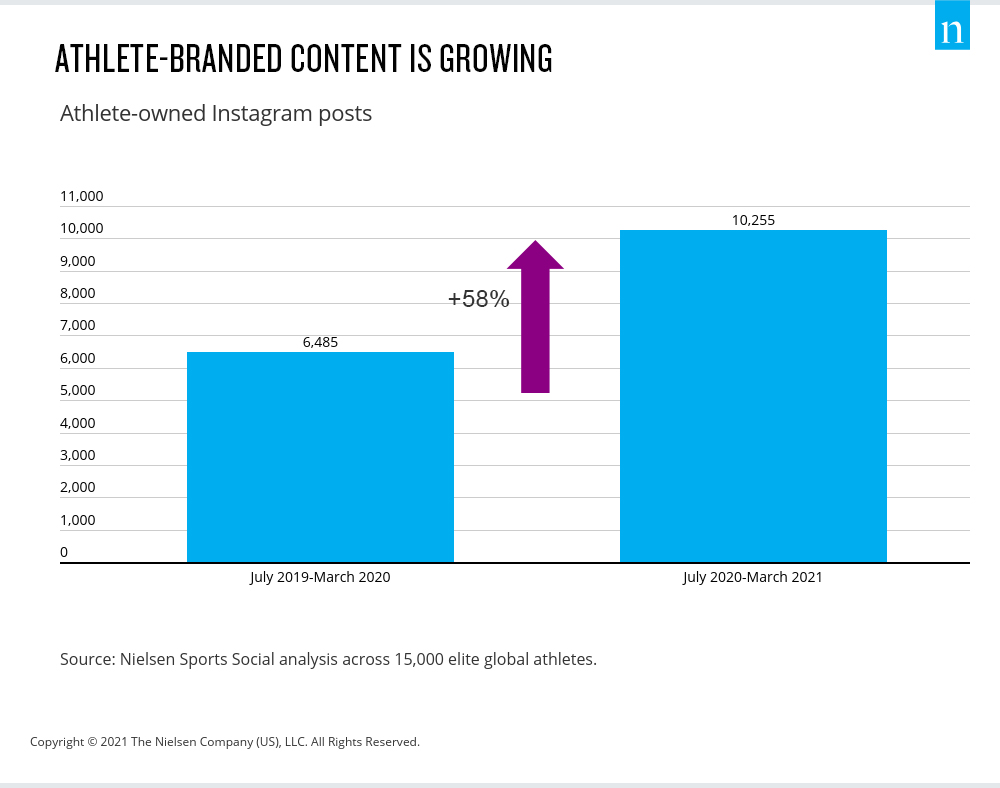 The influence of athlete involvement on social media has also come to the forefront in conveying causes and purposes. Nielsen research shows that athletes with more than 5 million followers on Instagram generated $314 million in QI (Quality Index) media value through posts highlighting social causes in 2020, up 80% from 2019.
This increasing opportunity for brand partnerships on social platforms naturally follows consumer habits. According to Nielsen Fan Insights, the number of fans using social media for sports news or content rose 83% from September 2019 to January 2021. The acceleration toward digital platforms is striking when looking at the recent evolution of the social media profiles owned by International Federations that are joining or rejoining the Olympics Games in Tokyo this summer.
The official Instagram profiles of the International Federations of Skateboarding, Surfing, Climbing, Karate and Baseball/Softball have registered an average 133% growth in followers over the last two years, with the International Federation of Sport Climbing showing the highest engagement rate in 2021 of 3%.
We see similar growth among the social profiles of the International Football Associations. With the UEFA European Football Championship fast approaching, a Nielsen analysis identified an average 145% growth in followers over the last two years for associations with no more than one appearance at the UEFA European Championship Finals. Notably, the Football Association of Finland registered the highest engagement rate in 2021 of 4.5%. For comparison, the average growth in that same time period was only 75%, on average, for the Football Associations of the historically successful nations including Italy, France, Portugal and England. The typical engagement rate with content over this time was 1%.
New brand partnerships are reaping the rewards of the digital activation and athlete association. The official launch video for TikTok's UEFA EURO 2020 sponsorship is a prime example, as the 35-second football mashup clip features some of the greatest moments in tournament history and today's biggest stars including Robert Lewandowski, Trent Alexander-Arnold, Memphis Depay and Antoine Griezmann. In February, the clip generated more than 6 million views and 160,000 interactions on TikTok profiles owned by UEFA and TikTok. Viewership of the video was 89% higher when compared to the average post on @tiktok_it and 145% higher than the average post on @uefa2020 during the month of February.
In addition to boosting engagement, digital activation allows brands to review near real-time metrics and adjust campaigns instantaneously to increase fan impact. It also facilitates fast reaction times and allows them to capitalize on the magic moments on the pitch, in the pool or on the track to fully leverage their associations with live events.
This article originally appeared on Nielsen Sports.