Australia is a nation driven by endless wanderlust. In the past year, 5.8 million Aussie travellers flew overseas for leisure; and in the coming 12 months, one-in-three or 5.5 million Aussies intend to travel abroad for fun. For travel marketers, knowing what travellers want throughout every phase of their journey will provide the best opportunity to connect with them using the right media mix and the most compelling messages.
To do this, it is imperative to understand what motivates and influences the behaviour of this big, diverse and very multicultural group of people. In the past year, one-in-five travellers were not born in Australia, highlighting the importance of creating marketing initiatives with a specific, targeted approach as a one-size-fits-all campaign is unlikely to resonate with all travellers.
Over the past 12 months, the travel category recorded an estimated $877 million in total media spend (Nielsen Ad Intel July 2017 – June 2018), making it a highly cluttered and competitive space to play in. A deeper insight into the motivations and aspirations of multicultural Aussie travellers helps travel advertisers rise above the noise.
GUIDING TRAVELLERS ALONG EVERY STEP OF THEIR JOURNEY
SHARE: The proliferation of social media means that the 'sharing' stage happens throughout the entire journey and not limited to one part of the travel cycle. it is important that marketers leverage the sharing of experiences right across cycle.
DREAM: Marketers should capture the audience's attention before they plan their trip by getting in front of them during the inspirational stage, using the right mix of traditional and digital media.
PLAN: Of all stages, the planning stage often varies far more in the length it takes to make a decision. During this stage, travel advertisers whose core strategy is price-driven will benefit from understanding how different ethnic groups perceive quality and price.
BOOK: Different ethnic groups have their own preferences when it comes to booking or choosing the type of accommodation that will best suit them.
EXPLORE: Just as locations vary from culture to culture, so do activities and interests while jetsetting.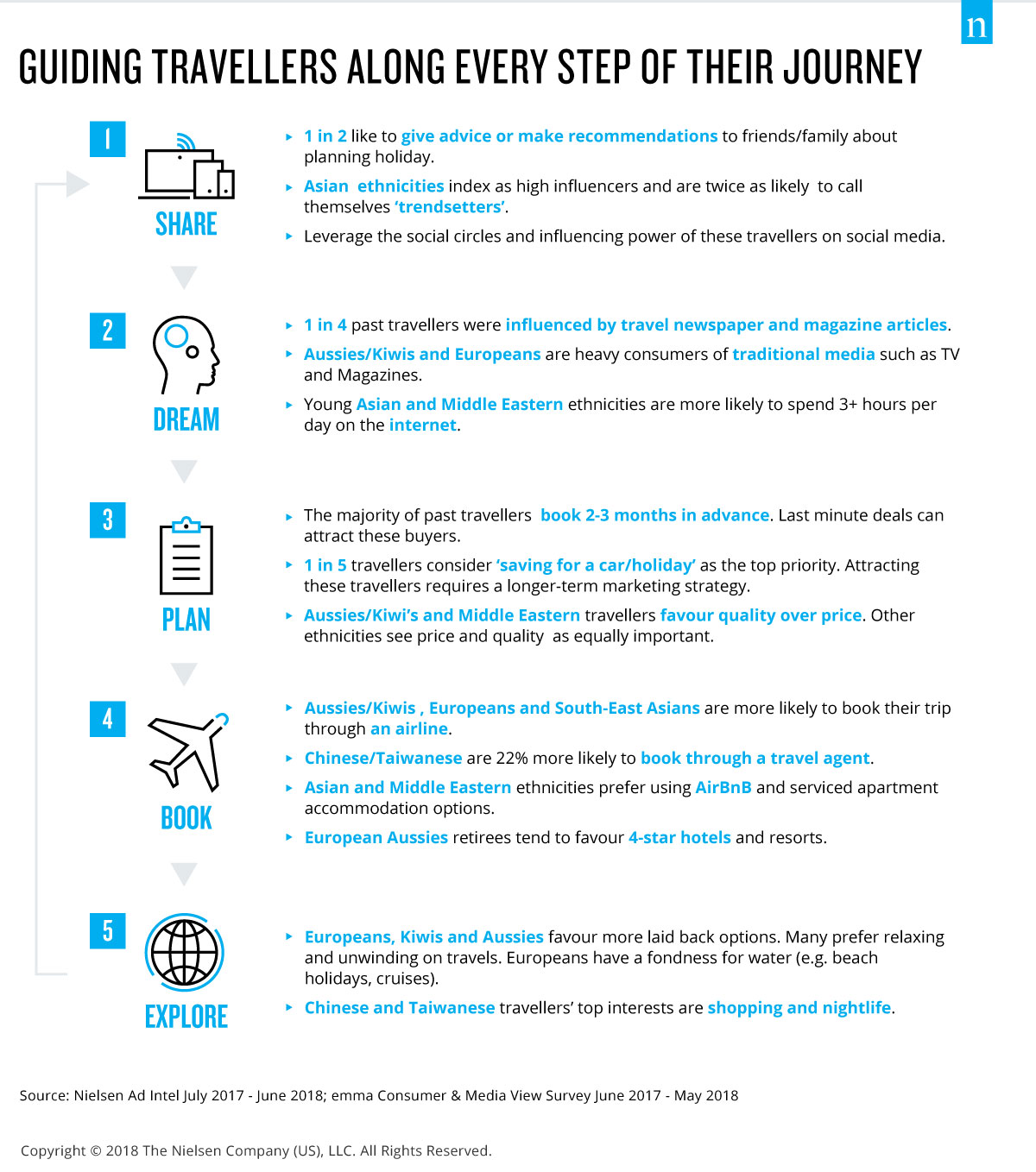 With so many travellers going overseas each year, having a clearer picture of what makes them tick will ultimately help marketers reach and connect with their audiences more effectively. Considering the various wants, needs and nuances among different ethnicities and cultures is also very important right across the various stages of the path to destination.
Source: Nielsen Ad Intel July 2017 – June 2018; emma Consumer & Media View Survey June 2017 – May 2018.