Earlier this month, Major League Baseball (MLB) announced it would move its 2021 All-Star Game out of Atlanta in protest of Georgia's new restrictive voting laws. And MLB wasn't the only organization to react to the new legislation. Atlanta-based brands Coca-Cola and Delta—both heavy sports sponsors—also came out in opposition.
The positions these brands are taking are reflective of a broader trend we're seeing across the sports industry, particularly when it comes to sports sponsorship. Organizations are no longer choosing to sit on the sidelines. Instead, rights holders, brands and athletes are increasingly speaking up and taking a stand on social and political issues. When we look at the top 20 global sponsorship brands by spend in 2019, the vast majority made an active shift in their sponsorship and advertising messaging during the previous five years.
Campaigns and movements, as well as acts of solidarity and protests, are being accelerated and fueled by social media. And the most recent data from Nielsen Sports Social Listening around the MLB All-Star Game decision highlights the impact social media can have for rights holders and brands when they choose to engage in social and political issues.
In early April, engagement levels and social reactions spiked for both "MLB" and "All-Star Game," even when compared to major events "on the field." MLB mentions went up 626% when the game was moved on April 2, 2021, compared with mentions on Opening Day (April 1). Typically, Opening Day provides a big engagement boost, but the size of the social conversation around this year's All-Star Game was significantly higher than this traditionally popular "on-field" event.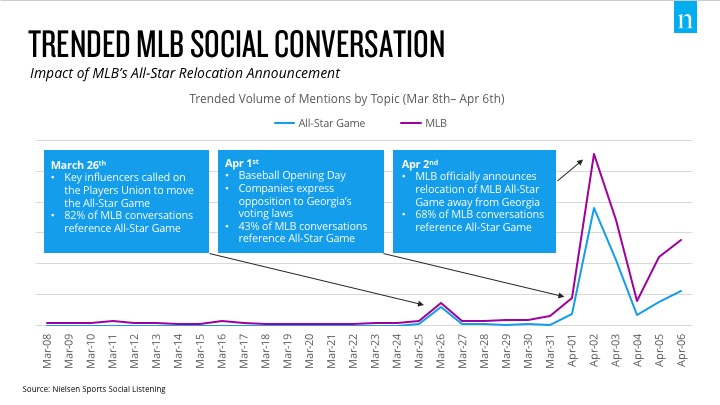 When it comes to sports, it's not just rights holders that are being included in these digital conversations. Brands benefit from sponsorships, and conversations around rights holders and athletes can be powerful opportunities to engage audiences. In the recent MLB and All-Star Game social media conversations, share of voice for Coke and Delta both went up significantly after MLB's April 2nd decision. Delta mentions rose from 0.3% to 2%, and Coke mentions grew from 0.2% to 1%.
Ultimately, fans are driving these conversations, and they're increasingly expecting and asking brands to have a point of view. Nielsen Fan Insights shows that sports fans are 13% more interested in brands that help fight racial inequality compared to the general population, and 11% more likely to support brands that engage the local community to fight racial inequality. With public expectations growing for rights holders and brands to have an opinion, social causes need to be part of an organization's overall business strategy.
Our data indicates that MLB fans are no exceptions and, in fact, are more interested in certain issues than sports fans as a whole. According to Nielsen Fan Insights, 66% of MLB fans are passionate about combating racism and 63% are passionate about increasing inclusion and diversity—5% and 9% more likely than overall sports fans, respectively.
With the recent All-Star Game decision, MLB demonstrated how the move fit into their broader strategy around social causes. In a statement announcing the decision, Commissioner of Baseball Robert D. Manfred, Jr. noted that moving the game was "the best way to demonstrate our values as a sport." The statement from Delta's CEO hit on similar notes, highlighting that the new legislation didn't align to the company's values. By incorporating social causes into business strategies, brands can use sponsorship as a communication vehicle to align with causes.
But are these partnerships worth it for brands?
Aligning with social causes can impact fandom and be polarizing at times. With the All-Star Game move, influential leaders and organizations, including Barack Obama, LeBron James and The Players Alliance, commended MLB's decision. But Republican leaders have spoken out against the decision and even introduced new antitrust legislation targeted at MLB.
Political and social causes can impact fandom, brand reputation and revenue. But our research indicates that the opportunities could outweigh the negatives. A Nielsen Sports analysis anticipates an 11% revenue growth over the next three to five years for rights holders with a sustainability agenda. As a result, brands are increasingly seeking rights holders that can provide them with a platform to promote their own values, such as sustainability.
Additionally, engagement around political/social causes can create a spike in conversation among a different demographic than the typical fan base, creating opportunities for brands and rights holders to grow their audiences. In fact, this was the case with the All-Star Game. Female fans aged 35-54 typically represent a 48% share of voice for MLB conversations, but those same fans accounted for 60% when the topic was the All-Star Game.
Political and social issues will continue to be lightning rods for sports over the coming months and years, as consumers engage with this content at extremely high levels. As a result, defining social and political strategies is essential for rights holders, sponsors and athletes. Sponsorship isn't only about logo placement anymore, it also includes utilizing partnerships to activate around causes that impact local communities.
For additional insights, download Nielsen Sports' The Changing Value of Sponsorship report.