Throughout the year, Americans tune into their teams doing battle on the gridiron, wait in anticipation alongside celebrities during entertainment's biggest award shows and happily queue up missed episodes of the year's hottest new drama series on their DVRs.
But when the mercury drops and the holiday season arrives, consumers huddle indoors and enjoy a bevy of seasonal programming—as well as commercial content—that speaks to this "most wonderful time of the year."
Consider this: Amid the mad dash for the perfect gift, a special Nielsen study found that last year's holiday season saw primetime holiday-themed programming reach more than 217 million viewers. Put another way, over 85% of all U.S. TV households watched at least a minute of this type of content between Thanksgiving and New Year's Eve.
Holiday programs with the largest unique audiences took on a variety of forms: quintessential holiday film classics, contemporary comedies, children's movies, and of course, special episodes of TV shows both old and new.
Regardless of the type of programming, viewers of all ages indulged in their fair share of holiday-themed viewing. In fact, holiday programming reached nearly 60% of all age groups and up to 85% in some demographics. Yet, the largest reach numbers don't stem from younger generations, as many might expect.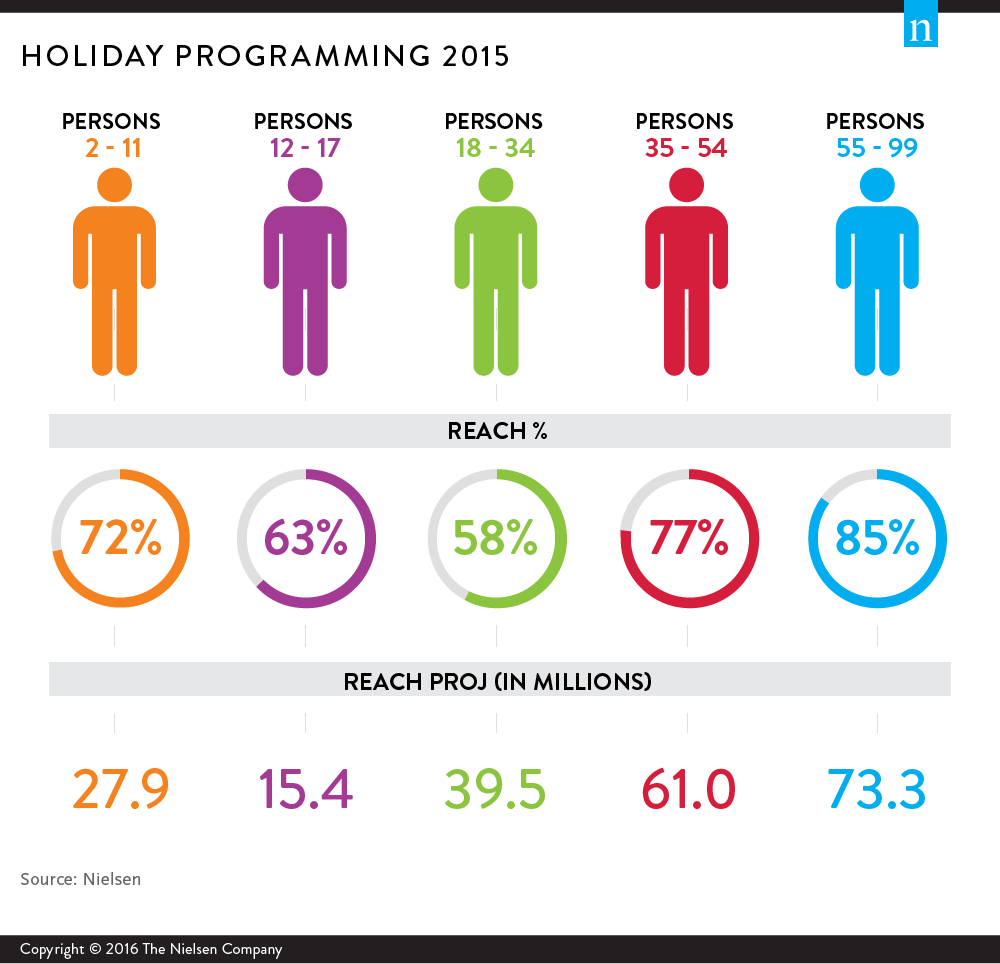 Interestingly, older adults contribute the most to the overall reach of holiday programs. While this type of content reached nearly 28 million children between the ages of 2 and 11 in 2015, it also reached more than 73 million people 55 year old or older. Additionally, 77% of adults between the ages of 35 and 54 (about 61 million people) tuned in to watch similar programming during the same time span. When looking at gender, both men and women over the age of 55 held the lion's share in regard to holiday program reach, compared to other generations in their respective genders.
The most enigmatic generation in terms of content consumption—Millennials—even partake in the festivities. The study found that holiday-themed programming was viewed by just shy of 40 million adults ages 18 to 34, giving this oft-media fickle demographic group the third-highest audience size among the other age groups.
However, older generations are still more likely to seek holiday nostalgia through the TV screen. Adults ages 55 and up account for about one-third of the total holiday programming reach, compared to the 18% from Millennials. Adults 35-54 are not far behind adults 55+, who account for 28% of the total holiday program reach.
Beyond the boundaries of age and gender, holiday programs found their way into distinct types of households. Reach tended to be greatest among homes with multiple family members—be it children or pets. About 87% of all homes with kids watched holiday programs, while a similar percentage of homes that owned a pet did the same. High-income earning homes also spent time watching holiday programs. Roughly 88% of viewers who earn between $75,000 and $99,999 and 88% of those who earn over $125,000 watched some form of holiday program during last year's holiday season.
From Thanksgiving to New Years, consumers immerse themselves in the holidays, making the power of holiday programming extensive and undeniable. Savvy marketers should take note when creating media plans around this time of year in order to not just reach, but capitalize, on what could be positive consumer sentiment as the spirit of the holidays influences purchasing decisions.