Candy manufacturers are definitely in a sweet business. Candy—chocolate and non-chocolate sweets—drove $20.8 billion in sales in the U.S. last year, with gum adding another $3 billion*. But it takes more than a sweet product to generate savory sales. In fact, candy manufacturers need to invest millions in marketing dollars to build brand equity and distinguish their confections in a crowded marketplace. And to ensure a sweet outcome, marketers need assurance that they're spending their dollars in the right places and at the right time.
But marketing involves more than simply identifying channels and audiences to engage with—it involves positively influencing brand opinion as well, something that the Ferrara Candy Co.'s Trolli brand sought to amplify in a recent online offensive. Historically, the Trolli gummy candy brand wasn't as well known as the company wanted. So it developed its first major online ad campaign in years, and it did so in a very specific way aimed at a very specific demographic—13- to 17-year olds.
Teaming up with their agency, Periscope, they devised the "Weirdly Awesome" campaign, which combined fantasy, Internet memes and a wild dash of humor for a dramatic content push across social media, video programming and display ads to capture the attention of 13-17 year olds.
But the brand didn't just launch the campaign and forget about it. With the help of Nielsen Digital Brand Effect, Trolli and Periscope were able to get a real-time understanding of the brand building effectiveness of their efforts across social media and video channels, as well as the campaign's performance against the brand's primary marketing objective—awareness. Periscope was also able to identify in real-time the key campaign elements driving brand lift—creative, site and frequency—to adjust the campaign while it was going on. Overall, the Weirdly Awesome campaign generated a sweet outcome by increasing awareness for Trolli by 71% and provided insights for Periscope on digital advertising best practices that could be applied to future campaigns.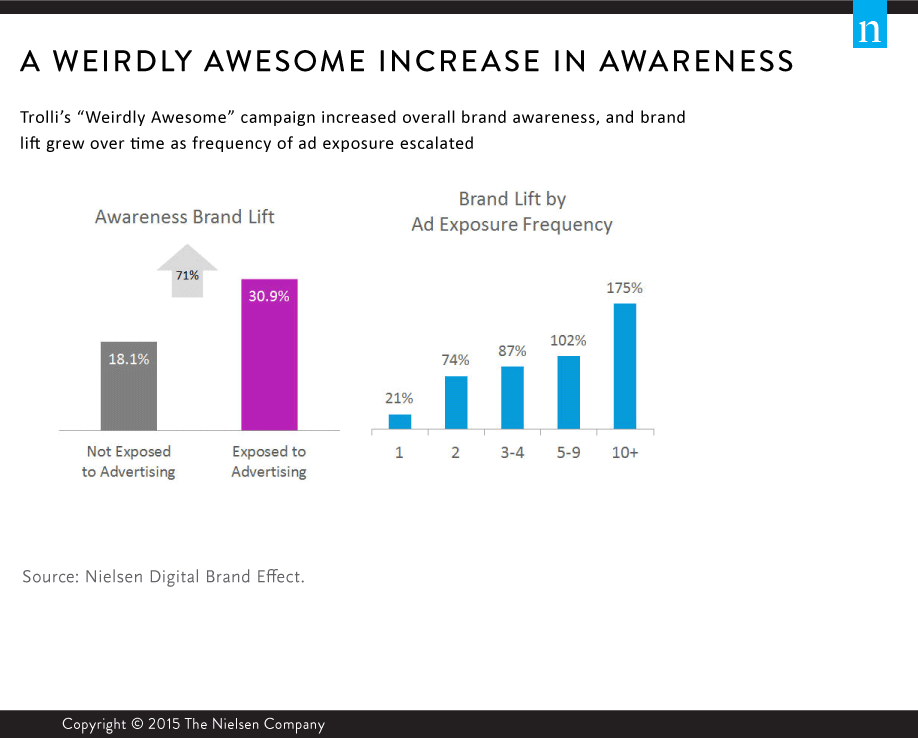 Note
Source: Nielsen, Special Occasions Bring Sweet Sales, April 6, 2015.
For additional information, download the full case study.
Methodology
The Nielsen Brand Effect suite measures ad resonance across TV, online and mobile. Nielsen Digital Brand Effect is a real-time enterprise technology platform that allows advertisers to collaborate with their digital media ecosystem around optimizing brand lift metrics.
Once a campaign is in market, consumer sentiment is captured through a survey that asks each consumer sampled a question to measure how the campaign performed against its primary objective. Nielsen Digital Brand Effect provides a simple, intuitive interface for managing all aspects of brand campaign measurement and optimization initiatives in real-time.